MANSFIELD, TX —  Even though Gail Baker is a retired teacher, she is far from finished teaching. Most Tuesday nights, you'll find her surrounded by 30 or more children, faces lit, eyes reading music, mouths singing loudly. With the help of Tiffany Williamson, the musical duo put together the Jubilate Choir, a children's choir open for third- through sixth-grade students. "I love watching how good the kids feel about what they're doing. They light up. And, when they're performing, they are the ones who get to shine," Gail explained.
The Jubilate Choir's name originated from a Latin word meaning, joyful and happy. The hope was to give the choir a professional sounding name, but one that would resonate with the groups' vision: introducing children to the joy of music. Gail and Tiffany believe it's important for the choir to remain free, and no auditions are required. "All we want are kids who love to sing and perform. We want to give them an avenue to express themselves," Gail said.
On average, 30 children attend the once-a-week practices and perform. "We have children from all over, not just Mansfield,"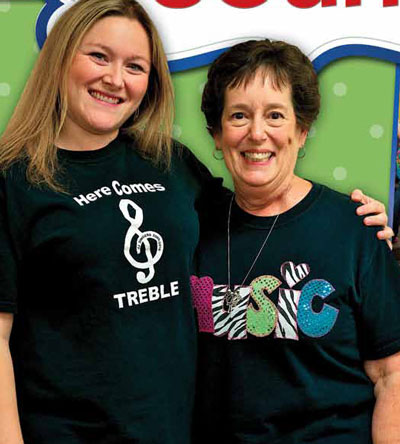 Gail shared. "That's one of our goals: to have a community choir." In the first year, Jubilate Choir had children from 14 different schools. "We can have more of a loose structure in the choir," Gail described. "You can let them experience music differently than in a school setting." Each week, students play fun games to get to know their fellow choir members, then settle in to learn about music. "We're very cross-curriculum. For example, music has math. There are fractions they have to know," Tiffany explained. "There's science. They learn about sound and wavelengths. And, there's also a lot of history with the composers, what the song is about and what was happening during that time period."
Gail and Tiffany started the choir with encouragement from First United Methodist Church. The church was looking to add a children's choir for their Christmas Spectacular performance held at the Mansfield ISD Center for the Performing Arts. Although the church prompted the choir, Jubilate Choir is not affiliated with the church. They perform both secular and sacred music. Last year, the children put on a Grinch-themed performance for the Christmas Spectacular. They donned peculiar clothing and funny hairstyles as characters from Whoville and sang songs from the movie. The choir also visited St. John Lutheran Church for their Advent service. The children were able to sing eight songs for the congregation. For First United Methodist, the Jubilate choir sang at their remembrance service. "The church holds a service to remember loved ones who have passed away," Gail shared. "Singing at that service was very meaningful for the kids."  Besides Christmas, the choir also sang for Pickle Parade goers. "We made up a song for the kids that was all about pickles," Tiffany laughed. The children dressed up in St. Patrick's Day green, as well. 
Giving back is also an important concept for the children in the Jubilate Choir to learn. Every year, the group plans a concert with proceeds benefiting local nonprofit organizations. Last year, the group helped Feed the Kids for the Summer. "We challenge the kids to do a chore or somehow earn $10 to give," Gail shared. "We want to make the kids and their parents aware of the different ways they can give to others." Last year, they were able to raise nearly $400 to help out their fellow students. Music has long been a joy for Gail. "My mother taught me how to play the piano and instilled a love for music in me," she shared. Ever since she was in junior high school, Gail knew she wanted to teach children and music. At North Texas State University (now called University of North Texas), she earned her music education degree and never looked back. She taught music for 14 years at Willie Brown Elementary. She struggled when it came time to retire. "I wasn't ready to lose that connection with my students," she said. And thus, the Jubilate Choir was born. The choir has allowed her the freedom of retirement, while also still investing in children's lives through music. Tiffany's story is similar to Gail's in her deep appreciation for music. Having a musical family, Tiffany regularly sang and danced while growing up. She even sang her first solo when she was 9. Just like Gail, she also recognized her future calling at a young age. "When I was in third grade, I knew I wanted to be a teacher while I was tutoring another student," she shared. But she wasn't sure what type of a teacher until much later in life. Initially, she planned on teaching math, but her trajectory changed after a particularly tough calculus class. "My
high school music director inspired me to teach music. I wanted to be like her," she shared. "I wanted to turn on that passion for music in kids." After completing her degree at Sam Houston State University, Tiffany returned to her hometown of Mansfield to teach music at Roberta Tipps Elementary School. Gail and Tiffany have known each other for years. Both members of First United Methodist Church, Gail has served as a mentor for Tiffany. "She helped guide me through being a first-year teacher," Tiffany shared. And, Gail describes Tiffany as the daughter she never had. Together, they share their love for music and children through the Jubilate Choir. With its success and subsequent growth, the team has brought on another volunteer, Lyndsey Lipscomb, to help teach the children.
Music is special to Jubilate Choir because of the positive influence it can have on children's lives. "Some students don't do well academically or as athletes," Tiffany explained. "But, fine arts is a place for them to express themselves. They can be good at something. Music makes sense to them, it's where they shine."
Written by Mikaela Mathews.