CORSICANA, TX — Corsicana High School became an even better place for senior Kayza Mallet and junior Irvin Horn last year when "Ms. Mac," otherwise known as Gloria McLuckie, became the school's theater director/teacher. Now in her second year at CHS, Ms. Mac, who is also director of fine arts for CISD, is still bringing her PUSH motto alive: Pray Until Something Happens! One of her innovations in last year's repertoire of events is coming back by popular demand this Christmas season — the CHS Christmas Readers Studio. "Everyone needs a little entertainment at Christmastime," Ms. Mac said.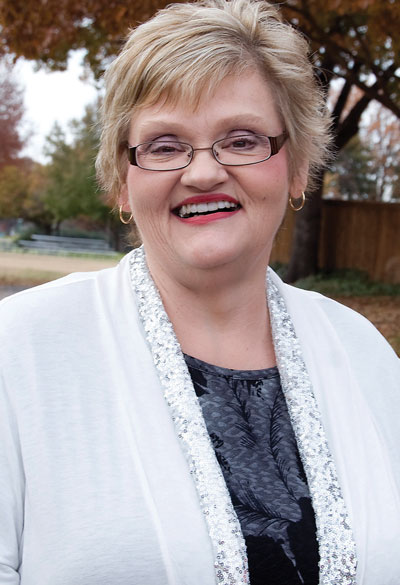 Last December, the CHS Christmas Readers Studio students, attired in red shirts and black pants and shoes, gave impassioned performances that helped make Christmas in Corsicana a little more special for appreciative residents in nursing homes and assisted living facilities, members of Rotary International, travelers shopping at the Collin Street Bakery and fellow students and faculty members during the CHS Talent Show. Christmas readings were taken from such seasonal favorites as "The Bells" by Edgar Allan Poe, The Polar Express, 'Twas the Night Before Christmas and The Best Christmas Pageant Ever. Ms. Mac and this year's drama students are looking forward to repeat performances, as well as adding more dates to their holiday touring season and new readings to their repertoire.
teacher at New Diana ISD for 18 years and then Hempstead ISD for eight years prior to being recruited by CISD. Summertime finds her directing students at Southwestern University's Tal Lostracco's Summer Theatre Camp. "My relationships with the students keep me young," Ms. Mac reflected. "I don't feel like I teach theater. I teach my passion for theater. This is the best role for me. I still get to play, but I also get to be in charge." Growing up in Gilmer, Texas, Ms. Mac had no theater program in school, but she performed in plays at church. "I was an only child for 13 years and played by myself a lot," she recalled. "My grandmother had a stereo with every single Elvis Presley record. I acted out every album." During her junior year in college, Ms. Mac discovered her interest in theater directing. "I saw a really bad one-act play at regional competition and knew I had a talent to share," she added. "I wanted to teach, but that's when I discovered directing. Teaching and directing are what I should be doing to share my God-given talents." As an actor, some of the favorite roles she has
played are the second witch in Macbeth, Gertrude in The Sea Horse and Meg in A Cry of Players. "I love acting in the theater, because it's not me on the stage," she revealed.
One of Ms. Mac's goals is to build up the theater program in CISD. She is often found at the front doors of CHS greeting and recruiting students. "This school district is so rich in theater history, and Corsicana has so many creative avenues in the arts," she said. But she has found the way to theater may be through students' stomachs. "I also bake really mean chocolate chip and vanilla pound cakes," she smiled.
Kayza agreed. "Oh Lord," she confessed. "I try to get the first piece    of cake." Fundraising efforts for the group have paid great dividends. "We sell Christmas candy canes, T-shirts, tickets and playbill ads, and we hold a dessert theater and silent auction," Ms. Mac said. The theater group also received a grant from the Corsicana Education Foundation last year, which funded students' attendance at Ms. Mac's summer theater camp. There, CISD students auditioned to be in one of five plays with students from several states and throughout Texas. "I get invigorated by the students," Ms. Mac pointed out. "I was really proud of Irvin who received the Esprit de Corps Award from Tal's camp."
The students also won a medal at the Plantersville Renaissance Festival and performed readings written by Ms. Mac at the last Derrick Days. "Kids are constantly being judged by others, but theater is tolerant of all kinds of people," Ms. Mac reflected. And Kayza and Irvin couldn't agree more as they plan their lives after CHS. Inspired by their theater experiences, Kayza hopes to major in theater and minor in pre-med at a major university, while Irvin plans to become a theater teacher, following graduation from Texas A&M University. For them and the other Christmas Readers, theater simply spells success!
Written by Virginia Riddle.