BURLESON, TX — Will and Mary Smith love to play, whether with trains or words or both. This couple's hobby — railroading — allows them to bounce their ideas off others who visit and enjoy their trains. They play with trains together, just as they do with words. With Will's help, Mary has written a children's book, focused on her love of family and animals, called The Magic on Sterling Lane. With Mary's help, Will has published poetry, as well as a compilation of stories about his family's life in western Tennessee during the Depression era, through the war years and into the '60s. He called it We Didn't Know We Were Poor Until Somebody Told Us. Turns out, Will and Mary don't care that they're grown-ups either.
The widowers met in a grief group in 2007 and married each other in 2008 with the intention of enjoying the rest of their lives together. They've created their own backyard playground and are threatening to create a fake yellow caution sign saying: Grandparents Playing. They will probably install it under their 30-foot oak tree near the hugest train set ever to grace Sterling Lane, a quiet place in Crowley where the Smiths moved in 2010.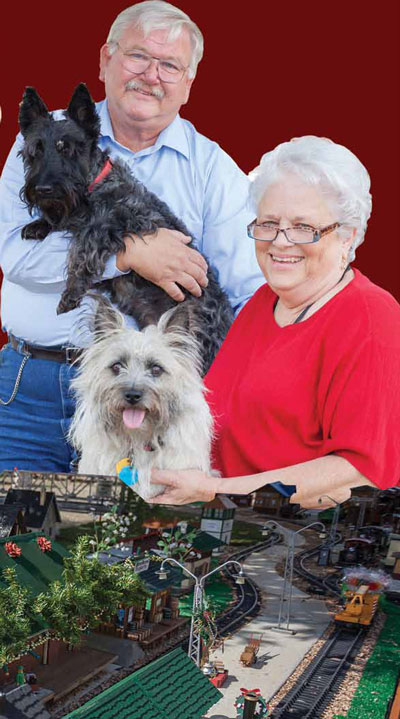 Members of the North Texas Garden Railroad Club, the Smiths' five G-gauge tracks meander through their 24×54-foot town of Sterling, Texas. Laid out on a table Will designed to be 2 feet above the ground, this miniature community is set in the mid '50s, yet it was actually birthed in 2010, when the Smiths went to their first train show in Fort Worth. They brought home their first train set, a G-gauge named Tweetsie, and laid it on the grass behind their home. Their games had only just begun. Mary recalls it was half the size it is now, but they realized it was on top of the septic tank. When they moved it, they had dreams of weaving the trains into their flowerbeds so plants could become part of the railroad scene. Finding they were not that energetic, the Smiths developed a railroad incorporating one real tree and only the necessary bits of artificial greenery.  "I'm the type of club member we call rivet counters," said Will, who retired from a lifetime career in operations at Burleson Northern Santa Fe Railroad. "I want to see a Texaco tank car with the same number series I remember Texaco tank cars having."
Before Sterling's third and final edition, the Smiths realized they needed to elevate it. "The excuse I use is: I put it up higher so the kids could see it better," Will said. "But it's hard for old chubby people to bend over anymore." More often than not, he sits, scoots or crawls on the table to perform maintenance. When necessary, he carefully steps from 4×4 brace to 4×4 brace. The platform, built around the oak tree and its irrigation system, allows water to drip through the table and down to the tree roots. "It's doing exactly what I wanted it to do, because the little town's topography has undulations that change over time, as the table wood warps."
The goal of Sterling, Texas, is to create an illusion that sparks elusive memories into full-blown reality — at least momentarily. Electric lights can be switched on at night, so you can watch the welding going on in the auto mechanic's shop. Giant street lamps illuminate the saw mill and railroad terminal building, and tiny bulbs provide signals for the air traffic controllers. Once Will and Mary go to bed, it looks like the whole town's asleep, except for the employees at Standard Oil's ESSO station and the hotel, both lit by solar nightlights.
At Christmas, little bitty lights decorate the town in a life-like manner. There is a nativity scene in Court Square, the county fair grounds have a couple of seasonal carnival rides, and each church is lit with Christmas lights. "I use very small, twinkly, colored LEDs," Will said, "that fool the mind into seeing something that is not really there."
This summer, the Smiths shopped for carpet that looks exactly like grass. Three-inch-tall people in the town, purchased from various vendors, come painted or unpainted. Will precision-paints all his soldiers. The buildings sometimes come prefabricated, sometimes not. Will customized kit garages to make a Home Depot and a Piggly Wiggly grocery store. "I stick-built the ESSO station, the mine and the saw mill," Will said. "I got the church from a lady throwing away her birdhouse." "If we see a bunch of trash on the side of the road, we're not above stopping to see if there's anything useful in it," Mary said. "I'm just one step above being a hoarder," Will remarked. He still has the Santa suit he purchased several years ago, when he was president of the PTA at Worth Heights Elementary School. Another time, he indulged the Bartlett, Tennessee, police department and dressed as Santa Claus for their community Christmas party. He may or may not get talked into wearing the suit again. "We have open houses for the neighborhood, Christmas parties, and our standard thing is to ask for two hours of our guests' time so we can tour them through the town," Mary said. Throughout the year, their goal is to host fundraisers for churches or groups like Susan G. Komen and the ALS
Association, in memory of their sonin-law who passed from Lou Gehrig's Disease. "We don't benefit from it in any way, except by seeing the people." Sterling, Texas, gives Mary and Will an excuse to talk to other people. "Children are my favorite," Will said. "A lot of times, they've never seen a steam engine or an airplane hangar.
"For the older folks, I want to elicit a memory they might have about their hometown. When they talk to me, it gives me an idea of things I can add." For example, there's a hay field prompted by a comment from Will's brother. There's the Geezwherarwe River, named after explorer Sir Ivan Skidwig's favorite question, "Geez, where are we?" And behind Sterling's helicopter base is a melon patch inspired by U.S. Army vet, Tom Lydle, a helicopter pilot in Korea and Vietnam, who recollected of stealing watermelons from behind his officers club.
"What we do is a true labor of love. I love myself. Jesus said I was supposed to," Will said. "Mary and I always said, 'If I owned the railroad, I would do it this way.' Well, now we own the railroad, and we can do what we want to do."
One thing they want to do is introduce men and women to garden railroading, and encourage kids of all ages to think of it as a hobby they can do. When it's toy time at the Smiths, all they want is Sterling, Texas.
Written by Melissa Rawlins.