CORSICANA, TX — While his position is part time, there is nothing part time about Billy Richards' commitment to Navarro County military veterans who have been honorably discharged. As the county's veterans' service officer, Billy works all hours necessary to help the estimated 3,400-3,500 resident veterans and/or their dependents receive the benefits they have earned through service to this country. "My office hours are Monday, Wednesday and Friday from 8:00 a.m.-4:00 p.m., but there are no real hours if someone needs to see me," Billy said. "I'm here to help however I can."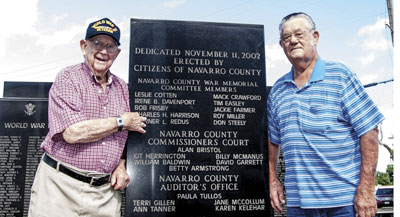 Wayne Adams of the local Vets Helping Vets program described Billy as an "unsung hero" of Navarro County. Billy became the veterans' service officer in March 2008. He followed Jackie Farmer, a friend, vet and mentor. Additionally, he has learned on the job and received training at conferences. Billy works closely with the Texas Veterans Commission, which was founded in 1927 and remains the leading veterans service organization in the state. His job also requires constant networking with other veteran related organizations. Billy helps veterans with compensation claims, insurance claims, educational benefits, land loans and employment. He works with surviving spouses with pensions and liaises with the V.A. to provide military honors at veterans' funerals and appropriately inscribed footstones for their gravesites. "Pensions and other compensation are tax-free," Billy pointed out. "That's a real advantage to veterans who are retired."
He also scouts and engages speakers for the annual Memorial Day and Veterans Day ceremonies held at the courthouse. Certified by the Veterans' Affairs to work claims, Billy has access to all records. He can track the claim and usually tell the vet what will happen before he or she gets a letter from the VA. Sadly though, many veterans, especially the older ones, don't realize they have benefits they can receive. "I have seen veterans go from being homeless to having a good life. Receiving their earned benefits can change their lives," he added. Currently, Navarro County veterans total more in benefits than the total budget of the county. "The office of veterans' service officer more than pays for itself due to monies brought into the county through benefits," Billy revealed.
His physical office address is changing from the courthouse basement to the recently purchased and remodeled former CISD administration building. The first door on the right as a Billy and Sharon Richards proudly support Navarro County veterans.
Vietnam War. Home ports and ports-ofcall included San Diego, California; the Bahamas; China; the Philippines; and Acapulco, Mexico. He served aboard two different ships in Galveston, Texas, supporting the Navy Reserves. Billy then trained to be a military police officer in Alabama and served as a correctional officer at Great Lakes NAS. "I would probably know everyone in Corsicana if I hadn't joined the Navy," Billy said. "Some veterans come in to see me, and I didn't even know they were vets. I worked for one such veteran, and found out he had a Purple Heart from World War II." One of the greatest challenges Billy faces in his position is furnishing transportation for veterans to the V.A. Medical Centers for treatment.
The centers do not provide transportation to outlying communities such as Corsicana, and many veterans are unable for one reason or another to drive to a center. Billy applied for a grant from the Texas Veterans Commission. If funded, it will help to provide free transportation to veterans. Dates and details are just part of grant writing and other aspects of Billy's position. "It's my job to stay on top of everything," Billy said. Billy has remained close to several of his fellow shipmates from Texas. Two years ago, they started to look up other shipmates on Facebook resulting in a recent reunion in Madisonville, Texas. "The Navy just sank my ship from those Vietnam days," he said. "They used it for target practice in July of this year." Following his years of military service, Billy returned to Corsicana and used his GI Bill benefits to attend Navarro College. He took real estate and accounting courses which help him operate his business, American Fence and Patio.
A hometown mutual friend introduced Billy to Sharon, his wife and a retired teacher. Together, they have three children and four grandchildren. The couple enjoys camping trips with their Casita RV, but Sharon takes her travels a step further. She travels with a group of friends — the Casita ladies — on geocaching trips, while Billy plays golf. Even during "time off " activities, veterans are never far from Billy's mind. Often it's fellow veterans and their families, many who are lifelong friends, who are enjoying fun times with Billy and Sharon. Billy has been honored to know many of the county's veterans over the years. He is a life member — and served as quartermaster — of the Veterans of Foreign Wars, and is a life member of the Vietnam Veterans of America. "I helped one guy who had the Silver Star and another who had 10 Bronze Stars," Billy said. A project currently underway will honor Navarro County's Medal of Honor recipient, Candelario "Spider" Garcia. "His daddy is listed on the WWII monument on the courthouse lawn, and we are raising money to honor Candelario," Billy commented. "He graduated from CHS and is one of the good guys." "It's important for veterans in Navarro County to know I am available to them and their survivors," Billy added.
It's clear the slogan, "No man left behind," is still important to Billy Richards.
Written by Virginia Riddle