BURLESON, TX — Betty Shelton remembers her Burleson childhood, living with her grandmother. In those days, only 500-600 people called the small town home. During WWII, several families sent sons off to war. "Two families, the Bransoms and the Clarks, sent five boys each," Betty recalled. "That impressed me, because they all came home, and nobody knows how, since they were all in battles." Only age 4 or 5 at the time, the memories left an indelible mark on Betty. One of her uncles was in the Navy and lost a leg during WWI. Her father, stepdad and brother-in-law all served at different times, each adding to her appreciation for veterans. Surrounded by military influence and an entire town filled with patriotic people, a soft spot for veterans developed in Betty's heart.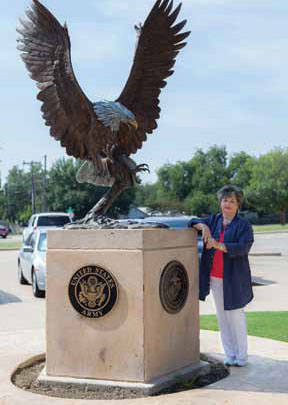 Eventually, she spearheaded construction of our much-loved Veterans Memorial Park. Not content to rest on her laurels, Betty looks forward to more opportunities to give back to her hometown. She began volunteering in Burleson as a young adult. After hearing a story about children at Oak Grove Treatment Center not having Christmas, she began offering her time. Soon she volunteered in many capacities, from helping kick-start the D.A.R.E. program, Heart for the Kids and Optimist Club to serving on the boards of Johnson County CPS and Burleson Area Chamber of Commerce. Betty's many years of volunteering efforts earned her the title Volunteer of the Year in 1995 and the ATHENA Award in 2003. She spent many years learning fundraising techniques, becoming quite good at it. As a member of various boards, she built relationships with people all over town. Betty is mother to five boys. She boasts about her 17 grandchildren and 16 great-grandchildren, all living in and around Burleson, except for one who lives in Corpus Christi. Although her husband leaves volunteer efforts in her capable hands, he offers support. She still gives a great deal of time to Heart for the Kids, yet her greatest love is working with area vets. She looks for opportunities to involve those who have been awarded Purple Hearts, keeping them active and visible in the community.
Working at Heritage Place, she interacts with several vets who live there as well. One of them, Donald Orr, passed away in July. The 92-year-old Air Force veteran flew 187 missions, most of them in combat. "He told me God must have had a purpose for allowing him to fly so many missions without getting wounded. He knew he had to serve God," Betty said. Donald and his bride, Violet, served in Colombia as music missionaries for 34 years. After retiring, he remained active with the Texas Baptist Men and the Singing Men of Texas until his 89th birthday. Donald represented the kind of men who inspire Betty to honor veterans. "I always wanted to do something, but never thought I could," she said. When she heard the poem "I Am a Veteran" by Andrea C. Brett, Betty couldn't hold back tears. While she was talking with friends one day, someone said, "We need a veterans' park." Betty responded, "That's a great idea!" She knew building a memorial required funds, a location and the support of her community. Betty was willing to try. Initially, she asked her friends for support. Rocky Bransom and Jim Garrett gave permission to put the park between their office buildings on Renfro near Interstate 35.
Applying lessons learned during her lifetime of volunteering, Betty began a three-and-a-half-year project that produced a legacy. The city helped, and citizens of Burleson donated money proving Burleson remains a patriotic city. Some people gave larger sums, receiving recognition on a plaque in the park. "But it was the one-, five- or 20-dollar donations that did it," Betty said. "The outpouring from the general public was astounding." The park offers a peaceful place surrounded by the busy atmosphere of a growing town. A majestic eagle statue watches over the park. With wings lifted high, the eagle looks as if he wants to take flight, soaring over Old Town in honor of veterans from the proud city. The base highlights different military branches on each side. The POW/MIA monument reminds visitors some soldiers didn't come home, and no one knows for sure what happened to them. A small monument bears an inscription admitting not all wounds are physical, bringing to mind many men and women who suffer from post-traumatic stress disorder. The words challenge all who read them not to forget those wounds, because freedom is never free.
The biggest monument, erected by the Military Order of the Purple Heart and the city of Burleson, honors those wounded in battle. The red stone represents blood shed by men and women while serving the United States and fighting to protect freedom. Bricks line the walkways with the names of veterans. "I expected about 500 bricks," Betty said, "and we have sold about 1,500." They exceeded the amount she budgeted, so they began selling them. Families can still purchase bricks at City Hall to honor or memorialize loved ones. Benches encircle a large fountain. The serene atmosphere invites local residents and visitors. Most days, Betty sees people relaxing in the park, sometimes eating lunch or perhaps simply sitting, deep in reflection. On January 21, 2014, Betty and members of the Purple Hearts attended the City Council meeting. Mayor Ken Shetter praised Betty's involvement in honoring veterans. He said, "There's nothing we've done that she wasn't there pushing us to do." He then read a signed proclamation designating Burleson as a Purple Heart City. The document confirms Burleson's commitment to support veterans.
Growing from a small town to almost 40,000 residents hasn't diminished patriotism in this city. Betty proudly observed that whenever veterans participate in parades, people stand in honor, often saluting them. Currently, bricks at the park don't include many names for those who spent time in Afghanistan or Iraq. As the number of older veterans dwindles, Betty hopes families of younger veterans will place bricks in their honor or memory. The park is the culmination of Betty's volunteer efforts thus far. Nevertheless, she's quick to say it isn't about her. The memorial belongs to those who served our country. Some sacrificed more than others did, but all gave of themselves. The eagle stands as a symbol of strength, but more importantly, as a reminder of freedom that men and women fought to preserve. A reminder none of us should ever forget.
Written by Lisa Bell.