WAXAHACHIE, TX — October is Fire Prevention Month. Waxahachie Fire Rescue uses the month to teach elementary children about fire safety.
In days gone by, you might see a fireman next to a fire truck showing a group of kids all the safety equipment and stating the famous Don't Play With Fire lecture, but for the past few years, the Waxahachie firefighters have approached the subject in a unique way. Candon Birdwell, a fire prevention division lieutenant and fire inspector with Waxahachie Fire Rescue, is in charge of scheduling these safety presentations at the elementary schools, and he takes the task seriously.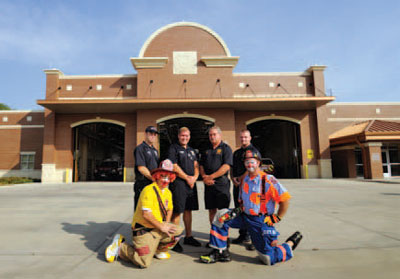 Statistics alone show the need for fire safety and prevention lessons for younger children. "I can show you a lot of numbers that will help show why we do this. Even with fire prevention month, there are still kids who will accidently set fires to houses, or kids who will get too close to a fire and get burned," Candon said. "The number of household fires started from children playing is over 100 per year. Our goal is to bring that number and other statistics down."
Before the implementation of the clown program, it was typical to send a rookie firefighter to give a tour of the fire truck, discuss the importance of not playing with fire and then leave until the following year. But the fire department and firefighters needed a change. Lieutenant Trey Moon and Engineer J Martin discussed this need often, and in 2007, they seriously began working to find a solution. "The kids loved seeing the fire truck, but we could tell something needed to change," Trey said.
They were aware of the clown programs other fire departments used. They soon became interested. "We got together with some guys from Plano who had been doing the clown program for a while. They told us about Bullhead in Arizona, which is basically a clown school," J recalled. They quickly realized this was just what their fire prevention program needed, and the fire chief at the time, David Hudgins, wasted no time sending a group of firefighters to Arizona. Trey remembers the long hours they put in for the class. "It was a 50-hour class that took place over a week. It covered everything. We learned how to put on the makeup correctly and how to take on a character to really reach the kids in our shows," Trey said.
The firefighters were able to learn why their previous program was not as effective as they would have hoped. "We had a fireman lighting a lighter next to a fire detector. We didn't realize that kids might think, That fireman lit the lighter, and it's not hurting him, so why can't we do it?" Trey recalled. They were also able to learn the importance of the person running sound and how the set and the created atmosphere were essential in gaining the children's attention.
They realized they needed a team of other volunteers to contribute behind the scenes, as well. Once they returned home and were able to get the team ready, the clowns, Spanner and Zippy, were born. They were ready to tackle their yearly fire prevention talk with the elementary students in a totally new and different way.
After the first year, it was clear this was the change the fire department needed. "Our chief was signing us up for every parade and function he could once he saw how the kids responded. It was great," Trey said with a smile. Not only were the kids impressed, but the teachers were as well and began requesting the clowns on a regular basis. "To see 300 kids' eyes not leave you for 30-45 minutes is amazing," J recalled. From there, the program has provided an effective and entertaining way of teaching children about safety.
They present shows, which run 30-45 minutes, for children in kindergarten through fifth grades in Waxahachie elementary schools. "We teach stop, drop and roll, as well as E.D.I.T.H. (Exit Drills In The Home) and other fire prevention and safety measures," J stated. They are also able to incorporate other issues of safety. "We are firemen, so there is obviously an emphasis on fire prevention and safety, but we also like to incorporate other issues in the show, as well," Trey explained. Some issues they also cover are bullying, texting while driving and even what to do when you find an empty pill bottle. "We are a part of LAFS, which stands for Life and Fire Safety, a Metroplex-wide program designed to teach children about a lot of areas of safety, instead of just fire safety.
That gives us a lot of material to cover while we have the children's attention," J emphasized. They easily keep the kids entertained, while also teaching them so many important things that could save their lives. They are able to use the teachers as a good source for feedback, and most of it, if not all, is positive. While there are so many topics they could cover while they have the kids' attention, they don't want to overload them. Trey and J even have plans and goals for the program to expand to twice a year. "Future endeavors would include a second show right before summer to talk about helmet and swimming safety, as well as firework safety," J explained. Their new fire chief, Ricky Boyd, is just as supportive of the program as Chief Hudgins was, and seven years later, the program is still going strong. "When we are on a call soon after a show, I always ask the kids I see if they like the fire prevention show, and I always get a big yes," J said with pride. "I always like to ask the kids I see which clown they liked better, and amazingly, it always seems the answer is Zippy," Trey said with a smile and a laugh.
Either way, it's easy to see the program has been accepted by the department and the community. It's no secret the clown program is effective. The teachers look forward to it as much as the children do. And it's safe to say the clowns love it, too. "The clown program really gets the kids' attention, with antics and everything else," Candon explained, "but at the same time, we are using that avenue to really teach them the importance of fire prevention. That has always been the main goal."
Written by Chelsie Sanders.