RED OAK, TX — If you were a witness at the scene of a structure fire in Red Oak 10 years ago, chances are you would have spotted Eric Thompson working as an assistant chief on the scene.
A lot has changed in Eric's career since then. He now serves as fire chief of the Red Oak Fire Department, president of the Ellis County Fire Chiefs Association, North Region director of the Texas Fire Chiefs Association and is a member of the Ellis-Dallas Unified Cooperative Team, a group of fire departments in the region devoted to sharing resources and supporting each other. Despite having so many responsibilities, Eric's main focus remains on the safety and well-being of his community. Reared in Ellis County, Eric has had strong ties to the Red Oak area for almost two decades.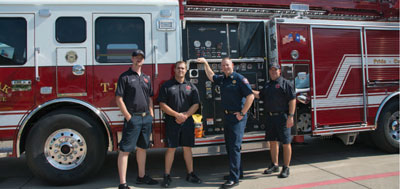 Unlike many others in the professional world, Eric discovered his true passion in high school and has pursued it ever since. "My venture in fire service started in 1995," Eric said. "I started as a volunteer firefighter for the city of Ennis while I was still in high school. Immediately, firefighting got in my blood, and I developed a passion for it. So, I went to EMT school at night and went to fire school as soon I graduated from high school, and that's pretty much all I've done since then."
Eric began working with the ROFD part time in 1997. In 2003, he was promoted to full-time deputy chief. Two years later, he was selected as fire chief. Since then, he briefly served as the interim city manager and has overseen the transition of the fire department into the 21st century. Over the past decade, ROFD has changed and improved in numerous ways. "It's transitioned to a whole different level of organization," Eric said. "We went from a small, volunteer, part-paid department to a 100-percent career professional department."
The department now has an expanded full-time staff with 27 employees, who staff two fire stations. A new rank structure encourages constant professional improvement. "I'm very proud we've started developing our firefighters to be driver engineers, our driver engineers to be captains, and our captains to be future chiefs. It's helped a lot, because everyone has an understanding of what's expected of them," Eric explained. "We're proud of the training and education our guys have."
Their training includes technical rescue, emergency management planning and pre-incident planning. "We go out to all of our businesses now, and we train our firefighters on how to attack a fire if there's an incident there," Eric said. "Everything we're doing currently has increased from where we were before." Along with increased training measures, the department has seen a huge improvement in its technology in the past decade. "Before, we would have a computer in the office. Now, we have multiple computers in each truck," Eric said.
The computers help firefighters accomplish more than they ever could before through computer-aided dispatch and databases. "All the information is right there in the truck when we make the call. We have mapping, hazmat information and patient EMS reports." Not only does the new technology help on calls, it also allows the department to collect data and research trends. "We can see our response times, types of calls and the location of calls," Eric said. "The data helps us with our risk-reduction plans."
Risk-reduction techniques include mapping out the location of fires and targeting high-risk neighborhoods with fire-prevention training. "We focus on continuous improvement," Eric added. "We don't change just to change. We change to improve and make things better." To continue to protect the community, Red Oak Fire Rescue has expanded its fire-education programs. In the past, the department focused only on school-aged children during the month of October, which is Fire Prevention Month.
Under a new Community Risk Reduction plan, they have expanded to educate all ages and provide programs throughout the year on a variety of risk-reduction topics. Through these education initiatives, the department can focus on reducing preventable fires and protecting the community as a whole. Using Community Risk Reduction, the department also hopes to improve its relationship with Red Oak residents. "Our community must have trust and confidence in our abilities before they will allow us to offer education and trust the message," Eric said. "We put a lot of effort into being transparent about our services and capabilities, and we continually involve our community."
Although Community Risk Reduction is targeted toward all citizens, special attention is still given to children and senior citizens who statistically pose a higher risk. Topics covered during fire-prevention education include: identifying fire hazards, developing escape plans, checking smoke detectors and making sure building projects are up to code. Eric has also pushed for a cooperative effort between Red Oak and surrounding cities. "We have a good working relationship with them," he said. "They trust us enough to lean on us, and we trust them."
He also connects to other departments in the state through the Texas Intrastate Fire Mutual Aid System (TIFMAS). "We deploy in a statewide system on wildfires, hurricanes and major disasters," Eric explained. The knowledge gained from TIFMAS training helped the ROFD combat the wildfire on the county line in 2011. "We were able to put some of those things in place and see the benefits," Eric said. However, emergency incidents are only a fraction of his daily routine. "We're involved with planning for growth, new development planning and fire code enforcement. We do a lot more than respond to fires and EMS incidents."
Eric's duties as fire chief keep him busy. On a daily basis, he seeks to educate the community, analyze the effectiveness of the department and mentor his staff. He makes sure firefighters are properly trained and manages emergency operations of large-scale incidents. "I'm the type of person who doesn't like the same old routine every day," he said. "Being out in the community, you get to talk to different people, and you never know what's going to come up."
Eric enjoys working in Red Oak, because the department has a positive relationship with the community. "They allow us to do our job. They trust us, listen to us and support us," Eric said. "We're only as successful as they want us to be." Despite the daily demands of the job, Eric knows he's right where he needs to be. "There are far more positives than negatives," he said. "I wouldn't do anything different. I love it, and I'm very blessed to have what I have."
Written by Callie Revel.