MIDLOTHIAN, TX — Roger and Felest grew up in Grand Prairie, as friends and high school rivals. "I was a Gopher. He was a Warrior," she explained. "We were best friends, but never dated in school."
They have now been married for 27 years, and have one son, Aaron, who is in his last year at The University of Texas at Arlington and is engaged to Mattie McClean. Also living with them is Felest's mother, Peggy Bitner (better known as Nana), and the family pets — Molly, their adorable miniature Dachshund and Fred, Roger's cockatiel.
The family decided to move to Midlothian, because they wanted Aaron to benefit from enrollment in MISD. Roger stumbled onto their property over a decade ago. "We had a home in Grand Prairie with foundation problems, and we decided to build again," he said. "I got lost and ended up here."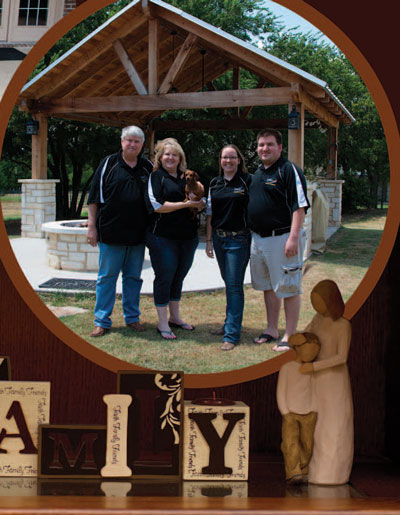 The property, which borders Midlothian and Waxahachie, seemed perfect when he discovered it, with one small problem. "I had accidentally found the place, so when I was taking the builder to see it," he joked, "I wasn't sure if I would be able to find it again." Roger works for the Four Seasons as the director of information technology and Felest is the senior account specialist for projects for Southwest Airlines' corporate office. "Roger loves working with computers, and I love working with numbers," she shared. In addition to her job, Felest's passions are her family and volunteering with Relay for Life, which she will be chairing in 2015. Roger and Felest share an even bigger passion, though, in the leadership organization, DeMolay International. Roger was involved when he was young, and it impacted him greatly. "I was 15 when I joined, and I made a lot of friends there. It was my comfort zone," Roger recalled. "It helped me figure out what I wanted to do."
"Since there wasn't a DeMolay Chapter anywhere in Ellis County, we decided to start the Legacy Chapter here, which had been a dream of ours for a long time," Felest said. "It took a few years, but we have been active for about eight years now and have one of the largest chapters in the state." The organization is for young men ages 12-21 and of good character, and helps to prepare them to be leaders. "We take good boys and groom them into better men," Felest explained.
You can see their dedication to DeMolay throughout their home. When Felest drew the design for the interior (on a napkin), it turned into a beautiful reality thanks to their builder, Gaylord Haynes. The large entryway is decorated with Felest's cross wall. "My faith is what gets me through the day," she admitted. "I love looking at the crosses each morning to get ready for the day." The entryway flows into the living room, as well as a large dining room, complete with a DeMolay display. "This shows off some of the awards Legacy has received, and has some commemorative items as well," she added. The dining room leads into the spacious kitchen. "I thought this was going to be my pride and joy when I designed it," she joked. "But we stay so busy we don't use it that often."
With a large island complete with an extra sink and ice machine, their kitchen is a wonderful room no matter how often they use it. It leads to the living room, and is also located near the master bedroom, which is charming in its simple design. Light woods accentuate the feel Felest strives for throughout the home. "I like leaves, stars and cobalt blue," she said. "I like natural. I didn't want a formal house." The house seems to be built around the living room. The entryway and kitchen both lead into the room, and there is dual access from the guest side of the house.
The living room is Roger's favorite space. "I like to be able to sit back and relax, when I get a chance at least," he divulged. With views of the front and backyards, comfortable furniture and a handsome, large-stoned fireplace, the living room is ideal for kicking back and unwinding. A large patio opens off the living room, perfect for a gathering or cooking on the grill. A little over a year ago, the couple built a considerable arbor in the backyard. "It was a surprise for Mattie's graduation," Felest said. "But I surprised Roger and had a tin roof put on it, so we could sit out there and listen to the rain." They also have used it often for social occasions, particularly when Aaron sets up a backyard screen, and they have movie nights with their DeMolays. Some of the Sr. DeMolays like to cook out and dine under the arbor. Back inside, Aaron's room is the start of another wing of the house.
The hallway is decorated with photographs from the family's work, and Aaron's room is a mash-up of Texas Longhorn paraphernalia and DeMolay mementos. Down the long hallway, the photographs transition to pictures of the family. Peggy has her own room as well. "My dad had Alzheimer's, and before it progressed, I promised him that I would take care of my mom," Felest said. Roger and Felest built Peggy a small beauty shop in the utility room, as she was a beautician for decades before retiring. "She used to cut our hair, as well as other family and friends," Felest shared.
As another reminder of Roger and Felest's love for the DeMolay program, they built an upstairs room just for the guys. The large open room has an entertainment center, plenty of seating and a unique closet space. "We closed off the dormers and made closets that are just for the guys," Felest detailed. "They have to dress up for their meetings, so we collect suit jackets. They borrow them when they need them, use them until their outgrown and then give them back. We call it the DeMolay store." The room leads to ample attic storage space, filled with a variety of items, including things for Relay for Life. From the moment visitors step into Roger and Felest's home, they can see their castle is both a palace and a haven.
Written by Zachary R. Urquhart.