MANSFIELD, TX — For over 10 years, Tony Gates had a dream. The show Austin City Limits had always inspired Tony, because of his love for both television and music. So in 2009, when Tony met Ray Benson, nine-time Grammy winner and lead singer for the band Asleep at the Wheel, a light bulb went off.
"I knew this was it. He would be the host for the syndicated TV show I always dreamed of doing," he shared. And so, The Texas Music Scene was born, with Tony at its helm as producer, director, writer and lead editor. In its five-year history, the TV show has taken off with syndication in over 70 cities, 15 National Telly awards, 100 episodes and as many as 250,000 viewers, as well as interviews with stars such as Willie Nelson, Jack Ingram, Pat Green, Robert Earl Keen and many more. But, this success had a long, winding road.
Tony's love for film started young. "I've always been a movie buff, even as a little kid. I would watch movies and analytically try to figure out how it was filmed," he shared.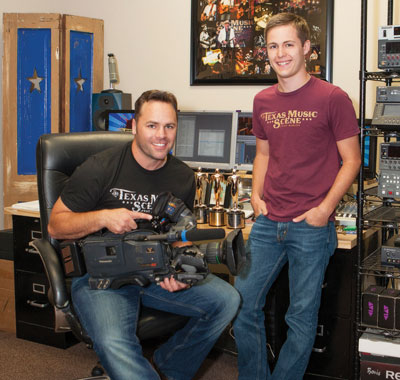 An introduction to video production class at Mansfield High School also inspired him to pursue his passion. His teacher would allow him to go outdoors with a video camera and an assignment. Although many of his peers used the time to goof off, Tony found himself enthralled with the process. When it came time to declare a major only a year later, television and film production seemed a proper fit. With a football scholarship to the University of North Texas in hand, Tony knew he had gone to the right school, for its outstanding production programs. "At the time, if you wanted to make a film, you had to be in a graduate program. But, at UNT, if you wanted to steer your studies in that direction, you could be in an advanced film program and make movies while going to school," he explained.
Tony credits the start of his film journey to his parents, who encouraged him to find his passion, figure out how to make money with it and then run hard after his dream. After college, Tony found his place at an in-flight production company that produced small film presentations played in between movies on flights. Although the job was located in Dallas, his heart was always in Mansfield. "I wanted to keep my business and home separate. Mansfield has always been home to me," he shared.
Moving back to Mansfield felt right to Tony after graduation, and he's been here ever since. Growing up here, he always felt comfortable, even when the town has bustled with rapid growth. "I saw that even though Mansfield was growing, it wasn't losing its small-town charm," he said. While writing and producing several different shows and even starting his own production company, Tony gained valuable experience to become a well-rounded television producer. "That was how I cut my teeth, in a way. A lot of television is specialized. You have one individual job where you're an expert. But I would see a project from start to finish. I would have the concept, write it, direct it and then edit it," he explained.
When Tony and his business partner were contacted by Ray Benson to produce a DVD for country music artist Aaron Watson, the gears began to turn for The Texas Music Scene. "I always loved country music," he smiled. "Music to me is so much a part of the Texas culture and what it means to be a Texan. I take a lot of pride in that. I love being here, because there's something so unique about our little corner of the world. It's not like any other place." The concept for The Texas Music Scene was based loosely on the TV shows Austin City Limits and VH1Storytellers. "I formed the idea around what a fan would want to know," Tony shared. "Our show lets fans know what's going on behind the scenes, why a song was written, what inspired the artist or how an artist went about recording an album.
These are all things country music fans are passionate about." Ray Benson, as the host, was an easy sell for Tony. "Ray has been an ambassador of Texas country music and musicians. He was one of the big players for getting insurance for working musicians in Austin. He resonates with the younger crowd, but he's also tapped into the past of Texas music. He's the perfect host," he said. Each episode of The Texas Music Scene highlights artists and their work. The crew travels to concerts and music festivals to film performances and conduct interviews. The show also travels to San Marcos and rents a theater to film performances for other artists. "We travel there once a month for seven months and film four artists at a time," Tony shared.
The Texas Music Scene also travels annually to Steamboat Springs, Colorado, for a 5-day, 40-band music festival to film. "There are at least 5,000 Texans there for this concert to see bands they could easily see on any given weekend," Tony laughed. "But, to go skiing in the morning, then go to a concert at night, can't be beat."
Although Tony initially wanted to separate business and home when The Texas Music Scene took off, he knew the two could merge. "We had to really scale down our business to make this show work, so I had the opportunity to move from Dallas to Mansfield. I made Mansfield not only my home but also home for my business, and I've been working here ever since," he shared.
Tony shares responsibilities with an assistant editor, Todd Hebert, who also lives in Mansfield. Tony prides himself on his television accomplishments, but his true pride and joy are his family: his wife, Kourtney, and kids: Kaden, Kennedy and Landon. Kaden, a junior at UNT, is following in his dad's footsteps. "He's studying radio and television and working with me part time. He'll come with us to San Marcos, if it doesn't conflict with school and transcribe for the closed captioning or help with editing," he shared. Tony's history in Mansfield is dear to him. "Clayton Chandler, the city manager who has a park named after him, was my youth soccer coach growing up. I knew all of these teachers who have schools named after them, like Linda Jobe or Asa Low, who was a choir teacher at my school. These people were part of my life as a kid, and now they have schools and parks named after them. That connection is special to me, and I don't know if I were to be anywhere else that I would have that connection," Tony shared. "And, maybe someday, my kids can have that connection, too."
Written by Mikaela Mathews.