RED OAK, TX — When Sandy Galletta lived in DeSoto, she was an active member of her community. To say she was burning the candle at both ends was probably an understatement. When she moved to Red Oak, she was determined to scale back her civic responsibilities. But one too many coincidental conversations with acquaintances and well-timed opportunities led Sandy right back into civic involvement.
Sandy's personality is a blend of warmth and enthusiasm. "I'm originally from New Jersey, but I've lived in Texas for the last 25 years. We first lived in Richardson, and then we moved to DeSoto where we lived for 10 years," she said. While living in DeSoto, Sandy was busy making an impact in her community. "The DeSoto Lions Club, the DeSoto Service League, the DeSoto Chamber of Commerce Education Committee — you www.nowmagazines.com 10 North Ellis Co.NOW October 2013 name it, I was affiliated with it," she stated. "I've always taken an active role in my community. I volunteered with the DeSoto Outreach Center for about two years, and then I was selected to serve as the director of the program, a position I held for about 10 years."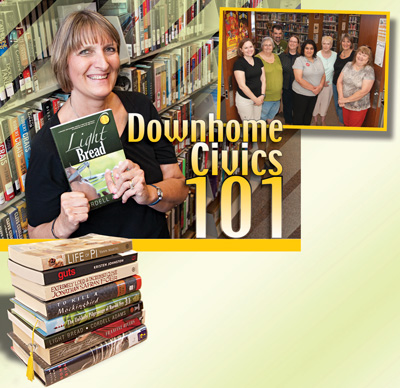 A series of life changes left Sandy with a desire for a fresh start. She had always valued history, and the opportunity to work in Dallas at The Sixth Floor Museum presented itself. Sandy then decided to move, and in 2000, she relocated to Red Oak. In 2001, she married John, another former New Jersey resident. When Sandy moved to Red Oak, she was reluctant to take on so many different projects, and she decided to take a different approach. "I told myself I was going to scale way back on my commitments. My plan was to work in Dallas and live in Red Oak, and that was going to be it," she stated. Sandy currently works for the Convention and Visitors Bureau for the city of Dallas. With her strong background in civic involvement, it's easy to see why she was such a good fit for the organization. "Last January, I was hired by the Dallas Convention and Visitors Bureau where I provide administrative support to the Senior VP of Diversity and Inclusion and the VP of Strategic Alliances."
For a while, Sandy stuck to her decision to reign in her civic involvement. But then she began to make little compromises with herself. Her first two projects didn't end up being full-blown, citywide initiatives. In fact, they were pretty small. "Well," she admitted slyly, "I did end up starting two groups that meet once a month — a couple's Spades group and a Bunco group," which is a game played with dice. And with those relatively small compromises, she continued to stick to her guns, going to work and back home, with the occasional social outings with friends. But a personal internal shift was slowly beginning to take place for Sandy, and all it took to turn the tide was for her to start reading a few good books, a few well-timed conversations and a little nudging from her friends. "A few years ago, a friend of mine, Tamera Moses, was serving on the Red Oak Library Advisory Board, and she mentioned they were short a few board members. She knew how engaged I'd been in the DeSoto community, and she commented I should really consider getting involved. This was around the same time that the Hunger Games books were really popular. My youngest daughter, Dana, kept insisting that I read the series. I don't read a whole lot, but after reading the Hunger Games, I continued to read several other books including, The Help, The Five People You Meet in Heaven and The Secret Life of Bees. While I was enjoying my books, another friend, who lives in the Garland area and is part of a book club through her church said, 'I can't believe you aren't involved in a book club.'"
But one final conversation Sandy had proved to be an undeniable sign that full-fledged civic involvement was close on the horizon. "I'd had another conversation with Joyce Grant in which I'd floated the idea of a book club. She served on the Red Oak Library Advisory Board, and she asked me if I would be willing to facilitate the book club, if there was mutual interest from the Red Oak Library," Sandy explained. "I told her I would consider it. She approached the library board. They were receptive, and that's how it all began." So in May 2012, Sandy became a member of the Red Oak Library Advisory Board, and one of the first items on the agenda was the book club.
Sandy approached the assignment the same way she approached all her other endeavors — enthusiastically and diplomatically. She reached out to community members, and the library assisted her efforts by posting the details of the book club on its website. The first meeting was held last September, with about 30 participants attending the kickoff event. "As a group, we decided which books were going to be read, and the first book selection was Extremely Loud and Incredibly Close by Jonathan Safran Foer," she said. "To break the ice at the first meeting, and to help the group be more interactive, we started with introductions." To introduce themselves, participants removed the words loud and close from the title of the book and replaced them with words that described themselves. With the launch of a successful book club under her belt, Sandy now has a couple of new missions in mind. "I would like to launch a Red Oak Friends of the Library group to serve as an advocate for our library." One of the main missions of the group would be to facilitate more activities between the library and the schools, especially targeting younger children in elementary school.
She would also like to see the formation of a historical preservation group that could dedicate itself to researching, writing and preserving the history of Red Oak. "While working at The Sixth Floor Museum, I saw, firsthand, the value of history in photographs, keepsakes and oral histories," she confided. "It's so unfortunate, but once those who remember history firsthand have passed, if they haven't shared their stories and photos, that history may be lost forever."
A community is always strengthened when its citizens band together with common goals that can enhance the quality of life for its members. Sandy serves as an example of the positive change that can result when people invest their time and talents back into the places where they live and play.
Written by Dianne Reaux