ENNIS, TX — When most people look back on the years they spent in school, there's a tendency to reminisce about those who made it tick. More times than not, there are a handful of staff members who made a particular and lasting impact. Sometimes it's a teacher or a coach. For others it could be a principal or maybe even a bus driver.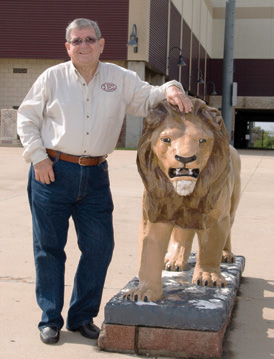 The rare opportunity to encounter them all in one man happens when meeting Bill Cox. "It's really almost by accident that I'm here," Bill explained, referring to the last five decades he's spent in Ennis ISD in one capacity or another. "It wasn't my idea," added Bill, who retired in June. "I thought after I graduated high school I'd get a job with the Highway Patrol or attend the Navarro College Lab Technician program." Bill was a talented athlete, but higher education was never one of his priorities as a young man. "I was invited to spring workouts with the Navarro College football team and offered a scholarship," he explained. "But it was baseball season, and we were in the playoffs. At the time, going to college just wasn't that important to me. I wanted to play baseball."
Even though going to college wasn't that important to Bill, his father had other ideas. "My dad ran a machine shop and did it with a seventh-grade education, but it was always important to him that I go to college. So I enrolled at Navarro that fall." There, Bill began a life of education, although he had a slow start. "I didn't like school," Bill admitted. "And when I graduated from Navarro, my plan was the same as it had been after high school — to get a job and go to work." Luckily, his father wouldn't allow that. Bill now had his associate degree, and his father wondered what was next on his son's educational agenda. The next step came at East Texas State University (now Texas A&M University-Commerce), where Bill enrolled to pursue his bachelor's degree. "East Texas State is out in Commerce, and there's just not really a whole lot out there," he remembered. "I don't think I spent a single weekend in Commerce. I always wanted to come home."
As Bill drew closer to graduating, the need for experience as a teacher's aide brought him to Ennis. "Kathryn Maxon was the biology teacher here in Ennis back then, and she was a good one," Bill remembered fondly. "Kathryn was a great teacher who took her job very seriously. She was very hands-on and reluctant to let just any one teach her class." So Bill watched, learned and helped Kathryn with anything she required. "The summer after I graduated, the superintendent from Ennis ISD called one day and asked if I had found a job yet," he shared. Bill explained to him he had accepted a job with the Dallas ISD. That wasn't the end of the conversation. "He told me to get out of it," Bill said. "Kathryn was planning on retiring and had said the only person she would turn her biology class over to was Bill Cox."
So in 1964, Bill began his career at Ennis High School, although it wasn't exactly as he had planned. At the start of the year, Kathryn changed her mind about retiring. "I started out teaching American history and over the years ended up teaching government and economics as well." In 1967, Gerald Myer, the head football coach at the time, approached Bill about taking on some coaching duties. "I really didn't want to coach if you can believe it," Bill recalled with a grin. "So I told him no." Coach Myer didn't take no for an answer and after some more dialogue, Bill found himself as the seventh-grade football coach. That was only the beginning. Before long, Bill was line coach for the varsity team. He also served as varsity baseball coach for 19 years and went on to coach the tennis team for several years. "In all my years coaching I never thought of myself as a father figure," Bill confessed. "But I hear that more and more from former students and, looking back, I guess I can see it. I remember on Saturdays, kids would come by the house and ask my wife if Coach could come out and play. We had a basketball goal out in the drive, and all the kids would come over. We would wind up spending the whole day out there."
Next, Bill spent three years as vice principal for Ennis Junior High before he was approached about a recently vacated position — EISD athletic director. "Over the course of about a week, probably four different school board members called me to ask if I was interested in that job," Bill remembered. "I told them I really didn't think I was qualified. I was good at what I was doing and was worried about getting into a job that I wouldn't be good at. But they kept calling, so I sent in a résumé." That was 24 years ago. Looking back, it's pretty clear Bill was the right man for the job. Five state titles — four in football and one in track and field — speak for his skill and leadership. If that isn't enough proof, comparing the athletic facility in Ennis when Bill took the job to the present facility is more than sufficient. Did Bill ever know the number of Ennis athletes he groomed who made it to either college or professional sports? "I guess if I took the time I could count them up, but that's not what's important," he said. "I used to tell my parents and coaches that not every kid was going to get a college scholarship. But we were going to give every one of them something else. When a student finished our program they would know how to say, 'Yes, sir' and 'Yes, ma'am.' They would know how to treat their family well, and they would be employable."
Bill's success in developing the talents and sense of social responsibility of many is appreciated by many more. He has won a place in the hearts of those whom he taught, a fact proven when generations of former students turned out to celebrate his tenure at a retirement party at the close of the 2012-2013 season. After 50 years of service, it's clear Bill knew what he wanted to accomplish with the Ennis ISD. And it's just as clear that he excelled. This fall, someone else will be sitting at his desk, and they'll have some big shoes to fill.