WEATHERFORD, TX — The history of the landscape has always been interesting to Terry Hughes. He first got involved in land surveying when he was just a boy growing up in Weatherford. Terry's father, Tommie Hughes, purchased a land surveying company in Weatherford back in the early 1960s.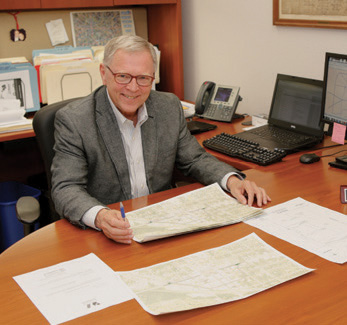 "From the time I was big enough to walk, I worked in the field with the surveyors. It was just a given," Terry said, explaining how surveying became his profession. Terry also followed in his father's footsteps and served as county surveyor for a stint. He is still a licensed surveyor, but Terry now works as director of Capital Transportation Projects with the city of Weatherford. Terry first started working for the city in 1990 and moved up through the ranks to become director of Transportation and Public Works. In his current position, Terry focuses on new roads and expanding the capacity of existing roads. He believes the transportation system is linked to prosperity and growth. Terry recently found census data dating back to 1860, when only about 5,000 people resided in Parker County.
By the 1870s, the population had tripled. "The catalyst was the railroad coming to town — the transportation scenario. It really wasn't that it brought people here, but that people were then able to be entrepreneurial," Terry explained. The consensus was that residents could focus on cash crops, instead of growing crops for their own use. "Our growth stayed stable until about 1968-69. Then we started spiking up. That's when the interstate came to town. It's all driven by your ability to transfer goods; for people to move. It's a very interesting field to be in."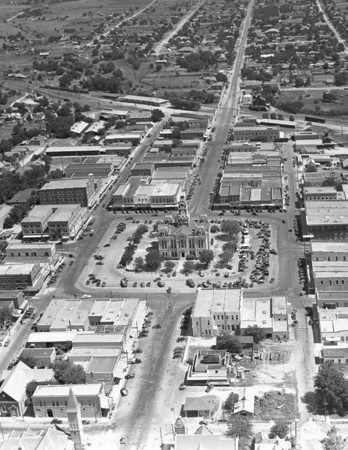 The Barnett Shale helped move some local transportation projects forward in the 2000s. Since 2006, the city of Weatherford has seen a lot of growth in new road construction. Terry has been instrumental in that growth — from B.B. Fielder Drive and the Franklin Street Bridge widening to the widening on S. Main Street and the new frontage roads off I-20. Economic growth along I-20 has boomed, bringing jobs and boosting property values. "That development wouldn't have happened if we hadn't invested in those frontage roads," he explained. Jack Borden Way was part of that package, too. An old transportation thoroughfare study Terry found from 1961 actually included a proposed road where Jack Borden Way sits today. "It's interesting to me, to see how these things change, and in some cases, go back to what was originally planned." The roadway is named after the mayor at the time of the original 1961 transportation map, Jack Borden. "He was an attorney here in town. Worked for the FBI," Terry recalled. "One of the probably half a dozen true gentlemen I've ever known in my life. I mean true southern gentlemen," he said, referring to Jack, who was honored with the street naming the year of his 100th birthday.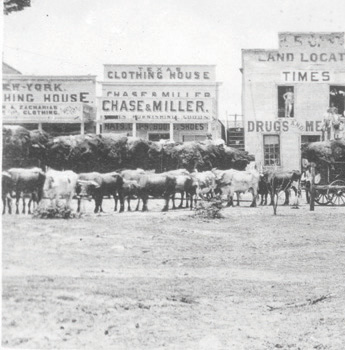 Terry often wonders why previously proposed transportation routes were never implemented. "I have plan maps dating back to the '60s that everybody knew needed to happen. They just couldn't make themselves pay the price to make them happen," he explained. "That's interesting to me in the sense of 'why didn't they move forward with this plan? Why did it change?'" He believes funding was probably part of it, but he also believes people at the time couldn't make those connections to future transportation needs. He believes part of his job is to reiterate and show the importance of those connections. Up until about the last decade, Terry had not seen much growth in transportation projects in Weatherford. "It has gone slowly up the last few years. My personal opinion is there hasn't been an impetus to make roadway connections that should have been made." Growing up, Terry saw first-hand the construction of two major roadways in Weatherford. One of those was Santa Fe Drive. "When it was first built, I was a young man probably in my teens. The road went through rural land. I couldn't have imagined in my wildest dreams anything was going to happen out there," he recalled.
He also witnessed the construction of Bowie Drive and actually surveyed the land for the city. "I enjoy watching roads develop and morph into a catalyst for growth. I like that," he said. "When we're done, and things are back to normal, everybody is happy with that. I like to see the end result. The end results ultimately are people are allowed to move around, which is in our DNA." For Terry, it also goes back to being able to connect with one another. "It's not just roads. A cell phone — connectivity," he stated.
Terry dropped his cell phone in the Gulf of Mexico while on vacation this summer and was without it for three days. "There's a psychological trauma that comes with not being connected. It's the same thing with our need to move around." Terry spends his days looking at the old city transportation plans and maps showing the landscapes of the past. He makes it a point to keep history alive with his collection of maps from city records, and he has framed several to showcase at his city office. Terry also satisfies his interest in the history of land ownership by keeping dozens of books of transportation feasibility studies and surveyor maps on book shelves in his office. "Land ownership in America is different than it is anywhere else in the world. That's what built our wealth," Terry explained.
He likes to study the chain of titles, which previously included the history of land ownership. "I loved going through the old abstracts. They don't do that anymore," he said. "But the old chain of title had a lot of history involved about the land. Who owned it, and what happened on it." For now, Terry will stay busy updating the city's thoroughfare plan to keep pace with predicted growth stretching into 2035. The city is already busy working with the county to build an outer loop to help alleviate traffic in town. The first section from Highway 51 to I-20 on the west side of Weatherford should be complete by early 2015. The next phase will be frontage roads between Bowie Drive and Bethel Road. "I get passionate about this, because I have blood in the ground here. I have people buried here. I've lost people who have been friends over the years." Terry wants to continue their vision to benefit the community and continue the city's growth on the map. "Think about 20 years from now — because all the projections we have, we better continue what we're doing right now," he stated. "You know in the end, you're going to get something better out of it."
Written by Amber D. Browne.