GRANBURY, TX — Geri Lowry is a Renaissance woman. This vivacious businesswoman is also an artist. Retired from several careers as a real estate agent, seamstress, writer and public speaker, Geri recently wrote a sweet little book, The Rats of Grandville, about a group of nine women who gathered in a loft to knit. When they began making little furry rats, the personalities of the makers went into the rats, who eventually took off on moon-lit escapades in the clock tower on the Square.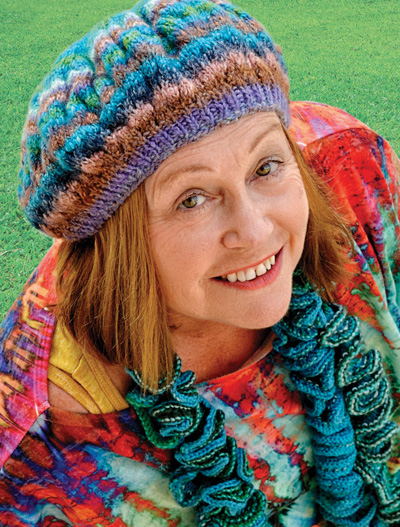 What has come from this whimsical book is the opportunity to speak at local civic organizations for women, men and children, to empower them to discover their artistic talent and do something they wouldn't have dreamed. She has joined hands with Cynthia James, owner of Artefactz on the Square, to deliver an inspiring program called "And Speaking of Empowerment." "We're on the road to talk to other women who might be thinking, OK, I'm retired now. I guess I'll sit here and do flower arrangements," Geri said. "I'm saying, 'Be bold! Remember what's in your heart! You might have been interrupted with family and career, but now you can do what you always wanted to do.'" She has spoken to women around Granbury at luncheon meetings.
The Granbury Optimist Club hosted Geri and Cynthia last summer, and were so impressed they asked them to present a workshop next February. Geri plans to speak to the Pecan Plantation River Rats, an informal group of women and men who have homes on the Brazos River. "It is equally appropriate to give this presentation to men," Geri said. "It's like, 'What are you going to do when you hang up your hat from your career days?'" To be so bold, this Toastmasters International-trained public speaker remembers she has a lot to share. "You have to be careful with that, because you don't want to sound like you're boastful. You want to say, 'Look, I can help you!'" To succeed in each speaking engagement, Geri first asks the audience about themselves. "I was very successful in real estate because I was a good listener first. How can you sell somebody a house before you listen to find out what they want? So at the beginning of my talks, I ask the audience questions, warm them up, find out who I'm talking to, make a few mental notes in my head. Once I get rolling with this, I ad-lib," she said.
Believing there is nothing worse than a written speech, Geri engages her audience by asking questions along the way, too. She coaches them to close their eyes, think about just a couple things they might like to do someday if they had the opportunity, and then take out a piece of paper to write down their thoughts. "It's not coming from your brain, but from your heart," she reminds them, "and those are the things you'll be successful with." Using her book as an example, Geri is going out to anyone who will listen and saying, "Hey, if I can do it, you can do it." Geri grew up in Plymouth, Michigan, a historic town near the Huron River and three lakes: Portage, Strawberry and Zukey. "So my husband Bob and I have been drawn to lakes. We've sailed the Caribbean, everywhere, and we're both certified captains. Now we live on a cliff overlooking Lake Granbury with a water view," she said, adding they sold their last sailboat when they planned their move to Lake Granbury from Lake Texoma, where both were avid sailors and Realtors. Before that, Geri negotiated leases for large corporate mall stores.
Even earlier, she used her public speaking skills internationally to teach people who were learning the business of marketing shopping malls. "It was an unbelievable 30-year career, and I got in at the right time and got out at the right time," said Geri, who recalls her entrance into marketing was journalism. She wrote a weekly column called "You'll Find It All At the Mall" for the small town newspaper, Scottsdale Progress, in Scottsdale, Arizona. Geri loved the writing, having been editor of her college newspaper. "The column was all about fashion — what is hot this week, what store has this, what the new colors were going to be. That role fit me well, because originally when I first married I sewed clothes for a living." Soon, Geri was producing fashion shows for all the stores in Scottsdale. Geri and Bob's two daughters, Kelly and Kristen, grew up modeling new fashions in all the special events for the mall. Geri's life has been a journey, and she is not done yet.
Her whole family is going on a cruise next year to celebrate the 50 years she and Bob have been married. "He is the wind beneath my sail," Geri said, happy to tell their love story. She has known Bob since she was 14 and he was 20. "When I was that young, we were not boyfriend and girlfriend at all. We were competitive roller skaters. Bob was a silver medalist, and I was a bronze medalist." Bob had to wait for Geri to grow up. Sometimes, they visited the elegant Elmwood Casino, across the Detroit River in Canada. She wasn't yet 21, something the Elmwood did not know. "I was so impressed with Bob and would tell him, 'I don't have anything to wear, but I'm going to make something special today to wear to the Elmwood.' On one occasion, I made a Chintz flower-print sheath dress and a fuchsia coat lined with the same Chintz as the dress," Geri recalled. "Bob absolutely loved it. We called it the Elmwood Casino Dress." Looking beautiful, feeling like the queen of the world, Geri said, "Good," when Bob announced they were going to get married. "I guess he thought I'd grown up."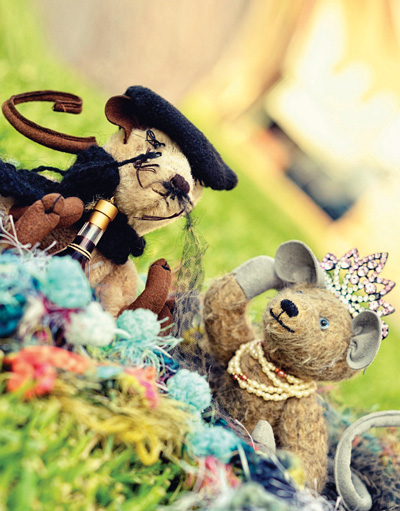 Little did he know that 47 years later, while learning to knit, Geri would work with more vibrant colors, especially soft yarns in wool blends. She would become entranced by a natural-fiber rat made by Julie Pitts, the owner of Yarn Extraordinaire now located at the Yeats-Duke historical cabin. When Geri and eight other ladies learned to make their own rats, Geri's writer-side went into action. She has since concocted a trilogy of books about The Rats of Grandville. Now reaching out to others, she urges people to consider their passions. "You've heard of the bucket list," Geri said. "My message is a little bit like that. Not the last things you want to do before you die, but what else do you have inside of you that's just waiting to come out?"
Written by Melissa Rawlins.