FERRIS, TX — Anyone who can hit a golf ball should seriously consider participating in Ellis County's fifth annual 100th G.R.E.E.N. Marathon on September 20.
"The event, held at the Old Brick Yard Golf Club in Ferris is the year's major fundraising event for three nonprofit organizations that do a world of good for the county," mentioned Sylvia Smith, who is enjoying her fifth year working with this event. Funds raised will benefit Ellis County Child Welfare, Court Appointed Special Advocate of Ellis County and Rainbow Room. Sylvia, who retired several years ago from the United States Postal Service after 20 years of service as a rural mail carrier, somehow manages to fit this epic responsibility neatly into her already busy schedule, an accomplishment that boggles the mind.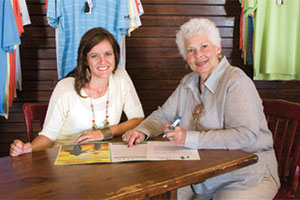 She is spokesperson and a board member of the Ellis County Historical Commission, and greets visitors to the Ellis County Museum in downtown Waxahachie several days a week. She is also involved with the Ellis County Women's Building Board and is on the board of Ellis County Child Welfare. "I've always tried to be involved with local community and historical things," she said. After resigning from KBEC radio as their business manager in 2011, she has more time than ever to devote to volunteer work.
Through her work with Ellis County Child Welfare, something she's been doing for nearly nine years, she has become acutely aware of how vital and important agencies that focus on children really are to the community. "Our focus at Ellis County Child Welfare is on foster children under the care of Child Protective Services," she explained. "We try to fill in the gaps monetarily that the state of Texas does not currently cover, such as buying medications and paying for drug testing. We also help pay for CPS workers to attend work-related conferences."
Sylvia is one of 14 members on the board of Ellis County Child Welfare, and is particularly proud of the fact they were able to provide funds for foster parents to buy clothes for their kids in preparation for the 2013 spring semester. However, funds to cover all the needs don't just magically appear for these nonprofit organizations, so events like the 100th G.R.E.E.N. (Golfers Rallying to Erase the Effects of Neglect) Marathon go a long way in bolstering funding. "The goal for participants in the marathon is to hit 100 balls in one day," Sylvia said, adding that many golfers who have historically participated in the event have already brought in over $3,000 in pledges and entrance fees. "A person can play in the marathon for an entrance fee of $250," she said. "We encourage each participant to get $1,000 in pledges when possible, too."
The marathon began in 2008, when Dr. Leroy Fenton came up with the idea as a way to raise money for organizations in Ellis County devoted to benefiting the county's abused and neglected children. He has spearheaded the event each year along with a tireless steering committee. "He's decided it is time to pass it on to someone else, and is looking for the lucky recipient," she laughed. Historically, the marathon has received the necessary funding from hundreds of sponsors that include individuals and local businesses, and Sylvia is quick to express gratitude for their past, present and future involvement. "We encourage anyone who wants to be a sponsor to contact us, and we will send them the sponsorship form to complete," Sylvia said. There are six sponsorship categories: Capital ($5,000 to $10,000), Diamond ($3,000 to $4,999), Gold ($2,000 to $2,999), Silver ($1,000 to $1,999), Bronze ($500 to $999) and Hole ($150 to $499).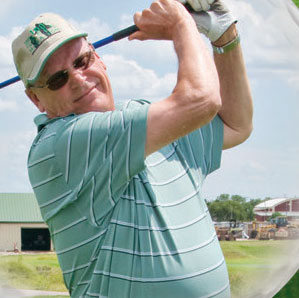 This mother of five and grandmother of 10 obviously understands the importance of early and careful planning in order to support Dr. Fenton's very successful history with the marathon. "We will start setting up around 6:00 a.m. on Friday, September 20," she said. "The golfers start arriving between 6:30 and 7:00 a.m. We furnish breakfast for them, courtesy of Ellis County Child Welfare. The objective is for each player to hit 100 balls in one day. We serve lunch, courtesy of the Rainbow Room, and supper will be provided by CASA (Court Appointed Special Advocate). We have some really nice prizes, including a brand new Chevrolet and $5,000 for whoever hits a hole-in-one. "We will supply anyone who wants to participate with all the necessary paperwork. The main goal will be for each participant to get as many pledges as possible," Sylvia continued.
In 2012, the 100th G.R.E.E.N. Marathon had around 42 golfers participate, and the goal for the 2013 marathon is to enlist at least 75 golfers. Funds raised from the event will be evenly divided between CASA, headed by David Setzer, president of the organization that helps fund training of volunteers who spend hours with an abused child and family and represents them within the judicial system; Rainbow Room, headed by Cassi McCauley, serving as president of the group, started by First Lady Laura Bush several years ago when her husband was governor of Texas, to provide necessities to small children removed from their homes and their caregiver(s); and Ellis County Child Welfare. On the flyers created for the fifth annual marathon, there is a striking depiction of a golfer with a golf bag holding his hand out to a child, with the words, "How many holes of golf would you play to protect a child from abuse?" At the bottom, the marathon's objective clearly states, "Safe children is our passion. Good citizenship is our commitment. Community education is our objective and the ultimate golf event is our goal."
Sylvia and all of the volunteers working diligently to make the fifth annual 100th G.R.E.E.N. Marathon another big success are certain to make sure those words continue to ring true, now and in the future.
Written by Rick Herron.
Editor's Note: Forms are available for those wanting to sponsor or participate in the marathon by calling (214) 676-4486.