Granbury, TX — The long days of summer slip away into the promise of cool autumn breezes. School bells ring.
Children return to their desks, filled with anticipation of learning something new. Third-grade students in the Granbury ISD won't wait long before a magical opportunity arrives. Blake Barker, joined by other Rotary Club members, was considering the next school year even as summer began. Not long after the first bell of the new school year reverberated through the hallways, the group visited campuses within the area. Checking in at the office, they patiently endured an inspection of boxes they carried before proceeding to a third-grade classroom. Blake shared with the students their reason for attending class that day.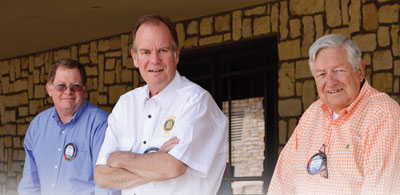 Pulling a dictionary from the box, he talked about the importance of the book in his hand. A current of excitement electrified the air as he demonstrated how to use a dictionary to look up the word meanings. But these dictionaries aren't just for finding definitions. They also include a copy of the Constitution, the Declaration of Independence, background on American presidents and more. The longest word in the dictionary appears at the back, although Blake made no attempt to pronounce it.
He then invited the students to line up and receive their own copy of a paperback dictionary they could take to every class in third grade and beyond. One by one, the Rotarians handed out the dictionaries with a warm handshake to each recipient, giving the child a distinct feeling of importance.
"They are important," Blake said. "They are our future. Many of them are our future in Granbury. Anything we can do to support that, the Granbury Rotary Club is there."
The kids come from diverse backgrounds. Some of them receive more advantages at home than others. Putting a dictionary in the hands of these young students equalizes everyone in the classroom. They all own a resource to enhance what they read in textbooks or the chalkboard and hear in class or anywhere. For a moment, the visitors gave each child a sense of empowerment and importance — for some a first-time event.
A total stranger had entered that life, gave them a gift, shook a little hand and said through words and actions, "You are important and capable of learning, so the future is brighter."
In most cases, a smile crept up the corners of the child's mouth, spreading across the face as he or she thumbed through pages. Across the room, children proudly wrote their name in their new treasure. They searched for words, finding as many as possible before the group picked up boxes, headed for the next classroom, and the teacher said, "It's time to get back to work."
"Many times fourth-, fifth- and sixth- graders approach us to say how much they've used the dictionary," Blake said. "They recognize us in stores. We feel good about giving back to the community while impacting education."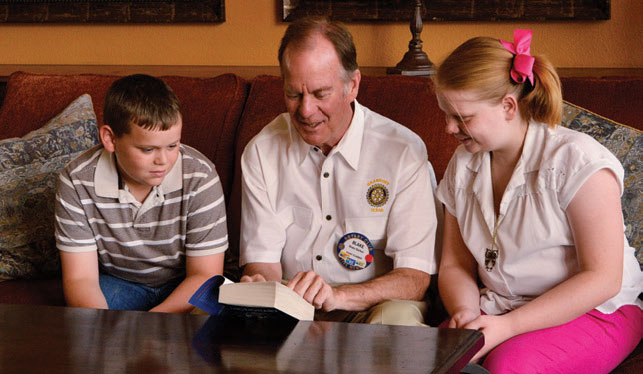 Owning the dictionary teaches younger students they can reach out and find words with more than five letters. As children enter third grade, they have such inquisitive minds. Cognitive development broadens at this age as students start the move toward adulthood. By the time they reach third grade, they're on the edge of a mental shift. Not only do they have extreme interest in learning, they develop the ability to search out things by themselves. Owning a dictionary helps in this endeavor and potentially affects the remainder of their educational journey.
The Rotary Club is an international organization of over a million members in 34,000 clubs. Made up of male and female business professionals, the organization boasts the largest privately funded scholarship program. The Granbury club awarded six scholarships out of 90 local candidates at the end of the 2012-2013 school year. Known for their desire to increase literacy, the club takes on projects such as passing out dictionaries to students.
Blake first joined the Rotary Club in 1983 while living in Dallas. He stayed with the organization until 1990 when he moved to Washington, D.C. He eventually moved to London, England, and returned to D.C. after several years. Over the years, he owned and sold multiple companies. When he retired and moved to Granbury in 2007, he connected with the local Rotary Club.
"There are many good service organizations," he said. "The Rotary Club fit me — a place where diverse professionals can join in their 20s and stay with it into retirement. It's about the fellowship. We have camaraderie among like-minded people with a desire to make a positive difference in our community," he said, adding. "Even in a group of strong leaders, I don't see gamesmanship. When working on a project, everyone knows what tasks need to be done, and they simply step into a leadership role to complete the tasks."
Besides supporting education, the club also builds ramps for the elderly, works with the food bank and other local organizations serving the needs of the community. With international connections, local members can join worldwide efforts such as clean water projects or providing eyeglasses.
The local group of 49 members, made up of 37 men and 12 women, have an average age of 54. Funding for projects comes from members, membership dues and matching grants from the national and district levels. Members represent different industries and meet weekly at noon on Thursdays at the Harbor Lakes Country Club. New members are always welcome, but must be an active or retired professional within their industry, a manager or executive with proven leadership abilities.
As president-elect for 2014, Blake looks forward to serving the community. His plans for the local club include continuing education and other typical projects. However, they will also focus efforts on helping to rebuild Rio Brazos by joining other groups and sending out teams of members as Granbury recovers from the May 15 tornados.
Blake's parents purchased a lake home in DeCordova in 1972. He always liked Granbury. At retirement, tired of big city life, he chose Granbury for his home. "It's America. It's that hometown," he said. "When you walk the square, people know you and say hello. There's a certain warmth I haven't found anywhere else."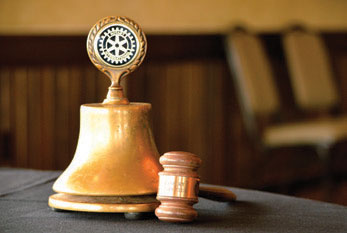 In spite of growth in the area, the small-town feeling remains. Blake believes the growth comes from a longing for what he sees in the community. "Granbury is growing, not because of industry, but because of the charm and beauty the town has to offer," he said.
The future drives the Rotarians to support the community and the education of our children. Last year, they delivered 586 dictionaries in the area and look forward to delivering more during the current school year.
Written by Lisa Bell.
Editor's Note: For more information on the Granbury Rotary Club visit granburyrotaryclub.wordpress.com.