MANSFIELD, TX — Never one to resist dancing and the only girl on her T-ball team to hit a triple, Harper Shook knows how to live. At the age of only 6, Harper has endured countless doctor's visits, surgeries, overnight hospital stays, medications and shots because of her juvenile arthritis. But if you were to see her on the street, you would never know. "Although her arthritis has to be monitored and maintained, there's no reason that she can't lead a completely normal life," Harper's dad, Cody Shook, explained.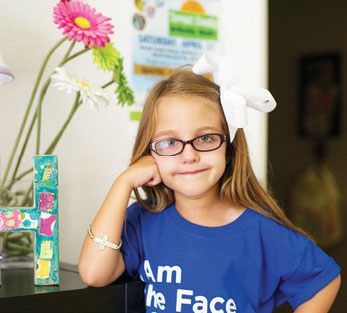 Cody grew up in the Mansfield area and has watched it grow throughout the years. The couple met in 1999. After college, Cody and Melissa married. Recently, they celebrated nine years of marriage. When they wanted to find a place that would be good for their children, they decided on Mansfield. "We knew Mansfield had good schools, so we wanted to settle here. We bought this house eight years ago and haven't left since," Melissa explained.
When Harper was around 9-months-old, Harper's mom, Melissa Shook, noticed that she had yet to start crawling. After some physical therapy, Harper started to show some improvement. But when her knee swelled to the size of a grapefruit at 18 months, Melissa and Cody knew something wasn't quite right. "We took her in for tests for her knee, and they ended up taking her to the emergency room because they thought it would be for something else," Melissa shared.
The orthopedic surgeon believed Harper might have juvenile arthritis, and referred them to Texas Scottish Rite Hospital for Children for more testing. "They drained her knee a couple of times and ended up doing a knee scope, where they put a tiny camera into her knee." After the knee scope, they reached a diagnosis of juvenile arthritis.
But, this process took about three months. Cody remembers those months vividly. "I remember being pretty profoundly frightened during that time," he shared.
After the diagnosis, Harper was given medication and put on a regular schedule of shots. "She started off with just one shot every week, and then they upped it to another medication, which was two shots a week," Melissa explained. "So we did three shots a week for about three years."
With a recent change in medication, the Shooks believe — and have seen — that Harper can live a very normal life. "We've had a very solid last several months. We haven't had any issues," Cody explained. Harper will, no doubt,
continue in school without a hitch in first grade this year.
Harper's favorite activity as a kindergartener was playing with magnets and reading. Her mom described her as an active dancer and her dad, very musically inclined. "She's very sensitive to music," he explained. "Ever since she was able to speak, she's had her favorite songs picked out." And it's not an uncommon sight to see Harper dancing to her favorite songs. "She loves to dance," Melissa laughed. "This girl can boogie."
Although Harper never looks forward to her schedule of shots, she still keeps a high spirit. "There's a woman at Scottish Rite who draws Harper's blood named Miss Sheila," Cody explained. "And Miss Sheila usually asks the kids for a hug afterwards, but instead of giving Miss Sheila a hug, Harper grabbed her by her cheeks and gave her a big kiss instead!"
The Shook family, which also includes their 4-year-old son Will, has been able to meet a wide variety of people at each hospital visit. One such person was an 11-year-old girl named Maren. "One day, when Harper was upset about having to get her blood drawn, this sweet little girl heard her in the hallway, came in and asked if she could hold her hand during the shot," Melissa smiled. "I got to know her mom, and we're still good friends."
Harper and her family were also given the chance to appear on WFAA Channel 8's morning show, Good Morning Texas, as part of a studio audience to support the Arthritis Foundation. True to her bright and energetic personality, Harper had a cheer ready to perform in case the camera panned over to her. The opportunity to be a part of the morning show came from the Shook family's involvement in the Arthritis Foundation.
The family has also participated in the Tarrant County Arthritis Foundation walk every year. The walk encourages families to create teams and raise money that will directly benefit the foundation. Harper's team is called the "Sloan Rangers," in honor of her middle name, Sloan. "We've been calling her the Sloan Ranger since she was little," Melissa laughed.
In 2012, the family was able to raise more money than they ever had before. To promote the walk, the family put out a flyer and let people know on Facebook. "We're a family that for the most part, just lives and let lives. But we wanted family who came out, but there was also an onslaught of people [who donated]." One of those people was her specialty eye doctor, Dr. Wang, who donated $2,000 to her team, and is one of Harper's favorite doctors. Ultimately, the family raised over $3,700 to go toward the Arthritis Foundation.
Shortly after the walk, Martha Earngey with the Arthritis Foundation approached Harper with a big request. "She asked us if Harper wanted to be the walk hero at the Jingle Bell Run in Fort Worth," Melissa explained. According to Melissa, as the walk hero, Harper will share her story about living with arthritis — the diagnosis, the daily pain, the medication and treatments, the toll it takes on a family, and the uncertainty of what the future will bring.
Outside of their advocacy with the Foundation, the Shooks remain busy. Melissa is a professional photographer, while Cody is a mechanical engineer. "We are both entrepreneurs," Melissa smiled. Cody recently struck out on his own after several years at a large firm.
Despite her condition, Harper doesn't allow the doctor's visits or shots to bring her down. "We have not allowed her to use this as a crutch," Melissa explained. Instead, Melissa and Cody allow Harper to live life to the fullest. "This is just what we have to do now, and we have met so many neat people. We're grateful."
Written by Melissa Matthews.