WAXAHACHIE, TX — In April 2010, 20-year-old U.S. Army enlistee Heather "Bunny" Gaughan reported to Fort Leonardwood, Missouri, for basic training. The following year, she was deployed to Afghanistan's Kunar Province and stationed at Forward Operating Base Bostick in the 27th Infantry Regiment, also known as the Wolfhounds. "I was trained as an '88Mike,' which is a truck driver," she explained.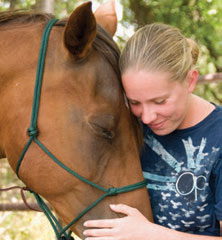 Known by her friends and family as Bunny, this accomplished young woman returned home last March. "I joined the Army to do something to be proud of, with full knowledge of the danger," she said. "It was important to me to serve my country." While profoundly changed by the experience, she has no regrets. "Anyone considering enlisting in the military should do it for the right reason, not for the money or training, but because you want to serve," she said. "It's good to challenge limits and important to have something in your life worth fighting, and possibly, dying for." Her important somethings are faith, family, country and horses. "Eleven years ago, my family purchased 120 acres, named it the Flying G Ranch, thus fulfilling my
mom's dream of creating a Christian ministry on a horse ranch. My dream is to reach out to people, especially kids, and help them to learn about Christ through relationships with horses and, also, to develop an agricultural business," she smiled. "While home on leave, I had the opportunity to buy 44 acres adjoining the Flying G Ranch."
The property, an abandoned golf range with a club house, was perfectly located for extending the horse ministry and ideal for Bunny's agricultural dream. "We prayed about it, and I managed to buy it while I was still in Afghanistan," she shared. "I named it Trinity Grove and, in the following months, my mom was able to rent out the club house for parties and events."
Since she's been home, Bunny has resumed her responsibilities as a Flying G director and teacher. She's also taken steps toward her agricultural dream for Trinity Grove. "I have two goats, a dog named Jack and a field of coastal and Timothy grass," she smiled. "Soon I'll have rabbits and chickens." She rents out the spacious club house for weddings and other events and a portion of the building has become the Flying G gift and snack shop. Most importantly, she has reconnected with horses.
"My horse journey began when I was 9 years old," she smiled. "My dad works for American Airlines, and when I was very young, we moved a lot." Texas became the Gaughan's final destination when they moved to Lancaster in 1994. "My mom is a certified riding instructor and trainer," Bunny said. "She grew up with horses, but I had never ridden or even met one until the day we decided to visit a riding facility and go for a family trail ride."
As it happened, the trail ride ignited her passion and reignited her mother's. Bunny and her sister signed up for lessons, her mother became the riding facility's assistant equine director. By 2001, the whole family was spurred to a great new adventure.
"That's when we bought the 120 acres near Ovilla. It was my mother's lifelong dream," she explained. "We serve groups and individuals from 6 years old to adult seniors. Our whole family helps with camps, lessons, trail rides, boarding and horse-keeping."
Every staff member at the Flying G, including family, has a camp name. "My dad is Ace, mom is Sprite, my older sister is Pony, my younger brothers are Shepherd and Wolf, and I'm 'Bunny,'" she smiled. "From the start, we've called each other by our camp names, and now a lot of people don't know us by any other!"
Bunny admits her early equine experiences were marred by danger, pain and misfortune. "I made so many mistakes," she said. "I loved horses, but didn't know enough to be safe. My first time in an English saddle, the horse I was riding balked at a jump, and I went sailing over her head." After that, Bunny decided to stick to trail riding. "That was fun until the day my horse avoided a muddy creek by sideswiping me against a tree."
She would face her ultimate challenge at the Flying G. "We had driven to a ranch to look at a gelding," she said. While there, the rancher pointed out four horses that were headed for the slaughter house. It seemed that two were crazy, and two were simply too old. "It broke my parents' hearts to hear that," Bunny said. "Also, I had already fallen in love with the pretty golden mare." That day, the Flying G Ranch welcomed five new horses. For Bunny, it was the beginning of a long nightmare named Sassy.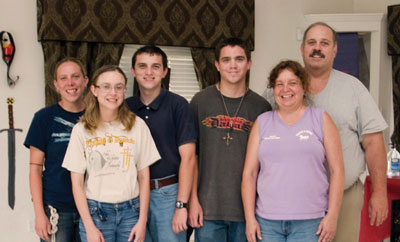 "Sassy is a gorgeous Morgan mare with a golden coat and black mane and tail," she said. Unfortunately, Sassy was also a striker, biter, crow hopper and bucker. "At 8, she was too dangerous to ride or even to touch. I couldn't sell her so, basically, she became a lawn ornament." Bunny knew Sassy was smart, but clearly, something or someone had brought her to this point. She sought advice from trainers and continued to struggle until a chance invitation delivered the answer.
"My mom went to a horse clinic," she said. The clinic demonstrated Pat Parelli's method of horsemanship, which relies on respect and understanding. "My mom knew it was the way to reach Sassy," she said. "I studied the Parelli method and soon realized Sassy must have been treated badly by people for their purposes. Apparently, no one had ever taken the time to know her."
With patience and a process of approach and retreat, her relationship with Sassy slowly improved. "Sassy taught me a lot about my faith in Christ, the importance of trust in every relationship and how effective a horse ministry can be," she said. "Horses have big hearts and are very forgiving. Sassy was 8 when we met, and I was 12. It took time and work, but I helped her to learn she could trust a human. When I came home from Afghanistan, it was Sassy who helped me to heal from the realities of war." Today, Sassy is 19, and Bunny is 23. Both are undeniably golden, and they have many more rides to share together.
Written by Carolyn Wills.