BURLESON, TX —  When Megan Holloway headed to college, she didn't pursue a teaching degree. With a long ancestral history of educators, no one imagined she'd choose a degree in fashion design. She broke tradition — or so everyone thought. Before long, Megan realized fashion wasn't the career she wanted. Seeking direction, she discovered the multi-faceted world of jobs involving nutrition. During high school, she played tennis and admittedly didn't have the best eating habits. "I'd eat fries and sweet tea for lunch, and then wonder why I couldn't perform on the tennis courts," Megan said.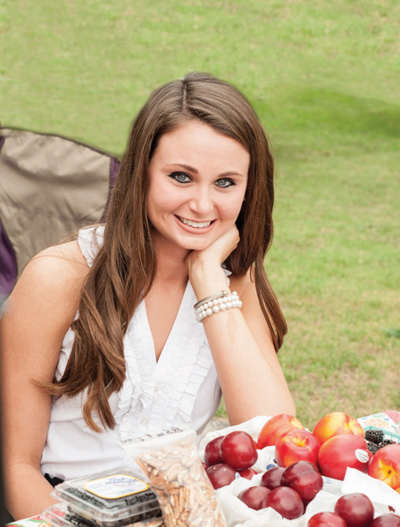 Her coach at the time also taught health classes. He helped her realize the importance of fueling her body with good foods to improve her athletic performance. This encounter with proper nutrition paved the way for her future. With a school administrator as a father and a teacher (now, a high school counselor) as a mother, she grew up around schools and developed a love of education. Although the role of registered dietitian and licensed dietitian doesn't look exactly like her ancestry, she credits the influence of her parents and coach for bringing her full circle back to teaching. During college, Megan loved sports and understood the link between performance and food choices. With a family history of diabetes and heart disease, she became even more interested in proper diet and its effect on health.
As she searched for a career that fit her personality and interests, she saw nutrition as a viable option. "I really could help someone," she decided. In her mid-20s, she helps many people. In her job, Megan works with all age groups. Doctor referrals, word of mouth, community outreach and the fitness center all bring clients into her office. Whether meeting one-on-one with someone or speaking to small or large groups, she educates about the benefits of good nutrition. Many of her clients come to her because of specific health issues. She adjusts her teaching style based on age.
A mother may bring in her 6-year-old out of simple concern or under a physician's advice. Some clients turn to Megan with weight-loss needs, often after trying every possible diet available. Still others come with a need to gain weight or a desire to control chronic disease with nutrition in place of or accompanying prescription drugs. "Every person is different, so we have to discover what works well for each individual," she said. Accountability plays a big part in success; however, she chooses encouragement instead of hounding someone into doing better. She teaches moderation and lifestyle over dieting. "Hounding doesn't work," she said, "and neither does deprivation. The more you restrict yourself, the more you want the thing you can't have."
The philosophy works as she teaches her clients better nutrition and creates an action plan for success. Megan applies these principles to her own life. She admits having a sweet tooth. In fact, she introduced her fiancé, Brian, to a love of desserts. "He figured he had it made with a dietitian," she said, "but before meeting me, he seldom had dessert with meals." She's learned to control the type and amount of sweets she eats, using tricks like freezing chocolate chips and eating a small handful to satisfy her sweet tooth. "Feed your sweet tooth, or it will drive you crazy," she said. During 1,200 hours of internship, she worked in many different types of nutritional jobs to find the best fit. Assisting a sports dietitian, serving meals to students at Birdsville ISD and other positions prepared her.
A job within her internship at Texas Health Huguley in food service led to her current position, a new role not only for clients coming into her office, but also providing a connection where she can give back to the community. She speaks at schools, senior citizen homes and clubs and other places. In a monthly nutrition class open to anyone, she provides information on different subjects determined by feedback from participants. Born in Cleburne, Megan loves being part of Johnson County again. Megan is currently working on her master's degree and plans to pursue her doctorate of nutrition later in life. She will marry Brian (a graduate of Texas A&M University) in April 2014. As chairperson for Power of Heels, the women's arm of the Burleson Area Chamber of Commerce, she helps empower women within the workplace and provide networking opportunities. Her favorite teaching comes in the form of counseling student athletes, motivating them with performance. "Why waste time doing two-a-days, then ruin performance because of poor nutrition?" she will ask them.
She takes pride in seeing the connection brighten their faces. Weight control and related disease comprise the majority of her cases. These clients also provide the greatest sense of accomplishment when they meet goals. "We don't put weight on overnight, so we can't lose it overnight. Small changes make big differences," she explained. One man came in with severe diabetes and other health problems, desperate to lose weight. Megan couldn't make the diseases go away, but after several months and 50 pounds lost, he took control over his body. He faithfully emails her weekly for accountability and encouragement as he continues toward his goal. A college student came to Megan after trying many diets and failing. She, too, had serious medical issues. This young woman didn't feel comfortable using the gym on the campus. They looked at other options for exercise, such as walking the halls and using books for weights. She experienced success, but one week she gained weight due to medication.
Megan comforted her and assured her finishing the meds would result in getting back on track — and it did. Meds finished, she dropped 11 pounds. Losing weight doesn't come easy. Ironically, putting on weight can be even more difficult. One of her clients survived throat cancer. At 65, she fed herself through a tube and couldn't figure out how to gain weight with it. They found a way to increase calories in a healthy way. This woman inspires Megan with her vitality and willingness to both enjoy life and make necessary changes.
People require the right mindset to succeed, and when they do, it's inspiring. Eating disorders challenge Megan most because of the psychological issues involved. Diseases affecting hormones (such as thyroid issues or PCOS — polycystic ovarian syndrome) tend to frustrate Megan. Diet changes can help overcome these diseases, but clients can still see difficulties in losing weight. She helps the clients discover what works best and sticks with them. She teaches portion control, wise choices and moderation as critical factors, especially when eating out. "Eating healthy doesn't mean gourmet cooking," Megan stated. "Keep it simple with steamed veggies, brown rice and such. Find what works for you and do it."
Written by Lisa Bell.