FROST, TX — As just about any high school football coach in Texas knows, the Gordon Wood Award, given once a year to a deserving high school football team by the Texas High School Football Hall of Fame, acknowledges the team that displayed good sportsmanship, the ability to overcome challenges, had the support of its community and achieved success on the field. It is named after Gordon Lenear Wood, a legendary Texas high school football coach. During his 43-season career, he served as head football coach for several different schools and won or shared 25 district championships and nine state championships.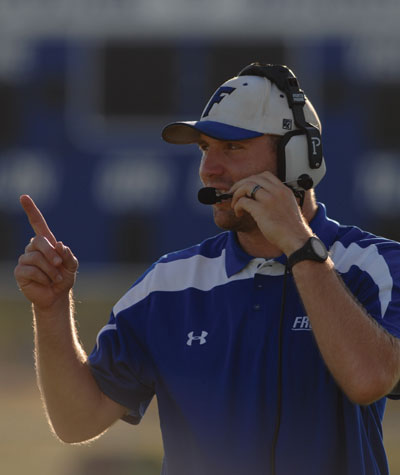 Earlier this year, after making it all the way to the state quarterfinals under the leadership of Coach Eric Blenden, the Frost High School Polar Bears football team was the proud recipient of that prestigious award. "The award is given to the team they believe has overcome adversity and had success on and off the field," Eric said. "Six years ago, we started out the 2008 season with 16 boys, and between injuries and grades, we couldn't even finish out the season." The trend turned around in 2009, with the team completing the season, but with a record of zero wins and 10 losses. In 2010, they finished with three wins and seven losses. The team was making great progress, and in 2011, they finished with five wins and five losses. "We just had one senior on the team in 2011, but we had learned how to finish a game," Eric said. "Then in 2012, we got to go to the state quarterfinals. The team had their first district win after being winless for four years. Plus,  getting our first playoff win was a huge thing, both for me and for the school." Prior to 2012, the Polar Bears hadn't made the playoffs since 1991 and hadn't won their first playoff game since 1989. "I was ecstatic for the boys," Eric admitted. "They had worked so hard and turned everything around." When the team went into the playoffs in 2012, they lost to Tenaha, the returning state champions, and finished the season with 12 wins and two losses.
However, the story of their incredible ability to turn everything around in just a few short years had reached the ears of the Texas High School Football Hall of Fame. Eric's dream of someday being a high school coach started when he, the oldest of three boys, was in seventh grade in Crawford, Texas. "It's always been in the back of my mind, I guess. After I graduated from Crawford High School, I went to Tarleton State University where I played baseball and probably would have continued doing that, but I tore my elbow bicep. After I had surgery, I didn't play again for a year-and-a-half," he remembered.
In 2009, Eric graduated from Tarleton and took a coaching position at Frost High School. "One of the main reasons I wanted to coach in the first place was because of the coaches I worked with in high school," Eric said. "I started at Frost as an assistant coach, and the following year, I took over as defensive coordinator and boys' basketball coach, which I did for two years." The year 2012 was important for Eric. He met his wife, Gayla, during his first year at Frost High School, and they married in 2012. They have three children: two boys and a girl. That same year, at the young age of 26, Eric was named head football coach at Frost High School.
In addition to his position as head football coach, Eric continues to coach the boys' basketball team. Eric's goal has been to instill in his players a desire to work hard and to win, and the kids decided they wanted to be good players. "You can be the greatest coach in the world, but if the kids aren't excited about playing — about being the very best — being a great coach doesn't matter," he said. "They all have a deep desire to play hard for the town of Frost, for their teammates and for themselves." As for Eric, he gets a real kick out of watching each athlete grow up a little through each football season. "They learn if they act like adults, they will be treated like adults," he said. "What is really great is they get along so well, which I think is one of the good things about being from a small town. We pride ourselves on the fact that everyone on the team does what they are supposed to do, because they just want to win."
The Frost High School Polar Bears football team is composed of 31 members. There are 11 seniors, eight freshmen and the remaining members are a mix of sophomores and juniors. The team follows a regimented practice schedule, practicing at night before the school year begins. "Times are tough, and most of the kids work during the day," Eric said. From Monday through Friday, they practice from 6:00 p.m. until 11:00 or 11:30 p.m. "They lift weights inside on Mondays, Wednesdays and Fridays for one-and-a-half hours," Eric said. "Then for two-and-a-half hours, we practice on the field. On Tuesdays and Thursdays, we spend the whole evening practicing outside." After school starts, the team lifts weights for 50 minutes, and after school, they practice from 3:30 p.m. to 5:45 p.m. "Practicing during the hottest time of the day is the hardest thing we do," Eric said. After spending the summer indoors in the air-conditioning, they have to get re-acclimated both to stricter schedules and working out in the Texas heat. "We take a lot of breaks to make sure everyone stays hydrated."
On Saturdays, they begin practice at 9:30 a.m., sometimes watching films of past games in the school film room, and they get to have Sundays off. The 2013-14 season's biggest game is Frost High School's homecoming game on September 27 against McKinney Christian Academy, after which they will go right into district playoffs. As head coach, Eric appreciates the assistance he gets from defensive coordinator and head baseball coach, Heath Blaylock, and Jimmy Alexander, assistant football coach and head track coach. "To be actually living my childhood dream of being a high school coach is incredible," Eric said. "But to coach these boys and watch them win the Gordon Wood Award is probably one of the greatest things to happen to me so far."
Written by Rick Herron.