BURLESON, TX — Music was a requirement in Demond Spraberry's family. His mom was a choir director and played piano. His grandmother always made sure he was at every lesson. Back then lessons cost between $1 and $5. When he started playing at church, he received $25 on Sunday. With more experience, his pay increased.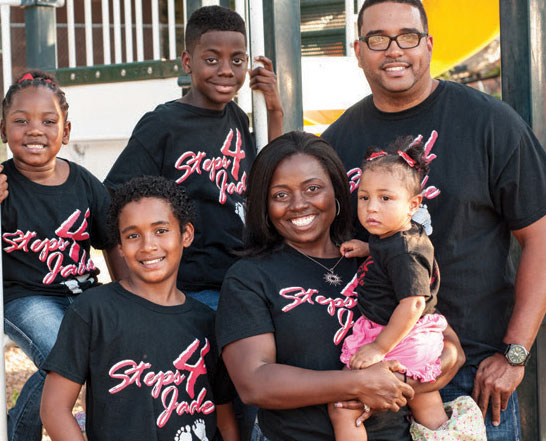 When his daughter, London Jade, was born with tibial hemimelia, music was the talent Demond used to help his family financially, while bringing awareness about her rare condition to the community. "I was always involved in music at church, so when London was born with a rare disorder, I participated in several musical benefits to get the word out about London," Demond said. "I also wanted to help other frustrated parents find hope for this one-in-a-million condition." When you walk into the Spraberry house, the four children are playing, swimming, reading or using the iPhone apps on Shenan's phone. They do what typical kids their age do. Even 2-year-old London plays with blocks and says words to get her family's attention. She does not let the large apparatus on her right foot deter her from doing what 2-yearolds do. She is a happy girl and does not understand that she was born with a condition called tibial hemimelia. Her parents did not know what a long battle it would be to find a doctor who specializes in this skeletal abnormality.
The lower leg has two bones: the fibula and the tibia. Tibial hemimelia is a partial or total absence of the tibia and is the rarest form of lower limb deficiency present at birth. This causes a foot deformity, and the knee may also be affected. Demond and Shenan thought London had a clubfoot. They were devastated to learn it was the rarest form of a skeletal abnormality, which presents in many variations of malformation. London's right tibia did not form completely, and her ankle joint is also malformed. They were even more devastated when every doctor they confided in suggested amputation. They saw every doctor imaginable to rule out every possible syndrome. "We did a lot of praying and a lot of crying," Demond said. "Shenan searched the Internet and finally found the expert in Florida who specializes in tibial hemimelia." When they went to see Dr. Paley, he told them two things: "First, this is the last foot I'd cut off. Second, London will be able to walk again."
Dr. Paley was instrumental in finding new surgical techniques for the treatment of limbs. The Spraberrys were relieved. They were determined to do whatever it took to help London over this hurdle in her life. Shenan is a counselor at Sherrod Elementary, and she had to take off work to travel back and forth to Florida for treatment. London would need multiple surgeries and physical therapy to correct the malformation of her right leg. To help finance these long trips to Florida and the upcoming surgeries, Demond performed several musicals at church. "One was a fried chicken dinner musical," Shenan laughed. "We wanted to increase awareness of London's condition to help others going through this. We wanted people to know there were options out there.
Church seemed the natural place to start. The musicals were a blessing because I had to take off work for so long." The family also wanted to start a nonprofit organization and a website to further help families with information and other needs. "We kept everyone updated on how her surgery was going through the website," Shenan said. "We stayed in Florida for three months the first time to make sure every thing was working properly on the apparatus on her leg." The apparatus consists of several stationary pins in London's leg and foot. They are connected to a mechanism that lengthens London's leg and improves the angle of her foot. Shenan has to rotate the pins in her leg everyday. Ever-soslowly London's foot is moved to the correct position. While Shenan and London were gone, Demond did his best to take care of Amare, Christian and Korth. The kids missed their mom. They didn't understand what their mom and sister were going through. Shenan's mom, Delphine, was a blessing and tremendous help.
With Demond in his last year of chiropractic school, he also had to be gone a lot. "It was not uncommon for me to make a two-hour drive to Dallas," Demond said. After four years in the Air Force, he was a police detective for seven years. "Then my wife wanted me to change careers," Demond said. The danger and the long hours were not a good match for this family. Now, Demond is home more and not in danger, unless you count Dallas traffic. He has one more year of chiropractic school. "I am on the downhill side, so that is a good thing," Demond said.
To relax, Demond plays music on just about every instrument you can think of. He writes songs, too. "If I'm playing music, it is late at night after family time or early Sunday morning," Demond said. Reading music was hard when he was a kid, but his grandma would wake him up early every Saturday morning for lessons. "That was back when they still paddled your hands with a ruler," Demond explained. "I didn't like it, but I'm glad I stuck with it." When London is older, she will be thankful her mom and dad stuck with trying to find a solution for her condition.
For now, she is turning into a rough and tough little girl with two older brothers who are very protective. London is pretty popular in her community, and she even appeared on a TV show. Inside Edition came to the first surgery and filmed all day. They followed London through pre-op, surgery and post-op. They also filmed an older girl whose surgery had been successful to show what the goal was for London. "We were frustrated and knew nothing about tibial hemimelia," Demond explained. "I want to help others be aware of their many options, so they can decide what is best for their situation and their family." Demond will always play his heart out for his daughter. He knows God has given him a gift of music — one he uses to benefit his family and glorify God. He wants to share with others London's journey of taking her first steps.
Written by Erin McEndree.
Editor's Note: For information about London and tibial hemimelia, visit www.steps4Jade.com.