ENNIS, TX — One of childhood's rites of passage is learning to ride a bicycle, usually starting out with mom or dad running alongside and a pair of training wheels firmly attached to the back wheel. After the training wheels come off, the next stage begins — riding a few feet then falling, which, thankfully, is short-lived.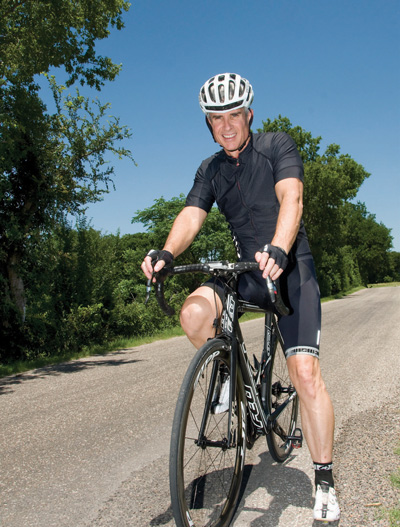 After a couple more days of practice, riding a bike is almost as natural as breathing and is lots of fun. Curtis Palmer never forgot the fun of bike riding and decided to take it up a notch when, in his early 40s, he started training for the world of competitive cycling. "In 2000, some of the guys I was riding with suggested I look into getting a license and race," he remembered. "My first sanctioned race was on the road around Texas Motor Speedway. We did eight laps (40 miles), and I was able to stay in the middle of the pack at the finish. I thought, OK, I like this!"
After that exhilarating experience, Curtis made a big change in the way he trained and how he approached his diet. "I made a conscious effort to improve my nutrition and just got smarter about a lot of things related to my health, training protocol and methods," he said. In the ensuing years, he rode with four different teams, the first one being in the Masters 35-plus category. He is a Category 3 now and races Masters 50-plus when he does race. Not long after he started competitive cycling, Curtis saw and felt definite changes in the way he looked and felt. "I noticed I was sleeping much better, and I was enjoying food more because the cycling regimen kept my weight down, so I didn't have to worry about not eating certain things anymore," he related. "Plus, it's been a fantastic way to relieve stress!"
Such strenuous training has a few downsides, however. "I noticed more joint pain, which a good bike fit fixed," he pointed out. When he was training full throttle for racing, Curtis followed a pretty strict schedule. "I would ride five or six days a week," he remembered. "In the summer, I'd start around 7:00 a.m. on Saturday or Sunday and do three- to five-hour rides, which averaged about 60 to 90 miles." Other training days were shorter, but more intense at intervals. "In the winter, if it was above 27 F, I'd ride outside," he said. "Below 27 F, I'd stay inside and ride." In October of 2011, while out on a four-hour training ride, Curtis hit the curb with his bike, which resulted in a fractured hip. "Fortunately, I was just going about eight miles an hour when a car honked at me from behind," he explained. "I turned around to look, and that's when I hit the curb and had a really stupid crash, causing an acetabula fracture. I was on crutches for about six weeks, but managed to get back on a stationary bike after a month."
Through perseverance and determination, Curtis emerged from the accident stronger than before. "I guess it's my Type A personality," he laughed. "I spent five to 10 minutes a day gradually increasing time to an hour indoors and getting my strength back. I was back on my bike outside in six weeks and off the crutches, although I was very, very careful." Born in El Paso, Curtis, 54, lived in Illinois for a few years before moving back to Texas in 1970. He has three kids — two boys and a girl — and one grandchild. He is able to work much of the time remotely for Cisco Systems in Richardson, where he has served for almost 17 years as a Collaboration Consulting Systems Engineer. Curtis and his girlfriend, Patty, have lived near Palmer for the last three years. When he's not riding his bike, you can find him weight training at the gym. He owns a F1-Felt road racing bike and a Van Dessel Cyclocross bike and has some interesting equipment that's tailor-made for competitive cycling. "I have some carbon fiber soled shoes I use for riding, which are very light and comfortable," he said. "I also use a helmet, which is a must, cycling bibs and cold weather gear." On his road bike is a SRAM Quarq power meter that calculates power output in watts for very specific training.
Curtis is modest about his cycling accomplishments. His record with the USA Cycling organization is posted on the rider results page of its Web site. Listed are two pages of races in which Curtis has participated from 2001 through 2012. Each entry includes the name of the race, elapsed time, associated team name and points garnered. Founded in 1999, USA Cycling, a membership-based organization located in Colorado Springs, is now comprised of over 2,500 clubs and teams, as well as nearly 71,000 licensees. These include officials, coaches, mechanics, race directors and competitive cyclists of all ages and abilities across all disciplines of the sport — road, mountain, track, cyclocross, BMX and para-cycling. The hardest race Curtis participated in was in cyclocross. This involves a short course with mounting and dismounting in parks of less than a mile, where the average speed is lower, but the intensity is dramatically higher than a regular road race. "I did that a couple times, and it was very hard, very intense," he admitted. "Road racing is my favorite type of race." Road racing, held on paved roads, is a term usually applied to events where competing riders start simultaneously with the winner being the first to the line at the end of the course.
He isn't racing now, but still rides and will eventually get the racing bug back. Curtis believes strongly that anyone can start a biking regimen and improve their health and general well-being, as long as they start slowly and stay consistent. "Start riding for three or four days each week and work up to more miles gradually," he advised. "The benefits, like losing weight and relieving stress, will be experienced almost immediately as long as you are consistent." He describes his love of cycling as a "great passion" that has helped him through some hard times in life. "I've really enjoyed the camaraderie with other guys who race, and I equally enjoy the solitude of riding alone in the country," he shared. "I guess I've ridden about 6,500 miles a year average for the last 11 years, and every mile was an experience I wouldn't trade for anything."
Written by Rick Herron.