CORSICANA, TX — Established in 1939 by an act of Congress, the U.S. Coast Guard Auxiliary has over 32,000 members serving in all 50 states as well as Puerto Rico, the Virgin Islands, American Samoa and Guam. Here in Texas, the auxiliary includes the 21 members of Flotilla 5-16 of Lake Richland Chambers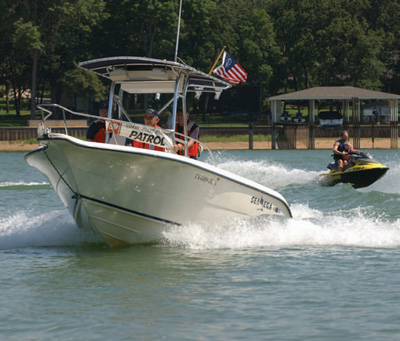 "Our mission is keeping the lake safe. We do everything but law enforcement," said FSO-PA Public Affairs Officer Dan Wilkie. "Everything" includes conducting vessel safety checks, lake patrols, safe boating courses, search and rescue missions and marine environmental protection. The dedicated auxiliary members receive training while donating their time and equipment in support of the active duty Coast Guard. The auxiliary serves under U.S. Coast Guard orders, and the Coast Guard provides auxiliaries insurance, gas and training.
"We are a 'force multiplier' for the Coast Guard. We assist them during normal and emergency situations," stated Vice Commander Jan Harding. For instance, five flotilla members volunteered their time following Hurricane Katrina, and other members have volunteered in Haiti. Locally, the flotilla works with law enforcement agencies, such as county sheriff 's departments and game wardens. "We are tight with first responders," Jan said. citizens 17 years of age or older who have no felony level convictions and can pass a security clearance. The most important requirement, however, is a willingness to serve. Owning a boat, living on or near a lake or coastal water, or having a great body of marine knowledge are not requirements. New members are encouraged to volunteer in whatever jobs best suit their interests or skills. Specialty skills are always needed in Web creation and management, computer technology, teaching, health care, aviation, public affairs, ham radio operation, cooking and language interpretation.
But as Jan said, "If you have a skill, we can use it." Since the auxiliary is a volunteer organization, members can serve in whatever duties and hours fit into their schedules. Many of the duties can be accomplished from the comfort of members' homes, while other duties require members to operate a boat safely while on patrol. Safety is always paramount. Dan, a lake resident, joined the auxiliary after he had rescued so many boaters, in spite of feeling that he was ill prepared to do so. "I wanted to learn more so I could meet all situations," he said. While on patrol, members must be prepared to handle any type of situation. "We are equipped to keep boaters and ourselves safe," Dan remarked. Jan and her husband, Al Harding, became interested in the auxiliary when they moved to nearby Cedar Creek Lake 19 years ago.
"We wanted to meet people around the lake, and suddenly we had 45 new friends!" Jan remembered. The auxiliary has many husband/wife team members. Al is now the district chief of staff for the auxiliary's District 8 Coastal Region, while Jan, who grew up boating, enjoys teaching safe boating classes and going on patrol. "We had to retire to do our volunteer job full time," Jan said, laughingly. David Rist, Flotilla 5-16 Commander, is also "the No. 1 course and photo identification is mandatory for persons born on or before September 1, 1993, if they operate a vessel powered by a motor of more than 15 horsepower or a windblown vessel of over 14 feet in length. Flotilla 5-16 TPWD Instructor Robert Capt teaches this class. The auxiliary helps protect the marine environment by responding to oil spills, reporting polluters, protecting endangered marine mammals, and "booming off " sensitive areas. Members can help the public to learn how to protect against aquatic nuisance species of animals and plants. The members of the U.S. Coast Guard Auxiliary Flotilla 5-16 have performed their duties so well during the flotilla's two-year existence that they earned the coveted District 8 Coastal Region's Silver Oar Award. The award was earned by performing duties in the nine traditional missions of the auxiliary and membership.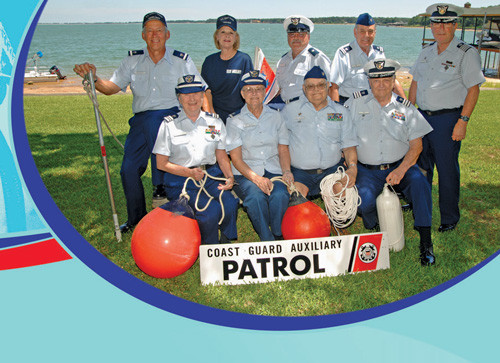 "It was a big deal to get this award for our first full year of service," Jan said. While there is always work to be done, Dan pointed out that the group's first- Saturday-of-the-month meetings at the Harbor Inn Restaurant are also a time of fun and fellowship. The commander and vice-commander are two-year elected offices, while staff offices are filled by appointment. Members wear Coast Guard uniforms that are the same as the active-duty members, with the use of silver on the patches and insignia, while active duty uses gold for patches and insignia. Service bars are also part of the uniform. Members may choose to serve at the flotilla, division, district and national levels of the auxiliary. August 4 is the U.S. Coast Guard Day, which honors this military branch that protects and serves. On this day, as well as all 365 days of each year, Dan, Jan, Al and David and the other members of Flotilla 5-16 will be on duty keeping neighbors and visitors to Lake Richland Chambers safe.
Written by Virginia Riddle.