RED OAK, TX — It was a cold winter day in Springfield, Massachusetts, back in December 1891, when a physical education instructor, Dr. James Naismith, created the game of basketball at a local YMCA. In the hope of coming up with a game that would keep his gym class inside and active throughout the long New England winter, he nailed a peach basket onto a 10-foot elevated track and wrote a set of rules that started with points scored for every "basket" that was made. Never mind the fact that the peach basket still had its bottom and the balls had to be retrieved after every successful shot. Fortunately, the rules were eventually changed to remove the basket bottom.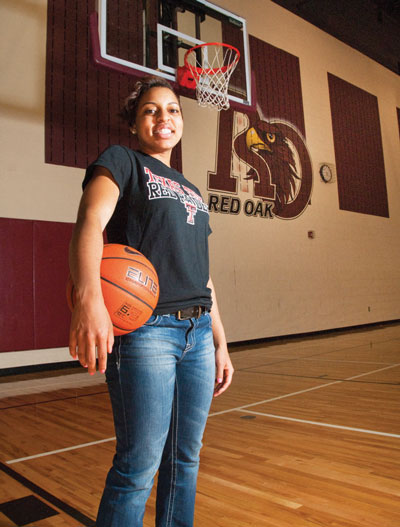 A few years later, in 1895, basketball had become established at several women's high schools, and the sport of women's basketball began to flourish. The rest, as they say, is history, and Diamond Lockhart is well on her way to making history of her own. Born in Grapevine, Texas, Diamond grew up in Carrollton and moved to Red Oak in the sixth grade. She remembers picking up her first basketball when she was 5 years old. "I guess it all started when mom asked me what I wanted for Christmas, and I picked up a basketball and showed it to her," Diamond said. "All she ever wanted to play with back then was a ball, any kind of ball," her mom, Miranda Lockhart, said. "She started playing basketball at the Carrollton Recreation Center and knew right away she loved it."
Diamond remembers always being athletic, even as a little girl. "I started playing soccer when I was 4, and when soccer season ended, I just started playing basketball when basketball season started," she said. www.nowmagazines.com 9 North Ellis Co.NOW July 2013 With an outstanding record that includes being an Entertainment and Sports Programming Network (ESPN) top 100-point guard and Offensive Player of the Year Most Valuable Player District 15-4A in 2012 for Red Oak High School, Diamond recently scored a major coup when she signed with Texas Tech in Lubbock. She will be playing on their women's basketball team starting in the fall. "I made the verbal commitment on August 3, 2012, and actually signed with them on November 14, 2012," Diamond shared.
She plans on majoring in physical therapy at Texas Tech, but when she's not hitting the books, she will be found in the college gym practicing with the team as a point guard. "I've always been a point guard and plan to continue in that position," Diamond said. "Point guards keep everyone in line and make sure the game is balanced. It's kind of a leadership role, which I like to do more by example than by voice." At 5 feet 6 inches tall, Diamond is perfectly placed, as shorter players and those who possess the best ball-handling skills and speed are typically point guards. Diamond has never seen her stature as being any kind of detriment to a career in women's basketball. "I don't think height really makes that much difference," she explained. "If you have the heart, you can do anything.
My mom taught me that. We have a really good relationship." Diamond's statistics over the last few years are impressive. She was named Newcomer of the Year for District 15-4A All District in 2009 and 2010. In 2010 and 2011, she was named Sophomore of the Year Most Valuable Player for District 15-4A All District Academic first team and Texas Association of Basketball Coaches (TABC) All Region first team. In 2012 and 2013, Diamond was named Offensive Player of the Year Most Valuable Player for District 15-4A and All District Academic.
She also secured a spot on the TABC All Region Team and the TABC All-State Team. Most recently, she was nominated as a McDonald's All American. She was a member of the DFW Elite Traveling Basketball Team, a competitive girls' basketball organization consisting of girls from the Dallas/Fort Worth Metroplex and other cities throughout Texas, and has received excellent exposure from the local club director, Corey Hegwood. The DFW Elite Team's Web site says the team strives to "develop young female basketball players to their fullest potential, while teaching them to compete with courage, play fair and to be leaders on and off the court. By pursuing excellence in sports, our young ladies develop a work ethic and maturity that will last a lifetime." In June 2011, Diamond suffered an injury to her anterior cruciate ligament (ACL), a debilitating musculoskeletal injury to the knee where the knee muscle is torn. "I was at the Texas Tech camp doing a defensive drill. We were backpedaling, and a girl stepped on my foot, which caused my leg to go the other way," Diamond explained. "I kept playing, but as it was still hurting after camp, mom took me to the doctor. I had to go through physical therapy for several months and learn how to build the muscles back up and get my balance back. I'm all over it now."
When it comes to her little girl leaving home for college and, hopefully, to a career centered on basketball, Miranda is optimistic. "I'm very excited for her, because I know she's worked very hard," she admitted. "She trains six days a week and has for a long time. I know going off to college will be a very good adventure for her, as she will grow in basketball and her career." Diamond practices just about everywhere there is a gym close by, and will practice either alone on the court or with two or three others. She credits her local trainer, Daryl Horton, for bringing out the very best in her impressive and growing arsenal of basketball court skills. "He's a father figure in my life, my shooting coach and really my everything coach," she said. "I hope to continue to work with him during college breaks."
Written by Rick Heron.