WEATHERFORD, TX — Each morning at McCall Elementary School in Aledo, Principal Jason Beaty greets students with a smile. Mornings are his favorite part of the day. Mr. Beaty is either out front opening car doors or greeting students in the main hallway. He is always visible to the students.
"A lot of times, I can see on a kid's face how things are going. If I need to have a conference and pep talk with them as soon as they get into the building, I think it makes a difference before they go down to the classroom." Things that happen at home can impact the children in class, so he tries to redirect them once they get to school. "Those kids who may have struggled the day before," he said, "need to know it's a new day. So, I smile and give high fives and shake hands with every kid, every single day." Mr. Beaty was recognized as Aledo ISD's Principal of the Year for 2011-2012. Student safety is Mr. Beaty's No. 1 priority.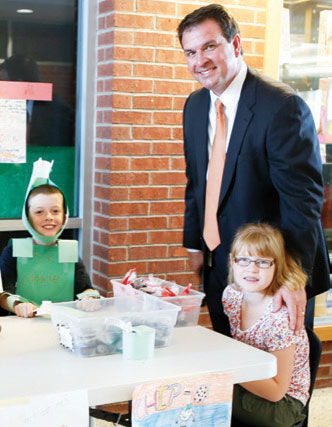 One of his greatest compliments came from a parent after the Sandy Hook Elementary School shooting in Connecticut last December. The parent approached him outside the school one morning and asked what he was doing differently regarding safety. The parent actually answered the question, because Mr. Beaty was doing what he always does. He was visible and on guard to keep his students safe. "Part of the reason I am outside is for safety," he explained. "As a parent, you have to feel safe when you drop your kid off. Kids have to feel safe being here at school."
Whether the child is concerned about outside threats coming in or bullies inside the school, they need to feel comfortable to speak with him about their problems. "And, parents have to feel comfortable to come and talk to me about any concerns or questions they have." Mr. Beaty started out working as a custodian with White Settlement ISD, while his wife, Christie, worked there as a teacher's aide. He then worked as a computer technician for Crowley ISD while finishing his undergraduate degree at the University of North Texas. He began teaching in Aledo in 2000, but ultimately decided to get his master's from Tarleton State University and become a principal. He was hired as principal for McCall when the school first opened in 2009.
"It's about impacting kids. As a teacher, I was able to impact the students who came through my classroom. As an assistant principal, I was able to impact a few more. As a principal, there are some things I can do to impact the most students." Mr. Beaty was recognized as Aledo ISD's Principal of the Year for 2011-2012. As a teacher, he won the Jack Harvey Award from Weatherford College, and he has also been nominated for the Marva Collins Award. Mr. Beaty claims he wasn't the best student growing up. "I was not one to cause problems," he explained. "I was just quiet, and I really didn't do very well," he said. "I think if a teacher would have jumped in a little bit sooner with me and recognized my struggles it might have made a difference a little bit quicker. It took me a while to get through college and find my path."
As principal, Mr. Beaty is in charge of hiring quality teachers who are dedicated to the students. "When you have a staff that care about kids and care about the community, it makes a big difference," he explained. "I think everybody wants the best for their kids. Whether it's parents who want the best for their child, or a teacher who wants the best out of their student, it's not always the same vision," he said. "How we get there is sometimes the challenge." Not every parent will agree with each decision Mr. Beaty makes, but they know his heart is in the right place. Whether he's dealing with behavioral or academic issues or programs to better the school, he approaches it from a community standpoint. "My home is here in this school district. I need to be able to look parents in the eye."
Students and parents often see the silly side of Mr. Beaty. He spent an hour in a dunking booth at Aledo Fest this past spring, and each year, he dresses up like a chicken to drop kindergartner's science egg projects from the roof. He thinks it makes him more approachable to students. "If they see you doing silly stuff, you're not just the principal." Mr. Beaty's father passed away when he was 13. Growing up with his younger brother and sister, he realized having other male influences is important. "I think that's where the biggest difference can be made."
Because of that belief, Mr. Beaty wanted to get more fathers involved at the elementary school level. "That's why we brought the Watch D.O.G.S. (Dads of Great Students) program here. This was actually the campus where the Watch D.O.G.S. program for the district was started," he said. "The more fathers I could make feel welcome here as a part of this school, I think the bigger impact it has on students." He and his wife both graduated from Crowley, which he says is similar to the small town feel of Aledo. "This is where we wanted to raise our family." He and his wife, who is the testing director at White Settlement ISD, love to travel. Mr. Beaty also enjoys volunteering. He has volunteered for the Give One Day program with Aledo United Methodist Church.
He has also worked with them to bring the Snack Pack program for economically challenged students to McCall. With help from other local churches, the program has expanded to all Aledo ISD campuses. Fishing and playing golf with their daughter, Caitlin, provides additional enjoyment. "Golf is something we can play for a lifetime. When I'm an old man, she can drive me around in the golf cart." Caitlin will start fourth grade at McCall this fall. "She doesn't want anybody to know who her daddy is," he joked. "I'm Mr. Beaty here at school, and as soon as we walk out, I'm Daddy." He may not get to see Caitlin much throughout the school day, but he doesn't worry about her. "I trust the people I hire." The final day of school can be difficult for him, because he has built relationships with students and their families. "There are great people here. That really makes a difference. You have people who want to be involved in the schools; people who want to be involved in their children's lives." As students head back to school this month, they'll be looking for Mr. Beaty's familiar face. "I don't plan on going anywhere. I love this district."
Written by Amber D. Browne.