RED OAK, TX — What started with one man running around a track for one day has come to be known as Relay for Life — today inspiring more than 4 million people in over 20 countries to raise funds for cancer research. Last month, on May 10, a group of local volunteers, including Fawn Martwick of Red Oak, saw their efforts come to fruition with this year's Central Ellis County Relay for Life around Waxahachie's town square.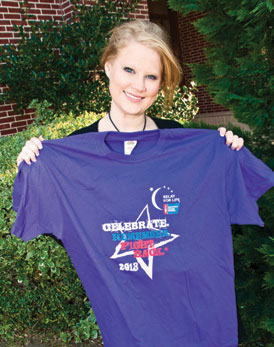 Fawn and her fellow Relay committee members were each inspired to take part in this global fundraising phenomenon after knowing someone who battled cancer. "Most everyone has a relative, friend, or even a co-worker that cancer has affected. Cancer impacts so many of our loved ones' lives, and I wanted to honor them through Relay for Life," Fawn explained. "Personally, my paternal grandmother has cancer. I've also watched a co-worker, as well as family friends, battle the disease. Skin cancer has also impacted my family members."
One of Fawn's best friends lost her grandmother to cancer, strengthening Fawn's resolve to do something to help. "My friend's grandmother was very dear to me, and it was difficult to stand by and see how little could be done for her situation," Fawn said. In high school and college, Fawn participated in events to raise money for the American Cancer Society. From 2008-2010, she was in the Student Government Association, at Navarro College, assisting with Relay for Life fundraising activities. Continuing her education through Texas A&M University-Commerce, Fawn joined a Relay for Life team with co-workers. "I have been a member of the Faith, Hope and Love team for the past three years. For the past two, I've been team captain. This was my first year to be on the Central Ellis County Committee, and I took on the role of marketing chair," Fawn said. to share in the entire experience.
A Fight Back Ceremony and the Survivors' Lap are two important event highlights. Each walk also features a Luminaria Ceremony, during which people lost to cancer are remembered, and people who have fought or are fighting cancer are honored. "The moment at the walk when all the luminaries are lit is very, very special. Seeing and meeting the survivors and hearing the stories of what they went through and were able to overcome is very emotional," Fawn said. "And then we think about how many are not able to overcome this disease. The luminaries are very significant in that sense, too." To participate, teams must raise a certain amount of money toward the cause. Participants host traditional yard or bake sales or get more creative with events like covering the community with purple bows purchased for a minimum fee. Perhaps the most unique fundraising idea is the Purple Toilet. This fundraiser involves a team placing a purple toilet does not have to be a large amount of money — every few dollars helps. More importantly, people can donate their time and spread awareness. This is the No. 1 way to support Relay," Fawn said.
And for those interested in helping a truly local cause, Fawn noted that the funds for each individual Relay are earmarked for their specific communities. "I feel best about the fact that the money we raise goes directly toward helping people in our area," she said. The event's local impact is significant to the other Central Ellis County Relay Committee members, including co-chairs Jessica Gentry and Donna Daniell; survivor chair, JoAnn Smith; and American Cancer Society representative, Kyle Shelton. "Whether it's Relay for Life or other similar events, it is always that much more special to know you are making a difference in your very own community — even sometimes in your very own neighborhood. In Relay for Life you form your own team, but then you become part of a bigger team at the actual event," Fawn explained. "And then to think all of those teams are fighting together for the same cause and helping put a stop to cancer in your very own city. It's really an amazing thing, and you will cherish the time you spend at whatever level of participation you can offer."
Written by Angel Morris.
Editor's note: To learn more about next year's Central Ellis County Relay for Life, e-mail [email protected] or visit www.relayforlife.org.