MIDLOTHIAN, TX — "Are you ready to do the workout?" challenged a perfectly trim and toned Jane Fonda from the workout video. Answering, "Yes," on the other side of the screen with her body poised to work her little heart out was 10-year-old Karyn Birdwell. "Growing up, I always struggled with my weight and self-esteem," she shared. "I had a fascination with the human body, anatomy and physiology. I loved working out."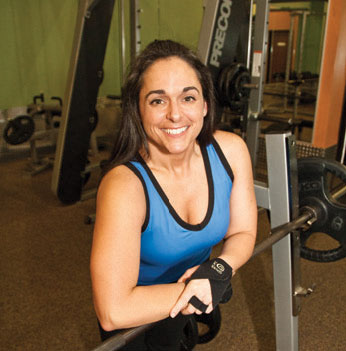 Karyn became interested in bodybuilding and started watching competitions such as Fitness America Pageant on ESPN, Fitness Universe and The Galaxy and reading Oxygen Magazine. While living in Ohio, at age 20, she earned her certification as a personal trainer and turned her eyes to the Arnold Classic. This is an annual competition for bodybuilding, fitness and figure competition. "In Ohio, the Arnold Classic is huge," Karyn stated. "It had always been a goal of mine to compete, so I found someone who trained competitors." Unfortunately, Karyn had to move to Texas before the competition and was unable to participate.
After returning to Texas, Karyn enrolled at Navarro College in Waxahachie to pursue her nursing degree. Her passion for bodybuilding continued, and she found a personal trainer and a posing coach to help her train. But, Karyn's goal of competition was thwarted again when she became pregnant with her first child. Her focus shifted to her new baby and school. She earned an associate degree in nursing and continued working out. "I truly have a passion for this," she smiled. "I enjoy lifting iron and weights. I'm in my element. I don't know why, but God gave it to me, and I appreciate it. I want to be a light in the world of bodybuilding. On the back of my jacket, I have the Scripture Matthew 5:16, which is about being a light in the world. I want to glorify God. He could easily take it all away."
Bodybuilding, particularly competing in the sport, is not for the faint of heart. About six to eight weeks before competition, Karyn's schedule for working out was somewhat restricted. She didn't get to work out as much as she wanted to because of her work schedule and her family responsibilities. She did cardio workouts once a day, five to six days a week for 45 to 60 minutes and weight trained three to four times a week for an hour. Her diet became increasingly more regimented and exact as the competition day drew nearer.
When she first started training, her calories were at 2,000 per day, with an exact percentage breakdown — 20 percent carbs, 40 percent protein and 40 percent good fats. All of that eventually went to 1,200 calories per day with 10 percent carbs, approximately 50 percent protein and 30 percent fat. A week before competition, there was even more manipulation of her diet and water intake. With the stringent requirements of exercise and diet, Karyn acknowledged that the biggest component of bodybuilding is mental. "If you can get your focus, you'll be amazed at what you can do and what you can lift. People forever underestimate their potential, because they don't push themselves. I think a trainer is very necessary, if you have a goal and want to get to the next level. You need them to help you push past the hard part.
"There is something I'd like to clear up for all women. I lift heavy, but I've not ever gotten heavy or masculine looking. You'll never look like a man, unless you take steroid substances, so women who are afraid to lift heavy need not fear. It's actually good for you!" Karyn competed for the first time at age 33 in the NPC Lone Star Classic in the figure division. Bodybuilding competitions are divided into several categories: novice, which is for first timers; amateur; professional; and open, which is for anyone who wants to compete. There is also a teen division and a masters division, which is for anyone over the age of 35. The various categories have four divisions in which women display different body types: bodybuilding, figure, bikini and physique. Competitors are divided into height groups for the figure competition. Karyn, who competed in the figure division said, "In figure, they want broad, rounded, almost hypertrophied shoulder muscles, slender waists, some hips, good musculature in the legs, nice rounded glutes and good muscle definition in the back. For figure bodybuilding, I do not have the genetics to build what they are looking for in that arena. My body type would be more successful in physique muscle building, because I can build muscle well. I have a hard time getting lean. I'm stockier." Karyn's first venture into competition for bodybuilding did not go as well as she hoped. She planned on entering again, but her plans were once again derailed — this time due to a car accident. On January 30, 2012, she was hit by a drunk driver. Her injuries were very severe, and she was immobile for two months. She was unable to walk for four months. "I had to keep my foot elevated 24/7," she explained. "My heel was shattered, and a big chunk of my bone and tendon was ripped out. I broke my fibula and tibia. During surgery, I had a plate, nine screws and a pin put in. It is by far the most painful experience I have ever had. After the wreck, I've had to get my mind back into focus, because I felt so defeated. I can't run and jump like I could before. Normally, I'm a very optimistic and positive person, but it took the wind out of my sail, and I had to push past it.
"Once I started to see progress, then it was easier to get back into focus. I think most people give up too early. On the days I don't feel like going, I tell myself that if I can just get to the gym, walk in and start doing it, then before I know it, I'm done." Karyn still has not given up on the possibility of competing again and wants to do so with her sister, who is now her training partner. "I would like to compete again in the future, Lord willing and only if my husband, Candon, is on board," she confessed. "I thank Candon for supporting me during my first competition. Training to compete and bodybuilding is an amazing journey. Anyone can do it. Family support is important, because you have to have razor-sharp focus all the time. I praise God for giving me the opportunity and the passion."
Written by Betty Tryon.