MANSFIELD, TX — When he was a young boy growing up in France, Philippe Bertaud, along with his older brother, Jean Paul, spent his summers working at local farms on the outskirts of Nice.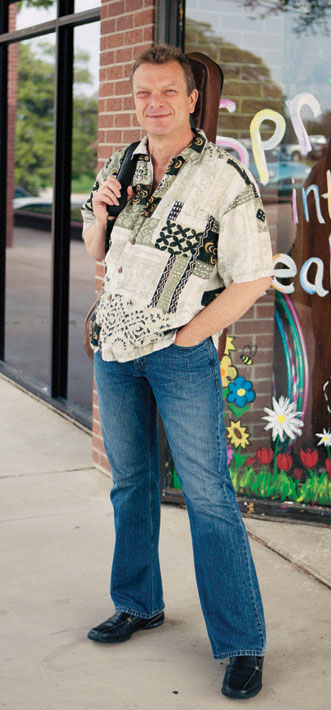 For a time, Philippe imagined he would spend his life as a goatherd. "I love goats," he grinned. "They're very smart." As it happened, though, around the age of 14, this second-born son of a city transportation worker and a restaurant cook was called to do something quite different. Today, Philippe is a world-renowned jazz and classical guitarist, composer, master teacher and recording artist. Once described by the Los Angeles Times as the "New Lord of the Strings," he is also a loving husband, father, humorist, cook and philosopher with a passion for living in Texas. His is the story of a boy who grew to greatness and of a man who stepped back from a frightening edge.
It is truly an amazing story. Philippe does not hale from a family of musicians, performers or educators. His father was French and his mother Italian and their strong work ethics provided for their family. His brother is seven years older and, until Jean Paul left for the military, Philippe was his constant companion. Strangely, it took only a moment on a rainy day for this youngest son and little brother to meet his destiny. "I was 14," Philippe smiled. "My brother's military friend had left his guitar with me, but I hadn't really learned to play it. It was raining outside, and my parents and I were watching a documentary on television."
The program was about an American jazz guitarist named John Leslie "Wes" Montgomery. "I heard the sweet sound of his guitar and then, in the closeups, I saw happiness in his face. That was my first contact with American jazz, and I had to know more," he said. "The next morning I hurried to the music stores in search of a teacher." Not only was he directed to a music instructor but amazingly, when he knocked on the door, Philippe was greeted by a black jazz guitarist. "Every time I went to a lesson, I could imagine I was in New York or New Orleans or Los Angeles," he smiled. "He became my mentor and taught me the importance of 'specializing in nonspecialization,' which meant I would study classical and jazz."
As he learned his trade, Philippe's enthusiasm grew, and it became clear he had the determination, talent and dedication to move forward. He auditioned and was accepted by the National Conservatory of Music in Nice, France, where he majored in jazz and classical guitar and composition, graduating in 1986. Over the next 20 years, he toured the world, performing at venues like the Festival International de Jazz de Montreal, Winter Festival in Rio de Janeiro and annually at Carnegie Hall in New York City. "I spent a lot of time in Brazil and also played Turkish music in Istanbul." Philippe speaks French, English, Spanish, Portuguese and Laotian.
His style combines extraordinary expertise, depth of musicology and percussive wizardry, a soft sensual singing voice expressed in French and the ability to use humor and charm to connect with his audience. Playing, singing, recording, composing or teaching, he challenges boundaries so every performance is fresh. His instruments are Alhambra guitars, which he helps to design and, while mostly acoustic, there is room for one electric guitar. Other loves also exist in Philippe's life. Most important are his wife, Thavone, and their two children. "I met my wife 26 years ago," he smiled. "I saw her across a room and fell in love. Thavone had been adopted by a French family, so while we both grew up in Nice, she is Laotian.
When the borders opened in Laos, we travelled there to find her birth parents, and they were reunited." Philippe is also passionate about Texas. "Years ago, I was in Austin after a tour in Mexico when I happened to see a friend from Nice!" he grinned. "He had joined a band, moved to Austin and was so excited about Texas." Eight years ago, he returned to Texas on vacation with Thavone. "That's when we fell in love with the Dallas/Fort Worth Metroplex and decided to move," he said. "There's so much variety and quality here, and we picked Mansfield because of the great schools. Our daughter, Jade, now 20, has been working in film/documentary making in Paris and will soon return to work in Texas. Our son, Alexander, is 17, and an excellent guitarist. We've already been to Los Angeles to perform together." A few years after settling in Texas, Philippe faced a significant crossroad
in his life. "I was working hard, playing maybe 200 concerts a year and not feeling well," he said. "One evening before a concert, I felt so ill I had to be taken to the hospital." The diagnosis revealed advanced cancer, and the prognosis was quite dim. "I believed there were better alternatives than aggressive treatments, www.nowmagazines.com 13 MansfieldNOW June 2013 and if I wanted to live it was up to me to reset my life," he shared. "A friend told us about a doctor who prescribed natural supplements, nutrition and exercise. That was five years ago. I now know good food is the best pharmacy, so I eat organic foods and am a vegan. I follow an exercise routine and invest my energy in select projects." One of his favorite projects is helping the East Broad Outreach Center. "Pastor Shane Whisler is a good friend," Philippe said. "He's doing a lot of good things for our community, and I want to do everything I can to help."
While Philippe also teaches from his home and reserves time to perform at Carnegie Hall, he is currently focused on a new project. "We're producing a documentary about Texas," he smiled. Through his eyes as a world-traveler and his amazing music, Philippe hopes to highlight this great state, to let people know Texas is a leader when it comes to "green" energy, that good food and restaurants are abundant and so many religions, cultures and architectures are represented. "The most important thing you can do is to follow what is calling you, and then everything will fall into place," he smiled. On a rainy day in France, Philippe was called by the sweet sound of the guitar. He listened, studied and shared. The world has been his stage, and now Texas is his home. At 46, he has travelled, made many friends, created a loving family, produced an enormous repertoire and has only just begun.
Written by Carolyn Wills.