CEDAR HILL, TX — Women like to celebrate other women, especially those who have overcome.
The women at Point of Light Church in Cedar Hill are having a wonderful time doing just that. And to make it even more fun, they wear hats — after all, they are the H.A.T. Sisters, and they celebrate in style with a huge party disguised as a luncheon. "This year will be our fourth annual luncheon. Every year we have a different theme. Once it was the Kentucky Derby. Another time it was Caribbean. One was like a TV show called Living Life Forward," remarked Danita Harris, known as the First Lady of the church, where her husband, Julius, pastors. This year's event will be held on June 22. The theme incorporates I Corinthians 9:1923 and will be called I'm Every Woman, based on the song by the same name, written by Nikolas Ashford and Valerie Simpson and recorded by Chaka Kahn in 1978. Whitney Houston recorded it in '92, bringing it to life for another generation.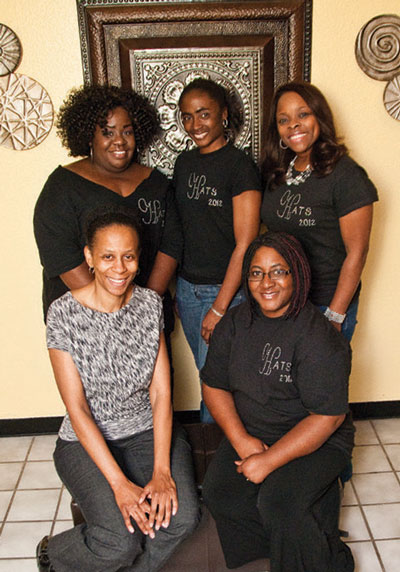 The luncheon will feature Angela Clay, Christian motivational speaker and author of the book Loving The Me I See. H.A.T. stands for helping, healing, holy hands acquiring truth. "That is our goal," Danita shared. "My dad and mom, Glenn and Carolyn Young, were pastors of Cedar Valley Christian Center in Lancaster for 33 years. My mom had a child care center and hosted luncheons for their church women and local businesswomen, until she got stomach cancer in December '93 and died in March '94. I was attending Oral Roberts University (ORU) at the time, where I earned my MBA a few months after my mother passed away. I took her place with the child care center," Danita recalled. In 2008, when Julius started Point of Light, Danita wanted to continue the luncheon theme her mother had begun in Lancaster. The first luncheon was in 2009. "I wanted to bring the women of the community together to share God's love and honor those who were gone too soon, as well as those who have survived the devastation of cancer," Danita shared. "We put the names and photos of those no longer with us on the monitor and give roses to the survivors, picking one survivor to highlight each year. She shares her story of what happened and how she was able to beat it. Each year the luncheon has grown — from about 100 at the first one to about 200 last year."
Mia McMurray caters, providing simply delicious food for the event which is held at the Cedar Hill Recreation Center. "We give away many fun donated items, like Coach purses," Danita remarked. The luncheon features the Judah Dancers from the church and guest speakers, who have covered topics, such as: theology, women's health issues and relationships. One of the signature events is releasing balloons. "We ask each woman to think of something she wants to release — a pain, a hurt or some issue with which she is struggling," Danita remarked, indicating the visual release truly helps. Vendors also showcase services and products geared for women: candles, jewelry, sheets, Mary Kay, Avon, Juice Plus, massages, beauticians, clothing, flip-flops, wellness and fitness, as well as businesses just starting up. A portion of the monies raised go to support cancer research. And of course, they have a fashion show featuring volunteers. "We get volunteers by giving them a gift!" laughed Danita. "Oh, and we even have commercials!" Danita simply could not coordinate such a grand event without the other core members of the H.A.T. Sisters. Charlene Johnson grew up in Wichita, Kansas, but graduated from Skyline High School. She's been married 17 years, has three sons and was recently blessed with a grandson. She's worked in accounts payable for 15 years and has been a member of the church for three years. "I love being involved in this church. I love how Pastor Harris delivers the Word of God — he's so intelligent, but he presents truth in a clear, simple-tounderstand manner," Charlene remarked. Nicole Howard is originally from East Texas, but her family moved here when she was a sophomore. She graduated from Lancaster High School, earned a bachelor's in accounting at The University of Texas at Dallas and has worked as assistant controller at Lincoln Property Company.
She and her husband have been married for 14 years and have "I wanted to bring the women of the community together to share God's love and honor those who were gone too soon." two girls. "We were looking for a new church and had some pretty definite ideas about what we wanted. We heard Pastor Harris on the radio, decided to visit the church and have been attending for four years now," Nicole remarked. Two of Danita's other supporters are her cousins, Theresa and Shaun. Theresa grew up in Tyler, graduating from John Tyler High School, and moved in with her sister in Dallas when she was 19 to finish college. She married and had two sons, Nathan (23) and Nathaniel (21), and then Theresa went back to college. She earned her bachelor's in finance at Dallas Baptist University and worked for 15 years at Cummins Southern Plains as a senior inventory analyst. She is currently single and a member of the Cedar Hill Rotary Club. Shaun, born and reared in Dallas, is single and has worked for Child Protective Services for 21 years. She writes and produces plays at the church. "I followed Pastor Harris here because of his great insight into the Word," Shaun shared. She also leads praise and worship at the church. Another influential woman in Danita's life is her stepmother, Sheila, who has been married to her dad for 10 years now. "Julius and I introduced them," Danita said. "Sheila is Julius' sister, so she's also my sister-in-law."
The church first held services at the Duncanville library and then at the Oak Cliff YMCA before moving to their current sanctuary in Cedar Hill. Danita works alongside her husband as an ordained teacher of the Gospel but is also a licensed child care administrator. Because of Danita's commitment to the development and growth of the ladies in her church, community and even the world, she has branched out beyond her own local church as a speaker at numerous women's conferences. She has become known for her unwavering compassion and desire to draw others to the love of Christ. She and her husband have two daughters, Bethany and Julia. One of Danita's latest ventures in sharing her love for God and people was to write her first of what she hopes will be many books. The book is entitled Ladies Living Forward, which addresses such issues as: forgiveness, renewing your mind through prayer and Scripture, becoming self-sufficient and deciding to have a positive self-image. Her book, like her public speaking and luncheons, reveals her heart for women to be all they can be.
Written by Beverly Shay.