WAXAHACHIE, TX — One event is all it takes to change someone's path in life. Tochi Nlemchi never dreamed she would discover a hidden athletic talent that would land her a full-ride scholarship to Southern Methodist University's track team. It all began during a physical education lesson in junior high where Tochi was encouraged to give throwing a shot put and discus a try. What happened next surprised Tochi and set her on an exciting path.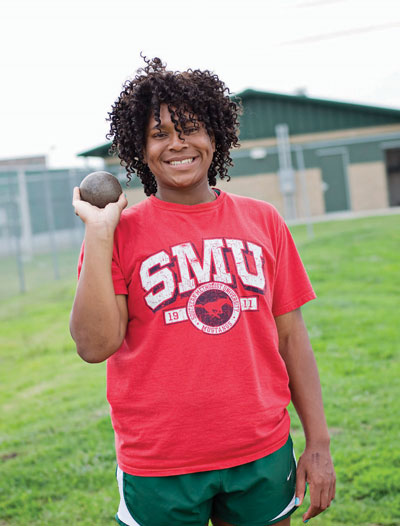 "I didn't consider myself to be an athletic star," Tochi said. "When I threw, it was like nothing else I had ever done. The feeling of throwing farther and farther was incredible. This was a blessing from God I didn't know I had." Tochi grew up in Katy, Texas, and competed at Cinco Ranch High School her freshman and sophomore years. After the sudden passing of her mom, Henrietta Nlemchi, Tochi transferred to Waxahachie High School (WHS) to live with her dad, Kevin Nlemchi. Before long, Tochi found her place on the WHS track team in shot put and discus. During the 2012 season, she brought home first place in shot put at district, a third place in discus and second place in shot put at regionals and a sixth place in shot put at state. "Going to state was a dream come true," Tochi admitted. "Even though I didn't come home with a first place win, it was an eye-opening event. I learned I would have to work a lot harder if I am going to win state this year. It has inspired me to push myself further and further each practice and competition."
Shot put and discus training begins in the spring semester. During that time, Tochi focuses on weight lifting, stretching and a little bit of running. The coaches keep it fun, but also expect a lot from her. She throws both shot put and discus every day in a field. Before each competition, Tochi focuses on what she is about to do and prays for safety and strength. To date, her longest shot put throw has been 43 feet 5 inches and her longest discus throw has been 132 feet. Her goal is always to break her previous records, so that is something she has worked on throughout her senior year. "Tochi is a very hard worker," said WHS track coach, Dana Scott. "Transferring to a new school in the middle of high school is not easy for anyone, but Tochi has done it all while excelling in track. She has been fun to watch and coach. I can't wait to see what she does next."
Shot put and discus competitions have been a part of the summer Olympic Games since the first one in 1896. Like many athletes, Tochi dreams of making it to the Olympics to compete in these classic games. The idea of going to the Olympics is a small seed of a thought in her mind that is with her at each competition. She competes as if each contest will take her there. Having an Olympian down the road in Red Oak has been Tochi Nlemchi and coach Dana Scott a large source of inspiration for the high school track star. Tochi follows Michelle Carter's shot put career and is excited to be working with the same coach next year at SMU who got Michelle's father, Dave Wollman, to the Olympics. "Making it to the Olympics is one of my biggest dreams," Tochi said. "It is all in God's hands whether I get there or not. He is the one who has given me this ability, and I will keep working very hard to get there." Before the Olympics take place, Tochi will have the opportunity to compete at the collegiate level. In December of 2012, Tochi visited SMU's campus and athletic facilities.
She had the opportunity to meet with Coach Wollman. One morning during her visit, Coach Wollman broke the news to Tochi that SMU wanted her to join their track team and would be giving her a full-ride scholarship. Tochi remained calm regarding the news and said she needed time to talk to her family about it and pray. "By going to SMU I knew that I would work with one of the greatest throwing coaches in the nation," Tochi said. "I would also receive a great education, which is really important to me. With both of those opportunities I knew that SMU was where I needed to go." As a professor of mathematics at Navarro College, Tochi's father wanted his children to not only live out their athletic dream in college, but also participate in a high-quality education program. With Tochi signing on for next year, SMU has turned into a family school for the Nlemchis. Tochi's older brother, KC Nlemchi, was a star football player at Cinco Ranch High School and was awarded a football scholarship to SMU, joining the team in 2010. "My dad is excited that both of his children will be getting an education from SMU," Tochi said. "It will be fun being on the same campus as my brother."
While going to school in Katy, Texas, Tochi could only compete in one athletic event. When she moved to Waxahachie and discovered she could join the basketball team and the track team, Tochi signed up for both. Her athletic talent isn't just found on the field. She also shines on the basketball court, which gives her the opportunity to work as a team. Track and field events, for the most part, are solo competitions. Being on the basketball team helped her transition to a new school in the middle of her high school career. Even though sports took up most of her senior year, it wasn't all work and no play. Don't be fooled by her ability to throw heavy weights long distances. Tochi is a girly girl at heart. She enjoys hanging out with friends when she is not practicing. Movies and shopping are her favorite downtime activities. She is also actively involved in church with her family.
A balance of hard work, faith and family has brought Tochi a long way from that first day when she was surprised to find she could throw. The many struggles Tochi has faced along the way, from living in a new city to finding her place on a new team, have taught her to work her hardest one day at a time. "Some days, I don't throw as far as I did before," Tochi said. "I don't get upset about it because I know my own potential. For me, every day is a new day, and that means I have the chance to throw my farthest throw yet."
By Sydni Thomas.