RED OAK, TX —  Jeremiah Gaines is the epitome of a well-rounded, successful student athlete. Not one to seek the limelight, Jeremiah is a laid-back man of few words. Although he is reserved, he is a fierce competitor. Whether blocking baskets on the court or blocking opponents on the football field, Jeremiah brings a dedication and discipline to his game that is admired by all who know him.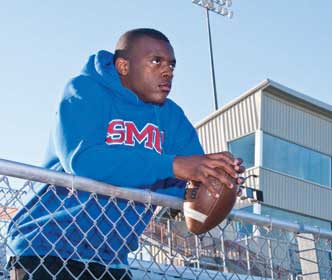 Since the age of 5, Jeremiah has been involved in athletics. "I started out playing soccer and T-ball," he said. He has been a student in Red Oak ISD (ROISD) since fourth grade. He has played football, basketball and participated in track and field, always bringing a level of excellence to each sport. "I love all sports," Jeremiah said. "But football is my favorite." As a child, Jeremiah was large for his age and very active. "Jeremiah was always really good at sports," his mother, Sonya Gaines, recalled. "When he first started playing soccer, he always scored five or six goals in every game." Although he loves all sports, there was one sport that, as a youngster, Jeremiah just didn't enjoy playing.
"When I was 5, my father, Fred Gaines, and I were leaving T-ball practice, and I just came out and told him that I didn't want to play anymore. I remember standing around out on the baseball field not doing very much. It was just too slow for me," he explained. "And I was fine with his decision," Fred added. "Jeremiah was always so active, and we felt our job was to focus that energy into something constructive. As parents, we didn't try to steer Jeremiah into playing one particular sport. We exposed him to all kinds of different sports, but we let him make his own decisions on which sports he wanted to play." Athletics have played an important role in the Gaines family. Jeremiah and his brother, Jamal, are both talented athletes. Jamal is a seventh-grader at Red Oak Junior High School, who plays basketball and has his sights set on playing professionally. With a current height of 6 feet 5 inches, and likely to grow a few more inches, Jamal might just have a shot of reaching his NBA dreams. Fred was also a standout high school athlete at Franklin D. Roosevelt High School in Dallas.
Like his sons, he was a competitive athlete who played football, basketball and participated in track and field. His talent caught the eye of football scouts at Oklahoma State University, and he was awarded a full athletic scholarship. Because Jeremiah's father had spent so much time in the athletic arena, he was quick to recognize that Jeremiah was gifted athletically. "I noticed that despite his size, he never went through an awkward phase. Even when he was young, he was very agile, and he never had a problem with his coordination," Fred recalled.
Jeremiah's size, strength and agility would serve him well as he began his high school athletic career. And it didn't take long for scouts to notice the same talent and skill that Jeremiah's father had recognized. As a freshman, Jeremiah's athleticism and confidence landed him on the varsity football roster as a starting defensive player. His high school debut was during the Tom Landry Classic when Red Oak played Highland Park. It would be the first opportunity for the coaches and fans to watch Jeremiah shine, and he did not disappoint. Jeremiah had two interceptions and was named Defensive Player of the Game. He continued to train hard both on the field and off, and it came as no surprise when, after completing his first season on the football field as a freshman, he received his first scouting letter from the University of Oregon. Over four years of playing high school football, Jeremiah caught the attention of several college scouts. Texas Tech, Texas A&M, Purdue, UC Berkeley, Wake Forest, Boise State and Texas Christian were just a few universities eager to add Jeremiah and his talent to their roster.
Jeremiah received more than 25 full scholarship offers, with 15 from Division I schools. And his accomplishments prove why. In 2011, Jeremiah was named the All-District Tight End. In 2012, he was named District 15-4A's Most Valuable Player. He was elected team captain twice by his teammates, and he is Red Oak's all-time leader in touchdown receptions and receiving yards. "It's difficult to find the words that describe Jeremiah. He is one of the most athletic players and best students Red Oak has ever had. On the football field, he has played different positions including inside and outside linebacker and safety. He also played half back where he ended up as tight end, wide receiver, full back or tail back. He's even played some wildcat quarterback," ROHS varsity head football coach, Mike Shields, shared. "Jeremiah is an unselfish player. When he wasn't carrying the ball, he blocked just as hard for the other players. As a student, I've only heard positive things about Jeremiah from our teachers and administrators. He's definitely a first-class individual, both on the field and off."
Among the scholarship offers was a letter from Southern Methodist University. In the letter, Bert Hill, SMU's defensive line coach, stated, "We noticed Jeremiah's size and agility when he was a sophomore. He is fairly quiet and reserved, but don't mistake his kindness for a weakness. When it's time to compete, he is relentless." For Jeremiah, a visit to the campus sealed the deal. "I picked SMU because I really liked the atmosphere and the fact that it was a small campus. I have a really solid support system in my family, and it's good to know they will continue to be close while I am in school." While "When it's time to compete, he is relentless." attending SMU, Jeremiah plans to major in sports management and minor in theology.
Jeremiah may be a person of few words, but he does offer some wisdom for student athletes. "Make sure you have your priorities straight," he said. "It's good to train hard and play hard, but you have to always have a Plan B. For me, my education comes first. Anything can happen in life, but I will always have my education."
Written by Dianne Reaux.