MANSFIELD, TX — Chris Burgin had already travelled to Russia over 20 times since 2002. There was no reason this trip in June 2011 would be different. He regularly went over on mission trips with Walnut Ridge Baptist Church and study-abroad trips with The University of Texas at Arlington. But this time, it was different.
Sitting on a beach in the south of Russia, a conversation started that would forever change the direction of his life. "How can we help the Russian orphans?" Chris asked. The owners of the hotel where Chris and the other travelers stayed spurred the conversation. Dr. Tatiana Beava, the senior Russian lecturer at UTA, who also attended the trip, explained how impressed she was with the priest, the owner of the hotel.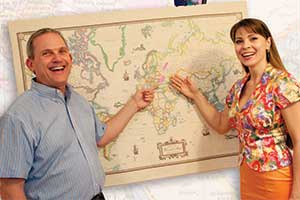 "We were staying in a place right on the beach, which was built by a Russian priest. Both he and his wife adopted 70 orphans," she exclaimed. "They are the biggest family in Russia!"
Seeing the actions of the priest encouraged Chris and the other professors to wonder how they too could help. "I think, for quite some time, I had wanted to help the Russian people somehow," Chris explained. He decided to follow through on that desire and started an organization called Allies in Youth Development to partner with Russian university students to empower them to help Russian orphans.
The process of starting the program began almost immediately after Chris returned home. "We had begun to go through the paperwork to form a corporation and a charity, which is quite a daunting task," Chris said. But, Chris was committed enough that he submitted his resignation letter soon after returning home. "It was just the right time. I knew I could do other work too to make ends meet," he laughed.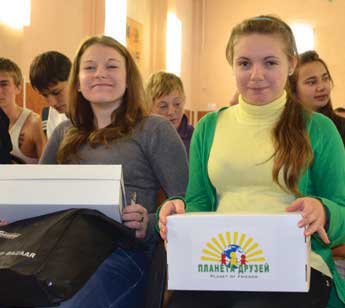 Chris and his wife, Robin, knew this was the right decision to make. Doors started opening with two professors in Russia coming on board and Dr. Baeva agreeing to be the director of Russian operations. "We're not taking American programs over there," Chris described. "We have ideas, but we never go in and say you have to do it our way. We want them to figure out what the solutions are, and we will help them with those solutions." Conditions for many orphans are dire. Many of them have trust issues. "The orphans look at you with suspicion at first because they think that you are bringing more pain into their life," Dr. Baeva explained. "They are very distrustful, and we have to change that." In addition, once orphans turn 18 and graduate out of the orphanages, many of them turn to crime and drugs.
Allies works to foresee these problems and prepare the orphans for their lives after the orphanage. They have found the greatest resource to do this is through Russian university students. "We are teaching students to become brothers and sisters to these kids to gain trust," Dr. Baeva described. Right now the university students who work with Allies are enrolled at Russia State Social University, which allows the students to gain class credit for working with the children. Birthday parties are a starting point for university students to express care for the orphans.
"If students go there with something nice, with open hearts, to come and celebrate the kids' birthdays, then they can become friends," Dr. Beava smiled. In addition to birthday parties, university students and the Russian staff www.nowmagazines.com 21 MansfieldNOW May 2013 members work with orphans to learn basic life skills, such as medical care, how to rent an apartment, how to go to the doctor and their basic rights as citizens. Last year, Allies delivered 2,000 pounds of new and used clothing along with basic necessities. Their hope is to provide 1,200 orphans essential care items by the year 2015. These include toothbrushes, toothpaste, shirts, pants, underwear and other items. Allies has devised collection points in various places around the U.S. in order to gather items for the children. One of the children who benefitted from the clothing was a young boy found in a train station. No one knew his name or age, so the orphanage named him Dimitri and gave him an estimated age. When Allies donated the clothing, the orphans specifically picked a Longhorn-orange University of Texas shirt that would fit him.
"He wore it so proudly," Dr. Baeva laughed. "We all said to him, 'Look in the mirror! You look like a Texas hero!'" Chris intends on continuing his trips to Russia and bringing American students with him. The American students are able to meet Russian university students, joining the work they are doing in the orphanages. "The students learn a lot about the Russian culture, language and hospitality. They are changing and bringing something new back to their own culture," Dr. Baeva explained. The Russian and American students also enjoy getting to know each other on the trips. On last year's visit, the students played a game with the orphans by lining up and asking the orphans to guess who was American and who was Russian. "Most of the time, the orphans would guess Russian to the American students," Dr. Baeva laughed.
Dr. Baeva, a native Russian, believes in the importance of traveling abroad. She has lived in the United States since 2005 and learned the English language as a British English professor. She is fluent in Russian, Ukrainian and English; wrote her dissertation in Czech; and picked up French and Italian for fun. "I love learning about cultures and languages because they change you." She and her husband, Jonathan, a quality engineer at Healthpoint, decided to live in Mansfield because of its wonderful school districts. Both Chris and Dr. Baeva also hope to encourage Americans to travel aboard. "I would love for more Americans to go abroad. The trips change them," Dr. Baeva described. Chris agreed, explaining the importance of understanding other cultures.
"The Russia you see on the news and on TV isn't the real Russia you experience when you are there," he said. Allies also hopes to inspire more people to enact change. "Every day that we can help, we encourage people to join us," Dr. Baeva described. "Some people put off good deeds until tomorrow, but tomorrow can come, and you won't be able to do what you could do today." Editor's note: Please visit www.AlliesInYouthDevelopment.org for more information or to become involved.
Written by Mikaela Matthews.