MIDLOTHIAN, TX — "It shouldn't have happened. I don't think people should be killed like this," said 16-year-old Rebecca Guitierrez, as she struggled to make sense of an event that was indefensible and heartbreaking. Two remarkable Midlothian residents, Chris Kyle and Chad Littlefield, were struck down February 2, 2013. Kyle was a decorated United States Navy Seal. He became famous for being the most lethal sniper in American military history.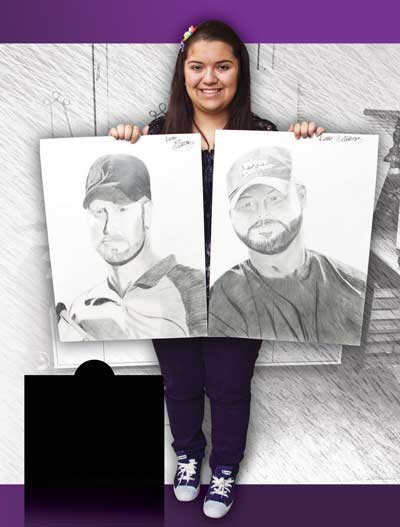 His book, American Sniper, became a New York Times bestselling autobiography. He was also an advocate for veterans suffering with post-traumatic stress disorder. Chad Littlefield was helping his friend, Chris, work with a troubled veteran on the day they were killed. Although Littlefield was not in the military, the Patriot Guard Riders honored him at his funeral because of his work with veterans.
He will be remembered because of his efforts to help and because of his character. As the Midlothian community mourned their loss, Rebecca wanted to do something to show she cared and respected their lives. The method she chose is the one she does the best — sketching. When one sees Rebecca's charcoal sketches of Kyle and Littlefield, striking and realistic are two words that come to mind. As early as age 3, Rebecca's talent in art was evident. "I would draw a lot at day care," she remembered. "I would bring it home, and my family would hang it up. I did that every day. As I got older and better at it, that's when I knew I liked to draw. My mom always made a big deal out of what I drew. When I was 3, I drew her boss a picture, and he hung it in his office and has kept it up since then. It was a picture of a doctor, or rather, what I thought a doctor would look like."
In second grade, Rebecca, with the help of her teacher, submitted a picture of a horse to the Ellis County Art Show, where she received an Honorable Mention. Feeling somewhat nonplussed at what it all meant, she waited until her teacher explained it to her before getting very excited at being recognized by the judges at the art show.
Rebecca continued to draw throughout childhood with various art teachers in elementary school. "I feel that the first art teacher I had helping me one on one was in junior high school," she said. As a sophomore at Midlothian High School, Rebecca currently is taking a pre-AP art class. "The art teacher I have now says he thinks I'll go far with my art," she stated. "He has taught me how to do shadow, mix colors, how to shade and how to show the light of the color. I'm good at sketches but like to try new things and find what I'm good at. I've used different materials like pastels, colored pencils and mixed media." Rebecca's first attempt at painting was done in acrylic. She used a palette of red and pink colors blending into each other as the background.
The moon was in the shape of a heart, and to complete the picture, she drew shadowy trees at the base. "I painted it because I like the colors," she explained. "The moon is the sign for love, and I painted the trees because I love nature and wanted to include it." Another rare painting from Rebecca was for a school project about her great-grandparents. Using different pictures from her grandpa's collection, she combined all of them into one picture. She positioned the couple in the front part of the landscape, and behind them, Rebecca painted a cotton patch, a barn and a farmhouse. Although she enjoyed her few excursions into painting, sketching with charcoal remained her favorite.
One of her more unusual sketches is of a handgun firing. However, instead of bullets exploding out of the barrel, she drew musical notes. "I play the clarinet in the school band," she noted. "I like music, and with everything going on with the shootings, I thought of doing something different that wouldn't represent bad but something good with guns. So I drew it with music coming out of it."
Another sketching that is near to her heart is the one she drew of Tristen Fort, a Midlothian teenager who passed away last year in a car accident. "We were good friends," Rebecca shared, "and I did the sketch in memory of her. She was such a happy person and smiled all the time. She made me laugh, so I wanted to show people her smile." A more carefree sketch Rebecca drew was of Louis Tomlinson, a member of singing group, One Direction. She is a fan of his. Unlike her other charcoal sketches that are strictly black and white, she used a blue pencil to shade in color in his clothing. Rebecca is familiar with the challenge of capturing a person's image on paper or canvas.
To bring the face alive, an intrinsic quality of who that person is must be brought forth. "I look for things people notice," Rebecca explained. "When I see something, I like to show people what it is I see in my drawing." Rebecca sought to share that in her sketches of Kyle and Littlefield. "I heard about Chris Kyle and his legacy when he came and spoke to the schools," she said. "I didn't get a chance to meet him, so I wanted to read his book to know what he went through in the war. There is a lot of description in the book about what heroes go through. I aspire to his legacy. So, when I heard he had passed away, I wanted to do a tribute about Chris Kyle the hero. I've thought about doing a piece on American heroes for a while.
They made this country what it is. If it wasn't for them, we wouldn't have the things we have now." Rebecca wanted to honor Littlefield also. She shared, "I didn't know much about Chad Littlefield until I heard he had died. I heard things about him that were very good, such as, he volunteered to help with the veterans. He had a big role. They both should be recognized and not just the one. This was my way to honor them." It is difficult to describe the wounded heart of a community, even as the grief was shared by millions across the country. With their tragic deaths, a community held hands and mourned. Even with the darkest night, a tiny flicker of candlelight can banish the darkness and light and hope can live again. Rebecca sought to be one of the symbolic candles of light and hope with her pictures.
Written by Betty Tryon.