CEDAR HILL, TX — We live in a day and age where nobody seems to know their neighbors anymore. However, on one block in Cedar Hill, that is definitely not the case.
Four families on that block seem to be the exception rather than the rule. They live within a short distance of each other and have made a point of sharing in each other's lives, laughing at each other's children, eating each other's food and enjoying the greatest of friendships. The friendships began about five years ago when Savern and Camellia Varnado were walking in the neighborhood.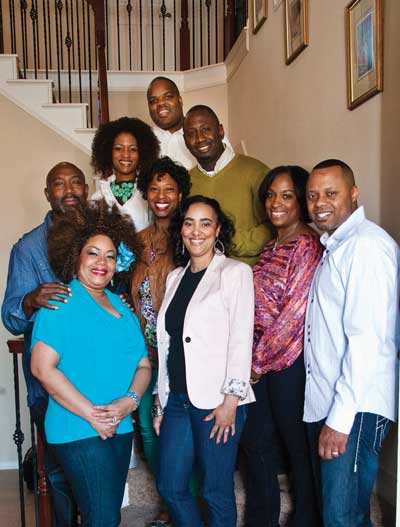 This had long been their routine, but that particular day was going to offer an encounter that would bring a very positive change to their lives. As they were walking, they met Jesse and Janá White, who were standing in their front yard. The Whites were new to the neighborhood, so the Varnados decided to stop and visit with them. They discovered they had several things in common, including the fact both Savern and the Whites had grown up in New Orleans. Interestingly, he and the Whites had even attended the same high school. Before long, the Whites were introduced to the Joneses and Raineys. Glen and Stephanie Jones were the first of the four couples who had moved into the neighborhood. Tracee and Louis Rainey moved to the area in 2005, after Hurricane Katrina hit their Louisiana home. Before long, the four couples became inseparable. To say they all instantly hit it off would be an understatement. Nobody can really remember exactly when they started having their get-togethers. But once they started, they have never stopped. "I think the first one was at the Joneses' house," Jesse said. That first gathering led to many pool parties, barbecues and even some game tournaments. "The men are the Taboo champions of the block," Jesse admitted. By Rick Hope "Every one
of these dear friends has been so supportive.They are just AWESOME!"
"Make that 'trying to be' the champions," Tracee added. Both agreed the tournaments began with a very competitive spirit, but it has all been in good fun. "The pool parties are always the best," Janá explained. "The kids have a great time and everybody brings food and drinks. Of course, that's not all we do. We also have some spontaneous get-togethers." "When we're together, we talk about anything," Jesse confessed. "We are not shy about anything.
Everything is out on the table, and everyone can express an opinion. We might not share the same opinions, but a real argument never occurs." With a smile, Janá recalled coming home from a trip she and Jesse had taken in honor of their fifth wedding anniversary. When they arrived back home, they walked into a party given in their honor by the friends who had become family. "It really touched me," Janá confessed. "I couldn't believe they had gone to all that trouble for us."
Frequently, the gatherings are more than just a social event. "We like to party with a purpose," Tracee said. As a result of Louis' suggestion, donations were gathered at the very first party to give to a cancer survivor. This hit close to home, since Stephanie won her battle with the disease. Often, Tracee will contact the Cedar Hill food pantry to find out what is needed. At the next party, each person attending from each family is asked to bring that item with them.
Later, Glen and Louis deliver those items to the pantry. The families involve their children in making some of the parties not only fun, but educational and enlightening. Savern and Camellia have three children — Charity, Ashleye and Sydney. The Whites have Angelle, Damien and Jace, while Tracee and Louis are the proud parents of Louis IV. The Joneses' six adult children are no longer living at home, yet Stephanie and Glen support the neighborhood kids as if they were their own. Janá is quick to add the children enjoy all the parties as much as their busy schedules will allow. "Sometimes, they are gone most of the summer, due to camps and stuff. When they call to check in, they'll ask us how many parties we had and what we've done," she said.
As the families have continued to grow closer, they find themselves having holiday celebrations together and even attending each other's churches whenever one of the children is involved in a program or pageant. Every Good Friday, the families get together for a crawfish boil and then join each other again on Saturday for an Easter egg hunt complete with family-style relays. "Jesse can boil some turkey necks that are more than just delicious. They're out of this world!" Tracee said. "Last Halloween was great!" Tracee said, as she related how both her 5-yearold son, Louis IV, and Jesse had dressed up as Batman. Jesse took pictures in front of a friend's black truck that looked just like the Batmobile. The families walked the neighborhood together, collecting candy. Last Thanksgiving, the families visited a homeless shelter and helped serve dinner. "We wanted to spend that holiday giving back to the community," Janá added. Another tradition is the families get together on Christmas night. That is when they always choose a charity project that hits close to where they live.
For example, since Stephanie is a breast cancer survivor, the group found a family that had been affected by the disease and contributed money and gifts. The Varnados' daughter, Charity, was born premature, and one Christmas, the family reached out to a family struggling with the same issue. This past Christmas, the families decided to volunteer and make donations to the Ronald McDonald House. Recently, the tight-knit group rallied in support of Janá and her family when she was diagnosed with leukemia, seemingly out of the blue. Party planning was put on hold as she went through immediate treatment. Janá has responded to the treatment and is doing fine and regaining strength. "Every one of these dear friends has been so supportive. They are just awesome!" Janá remarked.
Clearly, the families have found a special bond, and all agree the benefits are immeasurable. They walk with each other through the good times, and they lean on each other during the bad times. They laugh together, and they cry together. They're not just good neighbors — they're genuine friends who care deeply for one another. Such camaraderie between four couples is fairly rare to find in 21st century America. "When we first moved here, we were hoping for good neighbors. We had experienced that in New Orleans, but not in any other place we have lived since. We weren't expecting it here," Jesse admitted, "but, we definitely found it."
Written by Rick Hope.