WEATHERFORD, TX — From Africa to Weatherford, Dana  Blankenship always knew there was a  right and wrong to everything in life. She  — By Joy Brooks is a woman who spends her time in service  of others. "Very early on in life I was already a social worker," Dana shared. Her zeal to help others started around the age of 10 when she met an elderly man in need of food. She knew something had to be done. So Dana wrote a letter to the mayor of Weatherford asking him to help this older gentleman. She was delighted to get a letter back from the mayor responding to her concerns.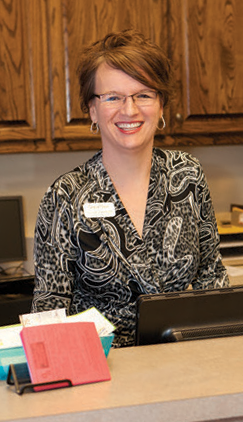 Dana attributes much of her success to couples who invested in her life as she grew up at Northside Baptist Church. They gave her a deeper desire to help others and showed her what it meant to have a sense of obligation to the world. Her church was always a place of refuge in her life, giving her a sense of safety. "My faith and my church have been very important to me," she confessed. When Dana was in middle school, she went on her first mission trip to Mexico.
From that point on she knew she wanted to travel the world helping people.
She graduated from Tarleton State University and met her husband, Bill Blankenship. One of their first conversations was about going overseas to aid others. In 1994 with their first child in tow, they moved to Africa where they spent the next 15 years in missions.
In Madagascar, Bill worked on water catchment systems in the bush of remote villages surrounded in cactus. "He would have to helicopter into the village to get there," Dana explained. The women would have to walk 15 miles to get water. Bill built systems where water would run off the roof into water catchment areas.
While Bill was working on agricultural issues, Dana mentored the women. She began a program called Living Water to teach women how to quilt and make different crafts to support their families. "We would give them business management classes with the initial money to start their business," she said.
During the seven-and-a-half years they spent in Botswana, Dana worked with college and high school students. Botswana has the second highest rate of HIV in the world. In response to young women today. Dana's passion for mentoring is something she makes sure to share with her staff at Grace House. "Investing in others," she said, "is what
fuels my fire."
Grace House has an options clinic that provides sonograms for young girls who are pregnant. They also operate the Pregnancy Center with the Baby Grace boutique, a place offering expectant mothers many things to care for their baby including parenting classes, English as a Second Language, nutrition and soon to be added classes for expectant fathers.
When a girl comes to Grace House they are educated about all their options. "We want them to walk out fully informed about the choices available to them," Dana added.
Dana has a full plate. She manages the clinic, the pregnancy center and Pure Truth. Pure Truth is a training program for teaching sexual education in schools. When schools get to their sexual education curriculum, Grace House Ministries offers to teach a medically based curriculum free of charge. Twelve instructors from the community teach the program. One of the instructors is a young woman who was helped by Grace House Ministries a year ago. She took a year of parenting classes, finished high school and has a healthy baby boy. She is a great example of the help Grace House is able to offer those in need. "She is a superstar," Dana said. "She is just one of our many success stories."
A new program started in January offers a $1,000 scholarship to one graduating senior high school student in Parker County. The student has to be a significant influence for good on their peers. "You can find academic
scholarships all over the place, but who gives a scholarship for character?" Dana asked.
One of the reasons Dana chose to work with Grace House Ministries is because it fits who she is, what she loves to do and has already done. When she left Africa she prayed, "God, please don't send me to a regular everyday job. Let me work with young women and in ministry." For Dana, her work at Grace House is an answer to that prayer. She loves working with the girls and investing in their lives. She has great vision for Grace House, and her passion to help young people reaches beyond into the community.
Since Dana became the ministries' executive director, they have performed 791 free pregnancy tests, provided medical facts to girls ages 13 to 24, had over 1,800 people visit the center and have provided training in 10 schools. When Dana talked about her life in Africa, she said, "I couldn't have asked for a better life. For my kids, Africa is home to them. The experiences they got to have most kids never do."
Dana's life is nothing less than extraordinary, and her passion to mentor and help young women is contagious, yet through it all she doesn't take credit. She gives credit to the people who mentored her from Northside Baptist Church and to God for helping her push people along in the right direction. It's clear that Dana's life continues to make a significant difference in the lives of women in Weatherford, as well as those still in Africa.
Written by Joy Brooks.