BURLESON, TX — Jessica Walls always wanted to teach. As a child, she pretended to be a teacher, but wasn't sure she could do it. "I was one of those nerds who got overly excited about shopping for school supplies when school was about to start," she said. "I loved that part more than buying clothes." Life took her in a different direction, as she went to work in the healthcare industry. Although she didn't hate her job, the unfulfilled dream of teaching left her less than happy, longing to do more with her life. A defining moment arrived with an unexpected turn of events. Her mother entered college to obtain an associate degree in nursing. Discontented with doing a job instead of loving her work, Jessica made a decision. "If my mom could do it, so could I," she declared. Backed by encouragement from her husband, Kenny, and her mom, she drove to Tarrant County College (TCC) in Fort Worth, sought out a faculty member and determined the next steps toward pursuing an early childhood education degree. "I still remember that first day I stepped onto the TCC campus. It was scary, yet wonderful," Jessica said. When a co-worker mentioned the Texas Wesleyan University (TWU) campus in Burleson, Jessica was ecstatic. Born at Huguley Hospital, she lived in Burleson all her life.  Yet, she had no idea TWU occupied an old church building across from Fuzzy's Tacos on one side and Bransom's on another. The idea of attending classes close to home influenced her decision to change schools. She quickly grew to love Texas Wesleyan for many reasons. "It's family there," she said. "I don't want it to ever go away."
She quickly grew to love Texas Wesleyan for many reasons. "It's family there," she said. "I don't want it to ever go away." Having spent two years in an environment where professors lectured at least 50 students in a class, the smaller campus and classrooms immediately captured her interest. "Most students at larger colleges never meet their dean. I went to Greece and Turkey with the dean of education," she said. "Education is very different there. In both countries, education is not required beyond fifth grade. Those who continue don't do it to further careers or improve themselves. They simply love learning." Each class at TWU averages 15 to 20 students. Instead of lectures, the students participate in learning, experiencing the type of classroom Jessica plans to use. The hands-on approach prepared her for the way she feels children learn best. Whether students in her future classes are visual, kinesthetic or auditory learners, she believes a teacher at the front of the room has less impact than one moving among the students. Peer-to-peer learning during her education taught her the great value in using the same method even with young children. "Sometimes, students learn better from classmates than they do from teachers," she admitted. As a child, she had trouble learning. "My grandma always told me issues arise in your life, but you learn from them. Then you can help others who have those same problems," Jessica said. "So my background will make me a better teacher."
Because her coursework included alternative ways of teaching, such as the use of manipulatives, games and technology, Jessica faces the future prepared to help students learn. In the process, she hopes to share her knowledge with other teachers who want to learn how to use technology, like Promethean boards. Much like an oversized iPad, this newer technology opens the door to a multitude of opportunities for various styles of teaching and learning. Not all teachers know how to use them, so Jessica feels grateful she got some training and hopes she'll have one to use in the classroom. While working on her degree, she participated in community programs, which provided an opportunity to practice what she learned. In one instance, she volunteered at a math camp for underprivileged children, many who spoke English as a second language. Word problems, difficult for most students, pose extra challenges for those struggling to read English. One boy tried very hard to understand, fighting through each problem. They used games designed by the professors, but even then, she had to help him break down problems to figure out equations. Fortunately, after four or five weeks, he figured it out. "That's what it's all about," Jessica said with a triumphant look. "That 'aha' moment makes me want to cry." When he finally got it, the excitement on his face gave her more satisfaction than she ever imagined.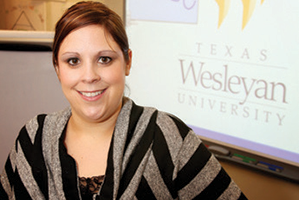 That moment fuels her desire to teach. In another volunteer opportunity, Jessica worked with a little girl in an intermediary reading class. As the girl read, she made almost no mistakes. Unfortunately, she didn't understand any of it. Simple words like these and want, or even names meant nothing to her. Using a book called Amelia Bedelia, they worked through every word the child didn't understand — beginning with the main character's name. Through the process, Jessica helped her discover how to learn, and the girl's comprehension blossomed, complementing her reading abilities. Although Jessica delights in teaching any young child, she particularly likes kindergarten. She relates well to their sense of humor and enjoys being around that age because of their innocent honesty. During a time of observation, one little girl approached her. "You're so pretty," the little girl said. "You remind me of my mom, because you're fluffy." Jessica burst out laughing.
The little girl continued. "My mom's very fluffy and pretty. You look just like her." Although Jessica loved the comparison to someone the child obviously adored, the comment motivated her to lose 50 pounds — so she wouldn't be quite so fluffy. In 2012, Jessica served as the president of the Burleson Leaders United for Education (B.L.U.E.) organization. Kim Tyler, the faculty advisor, founded B.L.U.E. to promote the university, but also as a way to give back to the community. Members of B.L.U.E. volunteer all year, participating in activities such as Relay for Life, Founders' Day, the Christmas Parade, Boo Bash, Book Fairs, picking up trash along the Burleson Waterway and other events. One of her favorite activities involves volunteering with Special Olympics for intellectually disabled athletes. When Jessica finished her coursework in 2012, she became the first person in her family to receive a bachelor's degree. On January 7, 2013, she began her student teaching at Clinkscale Elementary to complete the last phase of her education. Well on the way to fulfilling her dream of teaching, she enthusiastically chats, her passion for teaching shining through. No doubt, the children in her classes will love their teacher. "But I won't wear holiday-themed clothing like some teachers do," she stated emphatically with a chuckle. "And no kitties playing with balls on my dresses." However, when the time comes, she won't have any issues with plastic kitten shapes helping children master addition or subtraction.
Written by Lisa Bell.