CORSICANA, TX — On the popular television game show, Jeopardy, contestants compete by picking squares under which are answers that require them to respond with the correct question. An example of such an answer that might be found on the show is: "The purpose of this organization is to stop drunk driving, support the victims of this violent crime and prevent underage drinking."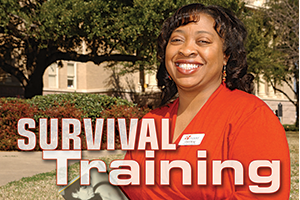 The correct answer would be: "What is Mothers Against Drunk Driving?" Carol King, a victim services specialist with MADD's East Texas region, is keenly aware of the organization's purpose and especially her specific role, which keeps her constantly on the move. "Between our MADD office in Tyler and offices in Bryan and Beaumont, four victim services specialists serve 49 counties "When I found out that victim services specialists are there for people right after a drunken driving tragedy, I knew I had found my calling." in East Texas, so that keeps us pretty busy," Carol said. Mothers Against Drunk Driving (MADD) was founded in 1980 by Candy Lightner, after her 13-year-old daughter, Cari, was struck from behind by a drunken driver who briefly passed out, then came to and drove off after having killed the young girl, according to the organization's Web site. What added insult to injury was that the crime was committed by a repeat DWI offender who had been released on bail for a hit-and-run, drunken-driving crash only two days prior to the accident, and it was his fifth offense in four years. Candy started MADD in her den four days after the tragedy.
The day following Cari's funeral, she discovered that the offender, who had been caught, would probably not receive any time in jail, much less any time in prison, for his crime. "I promised myself on the day of Cari's death that I would fight to make this needless homicide count for something positive in the years ahead," Candy stated. "MADD has grown by leaps and bounds," Carol added. "It began as a lobbying organization and, ultimately, expanded to provide victim services. The range of services we can provide to victims of drunk drivers free of charge continues to surprise people." People are referred to MADD by victim assistance coordinators, law enforcement, medical personnel, etc. A trained advocate is always available by telephone to answer questions. "We leave our educational material at Chamber of Commerce offices, as well as the sheriffs' departments, and we provide them to police officers, too," Carol explained. "We want people to know we understand everyone grieves differently, and that helps us quickly connect with callers and understand what their needs are."
When Carol meets with people, she provides them with a variety of materials to help them learn what MADD Victim Services can do. "We provide emotional support, refer people to professional counselors, attorneys and clergy skilled at working with crash victims, help with victim impact statements and work with people to apply for financial assistance through the Crime Victims' Compensation Fund," Carol said. Carol is also frequently asked to accompany victims to court as a means of providing emotional support and also helps with preparing letters to parole boards. Carol, who was born in Longview, graduated from Gilmer High School and went to college where she majored in commercial photography. She's the mother of two sons: Joshua, 21, and Jonathan, who is a senior at Big Sandy High School. She later obtained a degree in business administration from Tyler's Texas College. "Every job I've had since college was as an advocate and case worker, which went a long way in preparing me for my current role with MADD," she said, especially the four years she spent as a conservatorship worker with Child Protective Services in Tyler. When a friend who worked at MADD told her about a victim services specialist opening, Carol applied and was hired in 2011. "I lost an aunt to a drunk driver when I was 16. She had just visited us in Texas and had flown back to California, where she was hit by a drunk driver just a day after she got home," Carol remembered. "When I found out that victim services specialists are there for people right after a drunken driving tragedy, I knew I had found my calling."
Carol also works with adult probationers to help them turn their lives around. "In Navarro County, we work with Victim Impact Panels (VIPs), which is a program we do for offenders who have been arrested for DWI. We try to get them to understand the seriousness of what they've done. There's almost always an emotional reaction from them, especially when a victim starts to speak," she said. Offenders who go through the VIP program are less likely to re-offend, and MADD has frequently worked with Navarro County community supervision and corrections director, Chris Aldama, who has promoted MADD's efforts toward working with first-time and repeat offenders. MADD is also in the process of setting up ways to reach out to students and has started working with middle and high schools throughout East Texas, especially right before prom night and graduation.
"We show them some photos of drunk driving crash victims around their same age and that seems to stay with them longer. We also encourage them to participate in other prom-related social activities that don't include drinking," Carol explained. When she's working in Navarro County, Carol visits the district attorney's office and works with the victim assistant coordinator to obtain information about car crashes and victims she can contact who might need help. "I had to help plan the funeral of a child killed by a drunk driver — just one example of all the things we can do to help," she said. Each spring, MADD's victim services specialists speak at schools and distribute numerous information packets designed to educate the public about the wide range of services that are available. "Every year, we have our 'Powertalk 21' educational program for parents, which begins nationwide on April 21," Carol explained. "It's a national day for parents to talk with their kids about alcohol, and MADD does everything it can to equip parents with the tools they need to help them start that conversation." MADD offers a free toolkit available for parents at www.madd.org/powertalk21 or by calling MADD toll-free at 877. ASK.MADD. Carol feels privileged to be part of MADD's continuing and ever-expanding efforts to help victims of drunk drivers and knows that efforts to educate the public about all the services they offer free of charge must continue. "In a nutshell," she stated, "we want the public to know that our goal is to help survivors survive."
Written by Rick Herron.