WAXAHACHIE, TX — With the promise of spring in the air and warmer weather weather on the horizon, March is the time of year when many people start to think about home and lawn improvements. Some areas of focus are greener, healthier lawns; designing colorful landscaping projects; soil maintenance; planting gardens and cleaning out flower beds. These are all ambitious projects, which can be a little intimidating for amateurs in the lawn and gardening arena. So where can a novice turn for help when starting on that new project? Well, look no further than your local Ellis County Master Gardener Association and two very prominent ambassadors for this organization, James and Melinda Kocian.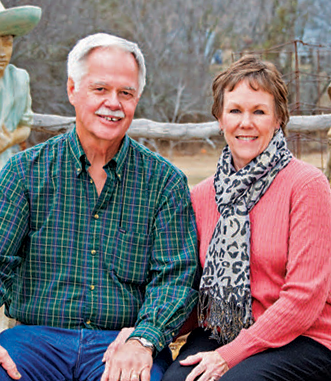 Married for 50 years, these Waxahachie residents are both longtime members of the Master Gardener Association, who came by their newfound passion in a most circuitous manner. James was winding down a successful career with the Army and Air Force Exchange Service (AAFES). "While we were living in Duncanville, I decided to take an
early retirement from AAFES, where I had worked for over 30 years," he explained. Most of those years had been spent working as a computer specialist designing computer applications. His job required that he and his family move to different parts of the world including Munich, Germany and Honolulu, Hawaii. "I'm a do-it yourself person, and I have to stay active," James continued. "Although I was going to retire, I didn't want to just sit around the house. I wanted to find a way to keep busy."
James and Melinda settled on a two- fold strategy. "We decided to find a large piece of property in the country," James said. "We found 17 acres situated beside a small lake. We love being in the country, yet we're just 10 minutes from town. When I retired, we knew we wanted to be able to travel, so instead of investing in cattle, we decided that the property would have an agricultural use, and we chose to start a pecan orchard."
They heard about the Master Gardener Program through newspaper articles. James attended the one-month training classes and was surprised by how much there was to learn. "While taking the classes, we learned about many subjects," he said. "For example, the many different types of trees and plants native to our area, flower classifications, pest control, as well as subjects like the different types of soil and soil conditions in our area."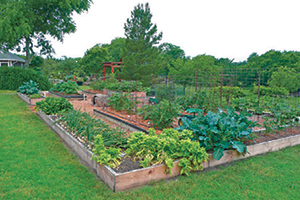 Once James was up to speed with the academics of the program, it was time to put what he'd learned to use. He started working on completing the mandatory 100 volunteer hours by helping with different Master Gardener projects around the community. "The first project I worked on was the 2002 class project at the Veterans Memorial Garden at the Waxahachie Civic Center. They wanted to improve the landscape around the granite monument, so the class of 2002 designed and planted a beautiful garden of native and adapted plants — and the organization still maintains the site to this day. Once I'd completed my volunteer projects and received my Master Gardener certification, I was hooked." Melinda laughed and said, "After he started working with the Master Gardener organization, he was always so busy I never saw him. So I decided I'd better look into joining, too! Many interesting people have mutual goals, but within the organization, there are individuals who are masters in their own horticultural endeavors. Some specialize in trees, insects, birds and flowers, you name it. Everyone is able to share their expertise with others and we all benefit from it." It's the ultimate in synergistic relationships.
One reason the Master Gardner Association has proved to be so popular among its members is because it addresses horticultural needs unique to its own region. "Learning about subjects unique to your part of the state gives you an advantage when you're starting your own horticultural projects, whether it's planting a garden or improving your lawn," James explained.
Horticultural characteristics across the country differ from region to region and from state to state. And in a state as large as Texas, unique differences exist from county to county. That aspect has been and continues to be one of the primary strengths of the Master Gardner Association. Their local expertise is home-grown from people who are
your neighbors. James and Melinda are proficient with topics such as the annual amount of rainfall, drought and soil conditions, and they are knowledgeable about which plants are most likely to thrive in the local climate. Both have a wealth of knowledge they are more than willing to share with others.
"For those who are younger, first through eighth grades, and would like to learn about gardening, there is a Junior Master Gardener program with its own set of training requirements," Melinda said. "It's a wonderful way to teach younger students the importance of horticultural stewardship. Students start with their own little seed-in-a-cup and learn the basic aspects of gardening, such as root and plant development." Developing a relationship with the land at a young age can be invaluable. They will be our gardeners of the future. It has the potential of leading to a lifelong
appreciation of the mutually beneficial  relationship that everyone should have for the land that sustains them.
The month of March is significant for another reason. Each year, the Ellis County Master Gardeners host their own Lawn and Garden Expo. As members of the Master Gardner Association, James and Melinda helped start the growth of the event. "When we first started hosting the Expo, it was held at the Agricultural Expo building, but because we have grown so much, the show is now held at the Waxahachie Civic Center," James stated. "I have been responsible for recruiting sponsorships and exhibitors for the show, and we can say we are one of the only true lawn and garden shows in the area. Our focus is on outdoor living, lawn care and gardens."
In its13th year, the Expo has been a wonderful way to learn about innovative new products, get new ideas about landscaping and lawn maintenance, get tips on patio designs and furniture, swimming pools, growing plants, flowers and vegetables — and all this from dozens of area experts under one roof. The event will be held this year on March 16, featuring seminars for adults, as well as a children's area with hands-on gardening workshops. James and Melinda will be glad to see you there.
Written by Dianne Reaux.
Visit : www.ECMGA.com to find additional information and a list of sponsors giving free tickets for the Expo.