CEDAR HILL, TX — America has seen its share of strange fads in the past 50 or so years. Many people have a pet rock stuffed deep into their catch-all drawer, probably sitting next to the remains of their troll doll collection. And what woman's closet is complete without a pair of hot pants ready to be dusted off, just in case. For years, some
people have referred to a new way of life as a fad. But "going green" is much more than a modern-day hula hoop. With a passion for conservation and a position where she can help make things happen, Melissa Stephens is trying to make green the new black.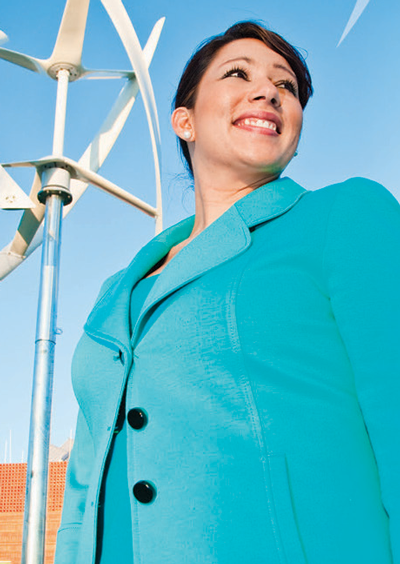 Melissa serves as the assistant city manager for Cedar Hill, a town that is quickly becoming a leader in green efforts. Although she moved here shortly after graduate school, she is not from the area, originally. "I was born just up the road,"  she said, "six hours north on I-35, in Wichita, Kansas." Melissa attended Kansas State University (KU) for her undergrad, where she started out majoring in operatic singing, only to switch to political science. "Some of the people I thought were really good were struggling to find work, so I changed majors to give myself a better chance after school," she explained. "I still sing, but mainly just in the shower." When she graduated, she immediately enrolled at the University of Kansas, where she earned a Master of Public Administration. "I wondered what could be done with a poli sci degree?" she remarked. "I took a placement test, and it said nurse or public administrator. And KU is the highest-ranked MPA school in the nation."
As Melissa was finishing her graduate degree, she went to Philadelphia for a conference. "I had several job interviews and narrowed it down to Reno, University Park and Cedar Hill," Melissa recalled. "I was in downtown Philly, and I ended up meeting Alan Sims, the city manager of Cedar Hill. He was a KU alum, too. I ended up coming down here."
Melissa interviewed in March 2003 and started as a management analyst two months later. She then progressed to the position of assistant to the city manager and finally, to her current role as assistant city manager. As part of her job, Melissa was tasked with looking into waste reduction for the city in 2006. "I started out looking for ways to increase recycling. We changed trash collection companies, among other initiatives, and started looking at our energy usage around the same time," she remembered. "We began working closely with our electric companies to find ways to save and conserve." What started as a small project has now blossomed into a major cost-cutting endeavor. A big part of what Melissa has done to help turn Cedar Hill into an example of green efforts is in her ability to get money, specifically grants. "In total, the city has been awarded $1.6 million in grants, which all started with the development of the city's Sustainability Action Plan. From there, we have done a lot," Melissa explained. As part of their action plan, the city has continued to focus on waste reduction. "We have given residents a full-size, 96-gallon recycling bin. We dropped the number of trash days from two to one, and as a result, we have seen over a 250-percent increase in the amount of recycling across the city."
Waste reduction is just a small part of Cedar Hill's initiatives, though. Cedar Hill has integrated renewable technology into the very infrastructure of the town's inner workings. "Our government building has several examples of going green. We have a 152-kilowatt solar panel system on the roof, along with a  4.5-kilowatt wind turbine, which was also paid for with grants," Melissa shared. "Even the combining of the city and school districts into one building is an example. Now citizens are only paying taxes for one building instead of two."
While there are several examples of renewable energy and reduced waste at the Cedar Hill Government Center, one unique feature serves as a "green-print" other towns may soon replicate. "We have four electric car docking stations here. Two are for public use, and two are for our two electric cars," Melissa explained. "Our city is only 34 square miles, so these cars can go through the whole town a few times before they need to be recharged." Cedar Hill's two green cars are easy to spot, because they actually are green. They are wrapped with decals signifying their example as a next step in the growing conservation movement. "We figured putting the public recharge stations so close to the theater would help, too," Melissa expounded. "They can plug in their car, go over to see a movie and come back ready to hit the road again."
While her passion for what she does is immediately evident, interestingly, Melissa had no particular background in environmental conservation. "I didn't have experience beforehand, but that is this business. One of my early projects was building a new animal shelter," she stated. "I had no idea all of the plumbing and drainage details you have to take into account, but I learned. You have to become an expert in lots of new things."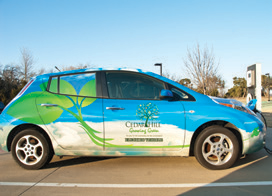 When she is not busy connecting the dots to make things happen, Melissa has a whole life outside of the government building. She loves kickboxing and traveling with friends. She is also a loving mother of two. Amaya is in pre-K at Bray Elementary, and Zoe will start there next year. They go to church at Pantego Bible in Fort Worth, and Melissa stressed her reliance on her GPS, her "God Positioning System." Her girls, though, are also a constant reminder of why she does what she does. "We are continuing to look for ways to serve the community and be responsible, while operating under limited resources," she said. "I want to make sure my kids are breathing the same, if not better air when they grow up."
Melissa's ancestry is native Cherokee Indian, so she was brought up with a greater respect for the land than most. She brings that attitude into deciding whether or not to move forward with each new step of Cedar Hill's green efforts. "Every project we look at has to make sense on three levels," she explained. "Socially — do people want it? Environmentally — does it make a difference? And economically — will there be a return on investment?" When the answer is yes to all three, she works hard to make things happen. From dramatically increasing Cedar Hill's recycling to installing state-of-the-art green technology, Melissa has come a long way from just up I-35.
Written by Zachary R. Urquhart.