RED OAK, TX — Duty, honor and country — these three powerful words were indelibly marked into America's consciousness when spoken by General Douglas MacArthur in his famous 1962 farewell speech given to the Corps of Cadets at West Point. These words usually evoke images of present and former members of our nation's armed forces. But actually, many high school students learn about these principles every day in JROTC curricula across the country. JROTC is the acronym for Junior Reserve Officer Training Corps, and its primary mission is to motivate students to become better citizens.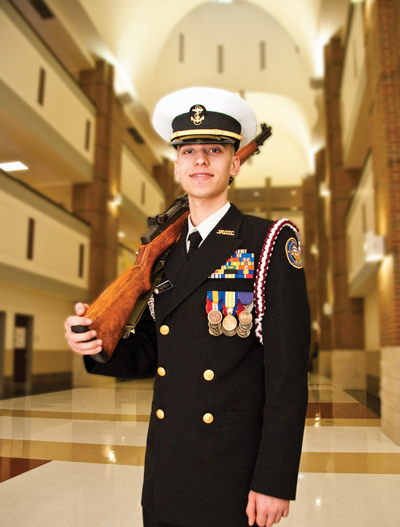 Jacob Hutson is one of those students. He is currently a senior NJROTC (Naval Junior Reserve Officer Training Corps) cadet at Red Oak High School and was selected as the unit's commanding officer, the highest rank achievable in NJROTC. Jacob also has the distinction of being the first cadet chosen as commanding officer who has been in the program for four years.
As a child, Jacob exhibited characteristics that, in hindsight, could have served as subtle clues of one day having an interest in the military. "Jacob was a very thoughtful child. He was very orderly — extremely well organized to be so young. And unlike most kids his age, he didn't like getting dirty. Jacob always wanted to be neat and stay clean," Jacob's mother, LeAnne, said. Although these personal preferences don't usually align themselves with youngsters, they are ideally suited for anyone contemplating a successful future in the military.
Jacob is a bright young man who takes the time to formulate and articulate his views. He recalled his first time seeing cadets when he was a seventh-grader at the old Red Oak Junior High School. "Before I saw my classmates taking part in drills, I had not been exposed to the military," he stated. "I remember seeing the older students in the hallways wearing their BDU's (battle dress uniforms) and standing in formation while their uniforms were being inspected." He also remembered students making model airplanes out of cardboard and thought to himself, Boy, I'd really like to do that.
The students Jacob recalled standing in formation were part of their school's Civil Air Patrol. At that time, Red Oak had the distinction of being only one of three school districts in Texas which offered the Civil Air Patrol as an elective. The program focused on leadership, character development, aerospace education and physical training.
Jacob initially recalled his first day in the Civil Air Patrol as being pretty uneventful, but then he remembered, "I did not know that the patch needed to be sewn on, and I was given one day of in-school suspension, because I left it off." That incident turned out to be Jacob's first encounter with the uniformity and attention to detail that is mandatory for all military cadets.
In life, timing can be everything — and this was precisely the case with Jacob. When he entered ninth grade at Red Oak High School, the school had just incorporated the NJROTC into its curriculum. When Jacob saw it was being offered as an elective, he didn't hesitate to sign up. It offered an accredited curriculum that had been designed to develop a high degree of personal honor, self-reliance and individual discipline. It had a duel objective: to help students cultivate a respect for authority, while simultaneously helping them to develop their own leadership potential. The cadets' classroom education was also enhanced in many ways, including physical training, land navigation
exercises, field trips and opportunities to perform community service. But, there is no obligation to serve in the military after completing the program.
At the helm of the new NJROTC program was Commander Daniel Murphy, USN (Ret.). Commander Murphy is a 1975 graduate of the United States Naval Academy, and he served his country with distinction. "I served for 20 years in the U.S. Navy," he said. "As a Naval pilot, I served in the Anti-submarine field and flew the P-3 Orion aircraft all over the world. I also served as a flight instructor in Corpus Christi. My last assignment was in Florida with the NJROTC area manager, and I was responsible for the operation and management of 59 programs." After retiring, Commander Murphy became an instructor in the program and taught at four high schools in both Texas and Florida. Red Oak is the third program he started at a high school.
Jacob's experience with NJROTC has proven to be a wonderful "internship" of sorts. As a cadet, he found himself well-suited to the rigors and rewards of the military training he received, and he exemplified many of the qualities the armed forces seek in its members. "Jacob has been an excellent commanding officer. He was a part of the first group of cadets who started the program four years ago," Commander Murphy shared. "The position he holds is a prestigious, but difficult one. He has to be the leader of the program, while still maintaining a friendship with those same classmates. Jacob has done a good job of balancing these requirements."
This past year, Jacob decided to enlist in the United States Air Force through the Delayed Entry Program. This program allows individuals to take their first oath and delay their ship out date for up to 365 days. Because of his accomplishments in NJROTC, Jacob will enter the Air Force with the rank of an E-3. "I haven't been assigned an MOS (military occupational specialty) yet," Jacob stated, "but I would like to work in military intelligence and be stationed in either Italy or Turkey."
Jacob's mother laughingly interjected her preference, "Hawaii!" In May, Jacob will relinquish command of his unit during its annual Military Ball. The event is a formal occasion which includes the presentation of awards to distinguished cadets. A visually poignant part of the evening is The Empty Table. As part of the Lost Man Ceremony, a table is formally set for one person. The table is prominently displayed and remains empty throughout the evening. The purpose of the table is to remind everyone of fellow comrades who have given their lives defending their country.
As with everything in life, nothing is guaranteed, and neither is the Hutson military wish list. But regardless of Jacob's role in the military, or where his mission may take him, Jacob feels he is ready for the challenge. Through hard work and dedication, he has matured into a young man who is beginning to understand those three powerful words — duty, honor and country. For years, the Air Force motto was "Aim High," and as Jacob begins the next chapter of his life, that is what he plans to do.
Written by Dianne Reaux.