MIDLOTHIAN, TX — Out of tremendous pain, great beauty can flow. Nicole Gleason grapples with life's sometimes turbulent changes by putting her emotions into poetry. An excerpt from her poem "Bittersweet Rose" looks at the juxtaposition of beauty and pain in one object: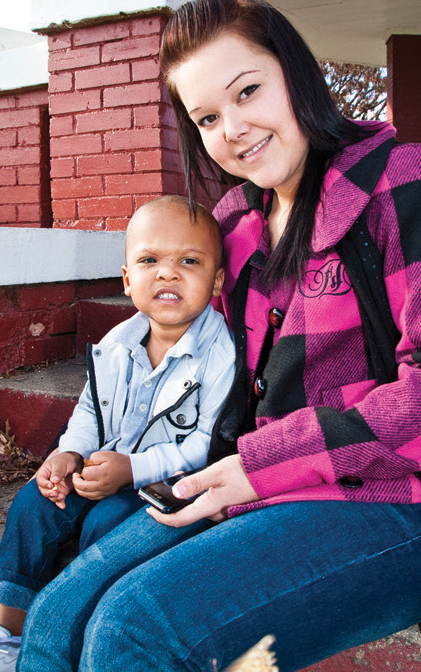 Tearing the pedals/ Of an innocent rose/"He loves me, He loves me not."/ My weakness exposed/ The last petal swivels to the floor/ As  I gaze upon the stick/ Deflowered, it's ugly./ No reason to live./ Grasping the stem/ A thorn pierced my finger/ Down fell a trickle of blood/ My emotions now linger/ A rose I ask?/ An object of love?/ So beautiful it is/ But see what it does?
Nicole has written poetry for as long  as she can remember. In doing so, she takes her place in line with a heritage that goes back at least four generations in her family. "My great-grandmother, Agnes Matthews, was a well-published poet," she said. "My mom used to write poetry, and my sister started to write when she found our mom's poetry under her bed. I kept a journal like a diary, and then I had a separate spiral for my poems. I always enjoyed reading and writing. I'd read a full 30-chapter book in one day. I never really thought about taking advantage of my ability. I simply used it as a hobby. Every time I would start writing again, my words would come with even more strength, passion and meaning. As I go through my day, I look up definitions and sort through sentences in my head, expanding my vision until I feel a current inside me. Once I pick up that flow, it's hard to stop, and I end up with poems two pages long! Writing has now progressed into something deeper and has become a part of me. I just take what's in me and put it on paper. I write about things that mean the most to me and make me what I am. I may not be the best poet out there, but I feel if I'm putting myself on paper then I'm doing OK."
Since the beginning of her venture into poetry, Nicole has written many verses. Unfortunately, because she had to move so frequently, the work was lost. All of her poetry from earlier years is gone. She is enthusiastic about writing, however, and has not stopped pursuing her passion. She finds it easier now to  record her poems on her cell phone. It is after all, never far away. "I keep my phone next to my bed in case I get inspired," she explained.
Like many writers, the motivation to write often feels unexplainable. And, sometimes, the words just do not come. "The feeling to write is very random," she said. "When I feel it coming, words just scramble up in my head, and then it will come pouring out like water. Something will pop into my head, and I'll look for my phone. When writing poetry, it needs to come from the heart. Only you can define, in the best possible way, the contents of your own heart. The poem 'River of Words' is my perception on poetry, how it's formed and what it feels like. It is simply a piece of me on paper." Here is an excerpt from that poem:
A river of letters/ So many words intertwined/A sonnet of truth/ A beauty so sublime/ I let my heart flow/ As words come in sync/ So freely with grace/ My heart becomes ink/ … My words are a piece/ Of the soul I claim/The contents of my heart/ Too complex to explain/So I let my words flow/ Through a current to my perception/Writing what my heart tells me to/ A river of words, my obsession.
Nicole's inspiration comes from day-to-day living and its challenges. She recounts many challenges on her part but tries not to make her poetry sound gloomy. "I was in counseling and therapy when I was 18. That is when I really bonded with my poetry, because the therapist incorporated it with my therapy. It helps me to think more. She really helped me." Nicole's renewed focus on life is reflected in her poem titled "Life."
A series of events/ That takes place in time/ A piercing of the heart/ With a confusing mind/ We give this graceful lady/ A name only she can possess/ … This world she reigns/ Possessing a peaceful radiance/ As she's infinite to the human mind/ She brings potential to the world/ This beauty's name is life.
Now as a young woman of 23, Nicole has grown and matured. Just as her poetry helps her therapeutically, it also helps in communicating more effectively in her relationships. "Bittersweet Rose," which is one of her favorite poems, was written to capture her emotions in explaining herself. "It just came straight off the brain and flowed out. It's hard to understand me, so that's why I write. Sometimes, my boyfriend will tell me I'm not looking at something from his point of view. I'll write about it, go back and look at it and think, Duh, now I understand. He can also see my point of view in my words. It's easier for me to write it out than talk about it."
Although Nicole readily shares her poems with family members, she expresses nervousness about sharing her work with others. However, her reticence will not stop her as she moves forward with her plans of becoming a published author of poetry. "I already have the title of my book in mind — Imperfect Words.
I also believe that life is too short to be afraid of success or failure. You have to get out there and take what's yours, or you'll always wonder, What if?"
I chose this title because in order to see something perfectly, you have to see its imperfections. My parents support me highly. I'm hoping to get a start on my book within the next year. I also believe that life is too short to be afraid of success or failure. You have to get out there and take what's yours, or you'll always wonder, What if?"
Nicole continues to add to her poems by chronicling her feelings through her life's journey. An excerpt from an untitled poem expresses her progress over some of her challenges. "I read this poem to my mom's best friend, and she just broke down in tears when she heard it," Nicole shared. "This poem was very deep for me, and I felt it was actually a part of me because I'd been through so much. This was my year to break free of everything." The poem ends with: …Now living my proof anything is possible through/ Christ, just look at me today.
Written by Betty Tryon.