MANSFIELD, TX — One routine question from many high school students is: How do I earn extra credit? Completing an extra assignment or answering a particularly difficult question on a test typically earns students a few extra points to bump up a grade. But for Mike Gallaher and his dual credit program classes, the extra credit option is far from ordinary.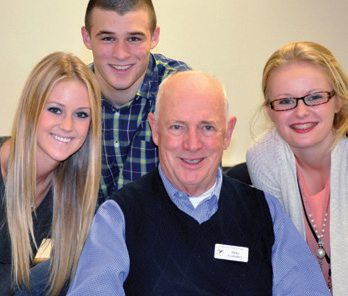 Blair Levesque, Calum Rodriguez and Kate Koch have taken Mike Gallaher's community service challenge to heart.
"A few students came to me last fall and asked, 'How can we earn extra credit in your class?' I explained to them that in college, you don't have extra credit. That's not how they do it," Mike explained. But, he would still give them an opportunity: community service for extra credit. "I can teach you how the economy works. I can even teach you how to become wealthy. I really can. It's not rocket science," Mike smiled. "The truly successful people in this world aren't the ones with the biggest houses and the most toys. The truly successful people are the ones who give back and make a difference in other people's lives." With this philosophy, Mike sent his students off on a mission of community service.
Mike himself has learned about making an impact. As an economics professor with Tarrant County College (TCC), he never thought he would enjoy teaching until he started teaching a few classes. His adventure began in 1997 while he worked his day job with Equipment Technologies, a company he had helped start. He began teaching as an adjunct instructor at TCC (called Tarrant County Junior College at the time).
The experience for him has been life-changing. "I've done a lot of things in my life, had a lot of different opportunities to earn income," Mike described. "But, I've never had a job as rewarding and as fulfilling as what I do now. I finally figured out that helping out other people is a whole lot more important than maxing out your income."
Before becoming a teacher, Mike had owned and operated three companies. Those opportunities give him real-life experiences to teach in the classroom. He is also a history buff and likes to pull in history lessons to teach economics. "I love history, and I lecture on the Lewis and Clark Expedition," Mike explained. "I bring in a lot of history of economics into the classroom because it's part of our heritage."
Mike believes it is important to also teach students about surviving financially after college. "There are three things that I say: 'If you get nothing else out of the course, remember this: there is no free lunch out there. There is no such thing as zero-percent financing. And thirdly, beware of businesses offering anything free,'" he remarked. "In other words, I encourage them not to be naïve."
With the dual credit program, Mike is employed by TCC, but has classrooms at both Mansfield High School and Legacy High School in order to teach the dual credit classes. His relationship with the schools isn't new. He was also on the Mansfield school board from 1989 to 1995 and encouraged the development of the dual credit program. "I'm proud to say as a board member I helped to get the program started," Mike said.
With the program, students can complete 24 hours of college credit from TCC during their junior and senior years, then move over to TCC after graduation to complete their associate degree. Students only need to earn 16 more hours of class credit to get their associate degree. Afterwards, students can progress to The University of Texas at Arlington to earn their bachelor's degree for less than $10,000.
"It's an extraordinary program for students, many of whom had never dreamed of going to college had it not been for this program," Mike said. He would even put himself in that category, as he was the first in his family to go to college. "I went to the Navy and to Vietnam and made up my mind that if I survived it, I would go to college,"  he explained. "And I did survive. I went to college on a GI bill. I can relate to what these kids are going through. I can reach them."
Many of his students are feeling the impact of their extra-credit community service projects. "These kids just make you proud. They're exceptional kids," Mike said, smiling.
One of these students is Blair Levesque, who participated in the Susan G. Komen 3-Day, which is a three-day, 60-mile event to raise awareness and funds for breast cancer cure. She participated in honor of her mother. "My mother is a breast cancer survivor after having a lumpectomy in 2010," Blair explained. "It occurred to me for a  split second that I might have to live without her."
Fortunately, Blair's mom survived, but it inspired Blair to still help to raise $2,400 to help find a cure. "Cancer is a horrible illness, and no one on the earth deserves to lose someone because of it," Blair shared. "I am hoping one day there will be a cure, so there are no more painful losses. Everyone deserves a lifetime."
Calum Rodriguez is another of those students. For his Eagle Scout project, he built three benches in front of his church. "I built the benches where I did because after Mass gets out, people don't have a place to gather and socialize. So, with the benches and the shade of some trees outside of our church, people can now talk in comfort," Calum explained.
Mike also described how a whole varsity baseball team got involved. "One boy on the varsity team got his entire team to go out for a whole weekend to work with special education children. They taught them the fundamentals of baseball," he said.
Kate Koch, a senior at Legacy, also took the extra-credit challenge seriously and started to volunteer her time with the special education program at her school. One boy in the program with whom she worked, Ben Hart, has become one of her closest friends. "Ben doesn't judge, he doesn't gossip, and he is never mean, which makes him an amazing best friend," she explained. She has also learned some meaningful lessons from him. "Ben made me realize that you literally choose if you want to be happy or not."
When talking about his students, Mike can't help but gush. "It's heartwarming. I still get goose bumps talking about it," Mike smiled. "These kids have made me so proud. They have gone out and done great things."
Written by Mikaela Mathews.