GRANBURY, TX — Passion for art is evident in her eyes when Cynthia James works or talks about art — her love for textures, shapes and colors flickers, growing into a flame. Different shapes and sizes appear throughout her work, at times a very distinct form, yet in other instances seemingly random. "Sometimes I am very mathematical in creating my base. Other times I just play," she said.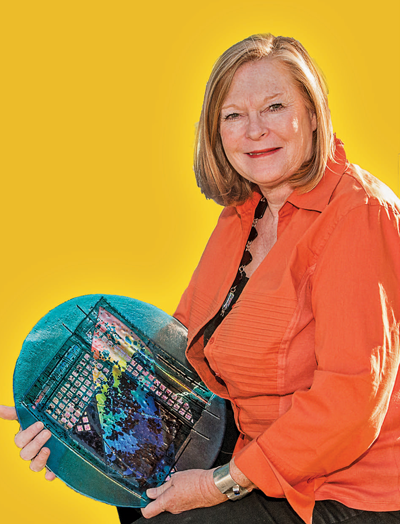 Beholders of her glass-fused jewelry always take a second look. Unique pieces of varying sizes, shapes and colors, some wrapped in wire or accented with beads, become an usual gift or favorite accessory. Yet for Cynthia, each small piece of jewelry means much more — a representation of what artists call a five- minute sketch.
She uses dichroic glass, pushing boundaries of creativity and making tiny sculptures. To the casual observer, the jewelry is a unique accessory, complementing various colors of clothing, but when Cynthia makes jewelry, she actually creates a visual story that shares tiny parts of her essence.
Looking closely, a recurrent shape graces her art — one that represents the things she loves most. From one direction, the abstract look of a Victorian lady appears, with a bead or lace- lined neck, a lovely shoulder line and cinched up waist. Cynthia explained her love of this particular shape. "I was a tomboy, but admired those girls with a smooth pony tail, and perfect clothes," she admitted. "I just never wanted to put forth the effort to be one of them."
Turning the piece, a mountain with a lake and reflection create an entirely different look. One more turn, and a sailboat brings a gentle reminder of the ocean. Cynthia's three favorite things are rolled into one tiny sculpture that's worn as a piece of jewelry. The coatings of dichroic glass transmit some wavelengths of light while reflecting others. When Cynthia looks at this art medium, she sees an effect similar to iridescent butterfly wings, hummingbirds or the fire in opals. The shifting colors create amazing pictures.
Living on Lake Granbury, Cynthia wakes every morning to inspiration. The gentle lap of water against the shore, a variety of birds and varying colors seen in nature provide a phenomenal amount of ideas for new artwork.
In the beginning, she drew out designs. After 12 years of creating, she now looks at the world around her, envisions a sculpture and then makes it without drawings.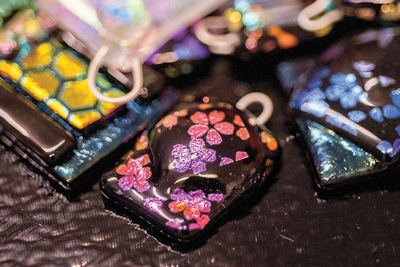 Although she learned much about glass fusion during the last 12 or 13 years, every request for donating artwork changes into an opportunity to stretch her boundaries and learn more. Reading books and practicing techniques improve her abilities, allowing great works to break free from her mind into a beautiful sculpture. Although she enjoys creating jewelry, Cynthia insists on making larger sculptures to remind herself of the art aspect of her work. Her art hangs in many buildings locally, around the U.S. and in other countries. Visitors to the Granbury Square can find her art — big and small — at her shop, Arte'factz.
Like a rough draft, Cynthia begins
by laying out her design. She typically uses about three layers of glass, carefully placing the pieces. For small art, such as jewelry, she makes several bases at the same time with limited colors and using a single tray. She then places the tray into a kiln. The temperature and time determine the outcome, fusing the layers of glass and perhaps bending it at the edges. After four or five hours, the bases are ready for cooling and additional artistry.
When working with larger pieces,
she lays out the rough design and then transfers it into a large kiln, rebuilding and then tweaking the pieces, sometimes waiting for a shift in light to capture the best images, much like a photographer does. Adding other components, such
as copper, creates an amazing three- dimensional piece of art. One of her newest works, designed for Christmas 2012, contains pieces of copper mesh
and tubing, which turn black during the fusing process. She pointed out the copper pieces not only represent the cross, but they also remind her of the trees near her home.
In 1911, Arthur Brisbane told a group of advertisers, "Use a picture. It's worth a thousand words." Cynthia saw the truth of that statement early in life. A beautiful painting of a violin hangs in the living room bearing her grandmother's signature, a love of music apparent to even the casual observer. Cynthia painted during her younger years, trying to mimic the artistry of her grandmother. "I never could get it to look that good," she confessed.
Although her mother, Jo James, didn't paint, she always enjoyed making things, continuing the heritage of artistry. As part of a military family that moved frequently, Cynthia found comfort in the texture of walls and seeing shapes in them, mountains being among her favorites. Cynthia learned art in classes and from reading, but her inspiration came from something deeper. Her family lived in England during her early teen years. Because her mom loved art, they often visited museums and cathedrals.
With such a rich heritage, Cynthia needed a way to express herself. An art degree in hand, she pursued painting, pottery and other ways to bring her art to life. However, the need for secure income drove her to a job at a newspaper for 20 years. Fortunately, that job gave her a background to run a business successfully, which helped overcome a weakness of many artists.
In the 1970s, her parents moved to Granbury. She visited on weekends, sometimes just for the day, and loved going to the square. "At that time the square was filled with artisan shops like pottery and all types of handmade gifts."
Eventually, love and adventure took her to Australia for eight months. Walking along the beaches and with the influence of a book, The Artist's Way, Cynthia discovered a way to marry her
loves of texture and painting — fused glass. On September 11, 2001, she left Australia, and after a few days of layover, came home to Granbury.
She began working for a local jeweler, Jim Patterson, and at night pursued the art of fused glass, learning how temperatures and time changed the way glass looked. Three years ago she opened her own shop, where she displays her artwork. Working with glass gives Cynthia a unique way to express her love of art. "I love making things that tell a story. I have to do that," she explained. "I'm still as excited about this medium as I was 12 years ago." Whether small or large, each piece of Cynthia's art carries part of her personality — a signature of stories in glass.
Written by Lisa Bell.