ENNIS, TX — An antiques connoisseur who moved to Ennis five years ago may miss old haunts back in North Carolina, but he's found the Texas market for period furniture and fine art as exciting as anywhere else in the country. "Relocating is always an adjustment, but I'm very happy here now, and the people of Ennis are wonderful," said David Gregory, the Yale-educated historian and appraiser who is an avid collector himself. When he exchanged his East Coast roots for life in the Lone Star State in 2008, it wasn't long before David realized what a promising collectors' market exists locally. "It's amazing what you can find in this area of Texas," he said. "The focus on history here is great, so there are some extraordinary antiques and collectibles available."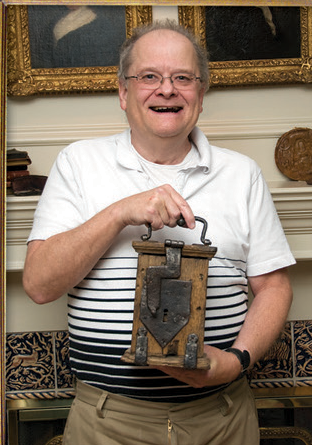 From Civil War letters to Pony Express memorabilia to Indian Treaty documents, the range of valuable items that turn up at North Texas auctions, estate sales and antiques shops has intrigued David. Although as a professional appraiser his specialty is paintings and furniture, he personally collects a wide assortment of pieces. Some recent Ellis County finds include a large wooden coffee bin from the early 1900s. The bin's original, painted Jersey brand label is still "You will be surprised what you can find, if you take the time tostudy and learn aboutthe antiques you areinterested in."
"This coffee stand would have been used in an old country store," David explained, "probably right in this area." In a local venue, he also found a big silver jug of the same vintage, all the more fascinating for the history associated with it. The pot's 98-year-old owner was consulted, and he recalled it had been used in the cotton fields near
Waxahachie to take water to laborers. Such anecdotal details fascinate David in his work as an appraiser and a collector. But he insists historical documentation is essential for identifying objects and evaluating their worth. "In my business, scholarship is the key," he pointed out. "You really have to study history." And he has.
A graduate of Yale University, with a master's degree in art history, David apprenticed in book binding at Duke University Library and obtained his appraiser certification from Long Island University. He has since applied his expertise to consulting for numerous museums, such as the National Museum of Denmark in Copenhagen, and for
top international auction firms like Sotheby's and Christie's. As an appraiser, David received his most prestigious commission from Henry Ford's winter estate, Richmond Hills, near Savannah, owned at that time by the Saudi Arabian royal family. "That was an interesting job," he modestly admitted. "I'm proud of it, because it was there that I identified one of the most valuable pieces I've seen in my career. It was a Ming Dynasty jade scepter, which was so rare that many curators were surprised it existed."
In addition to his appraisal service, David was known in his native North Carolina for his work in exhibition design for museums, galleries and universities. He mounted a display at Salem College for that school's bicentennial, and his photographic exhibition celebrating the early women's rights movement at Wake Forest University has since been acquired by the North Carolina Council for Women. He also became well-known throughout his home state for a series of appraisal fairs based on Antiques Roadshow, the long-running television program that airs on PBS.
Ellis County residents will remember David best for a similar appraisal event he hosted here a few years ago, sponsored by the Ennis Arts Commission. That unique three-hour opportunity for locals to have their attic-found treasures evaluated took place at the Ennis Public Library. The fair attracted hundreds of heirloom-toting visitors and had to be extended to the following weekend to accommodate public interest. David enjoyed the experience of assessing Ennisites' antiques and was astonished at the variety and rarity of some of the pieces brought in. "I remember there was an ancient tribal death mask that someone had," he recounted. "And someone else had a 15th century leather scroll."
Since moving to the Bluebonnet City, David has amassed his own array of fantastic finds. Some have been purchased through the Ennis Auction House, where he occasionally serves as a consultant. Others he has picked up at antiques shops, thrift stores, flea
markets and rummage sales. "In almost all cases, what I buy comes from this area," he said, "whether here in town, in Waxahachie or other places not far away."
One of the most unusual and valuable items he acquired in the Ennis vicinity is a 1780s Mexican rug used for a funeral bier. "I contacted some textile experts at the University of New Mexico," David shared. "They were very interested in it, and said they'd never seen anything like it." Another incredible artifact he discovered locally is a small, early 18th century French sculpture of two classical figures embracing before Cupid who has laid down his bow. This little terra-cotta statue bears the hand-inscribed seal of a sculptor employed by King Louis XIV to produce objets d'art for the Palace of Versailles. "The item is virtually priceless," David enthused. "But I bought it for $27.50!"
Finding such unbelievable specimens of art might not occur every day for the antique hound, but David is full of encouragement for fellow collectors. "You will be surprised what you can find, if you take the time to study and learn about the antiques you are interested in," he said. "And you can do it on a budget and not have to travel long distances."
David practices what he preaches. He doesn't spend more than $400 a month on items he buys and doesn't drive over 30 miles to shop. Despite these self-imposed parameters, he has added significantly over the past few years to his already impressive collection of paintings, furniture and various decorative art pieces. He continues to collect using these rules of thumb along with others and advises fellow collectors to consider the plan.
Although his time is taken up by obligations to his consulting service, he manages to get away on weekends to comb estate sales and antique malls, even swap meets, looking for the next great deal. His most recent smart buy is a group of magnificent chairs. "They are a complete set of six Hitchcock side chairs, made in Connecticut, circa 1840, and are in splendid condition," David said. "One of the chairs has a chalk signature and the number 6 under the seat, a rare signed and numbered original." The chairs, David estimates, are worth $2,800. He paid $300.
David looks forward to many more weekend forays in and around Ennis: "This town is a treasure chest of rare antiques. Seek, and you will find!"
Written by Randy Bigham.