CORSICANA, TX — Maybe it was Ruby Williams' birthplace that set her life of service in motion. Born in the Navarro County farming community of Providence, Ruby has always felt a duty to work hard in her church, for her family and for her community. Hard work was nothing new for her tenant farming family. Her father and mother, married for 66 years, set an example for their 10 children of not only working hard to support a family but also working to benefit other people in the community.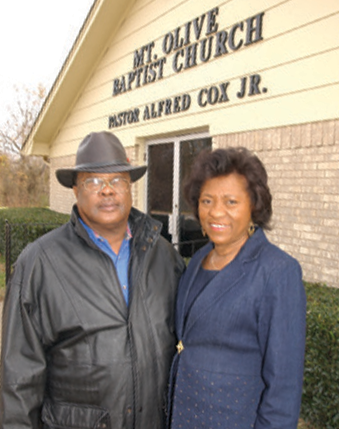 Ruby and her family have been celebrating some of those memories through three very special milestones in the past year. First, Ruby and her husband, Marshall, celebrated 50 years of marriage. Second, Ruby, along with her fellow classmates from G.W. Jackson High School, celebrated 50 years since their high school graduation. Third, her church, Mt. Olive Baptist Church, celebrated its 100-year anniversary. "I've been busy all this past year long," Ruby said. Not only was the year full of making new memories through the celebrations, but it was a time to look back 50 years to Ruby's graduation, wedding and when the 50-year-church anniversary were all celebrated.
The family moved from Providence when Ruby was still very young. "When I knew myself, I was in town," she said. It's hard to imagine the elegantly dressed Ruby of today as a child who pulled cotton. Ruby remembers her mother cooking and designing and making clothes for the family. "My mother could make something out of nothing," Ruby said. "She taught me to sew using old newspapers to make patterns." Those skills and a solid work ethic have been used by Ruby during her years of employment at Miller Brothers and Adams Hat Company. She has owned and operated, with Marshall's help, Ruby's Hats for the past 16 years.
Her school days also prepared Ruby for a life of service. "The teachers at Jackson taught you and made you mind, and the parents backed them," Ruby related. May Day celebrations around the May pole and singing in the choral club stand out as special times.
During high school, Ruby worked under Tressie Langston, a legendary and innovative extension agent in Navarro County, in the 4-H program. "We had a great impact on children, teaching them sewing, public speaking and cooking skills. We went to food and fashion show competitions and gained confidence.
4-H taught others and me a lot," Ruby remembered. Ruby has used her public speaking skills often in her work as the Precinct 2 representative on the Corsicana City Council since 2005. She credits Emmaline Gonzalez, who held the office prior to Ruby's election, as a friend and a mentor.
Women in church leadership roles have guided Ruby and others throughout the years. One such woman, Edna Guess, who passed away recently at the age of 102, was an inspiration to Ruby. "She was always encouraging me to do the right thing and tell the truth. She quit driving and wearing high heels and hats at 100," Ruby remembered. To celebrate that landmark birthday, the church held a dinner in Ms. Guess' honor. Byron Cook provided a flag that had flown over the Texas State Capitol, and Ms. Guess received letters of recognition from both Representative Cook and President Obama. "She never had any children of her own, but she was the mother of the church," Ruby stated.
"We are always celebrating at church, and we eat all the time," Ruby said. Mt. Olive Baptist Church celebrates an annual homecoming and fall festival. Ruby has traveled to church conventions in Austin, Odessa, Corpus Christi and other destinations and looks forward to serving as a church delegate to more conventions when she retires.
Most dear to Ruby is her family. Marshall and Ruby reared two sons, Eric and Orlando Williams. Eric lives with his family in Marlboro, Maryland, where he teaches high school math. Orlando is the personal service youth representative for the Workforce Commission in Corsicana. He works to place youth in jobs. Seven grandchildren bless Marshall and Ruby's lives. Two are in college and one is a junior at Corsicana High School. "My grandchildren are sweet. I'm very proud of my children. They are great!" Ruby said. The couple has been active in their children and grandchildren's lives, especially in the area of youth sports and CHS football.
The secrets to maintaining a 50-year marriage and living a life full of friends and family are being church-oriented and having a great understanding of prayer, according to Ruby. "When I married, I married for keeps. We work together, go to church together and opposites do attract. Someone had to have some sense, and it was Marshall," Ruby said, laughingly. "I've always worked, don't smoke, don't drink and have been blessed with good health," she added. And Navarro County has been blessed by Providence, with Ruby Williams' efforts to make this area a great place to live.
Written by Virginia Riddle.