BURLESON, TX — Jessica Prickett began her running career in middle school. "I was not a great runner at the time," she said. "No one knew about me, but I kind of liked running." She stuck with it, and by her freshman year she was coming into her own, running on the varsity team half of the time.
The next year changed everything. As a sophomore, she became part of the Dallas Metroplex Striders Club. Members of the track club run year-round and complete extra training above school requirements.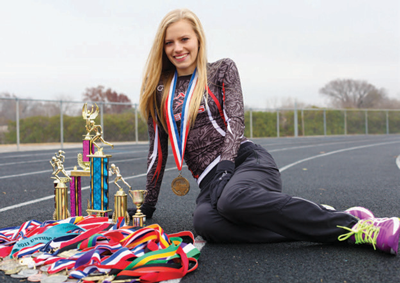 Only dedicated runners belong to this club. As a member, Jessica improved her running skills, but more importantly, Coach Terry Jessup taught her to love the sport.
The hard work paid big dividends. During her freshman year, she had finished with a time of 13:19.
Each year she shaved off a full minute. To keep this trend going, she hopes to run 10:19 in the 3200 meter this year.
Admittedly, Jessica seldom thinks, I don't really want to run today. But, once she gets into the rhythm, her attitude changes to joy, and when finished, she feels great satisfaction at the achievement. "That's what I love about it. Every day's a new challenge. You're challenging your body to run more and push harder," she said. "It's hard, but I love it." What about running inspires this young woman? As odd as it seems to someone who doesn't run, the sport has an air of peace to it — a peace that makes Jessica want to run. She also has many friends in the sport.
"Everyone is just so sweet. They all seem to be senior, she understands the need to balance sports, schoolwork, church and spending time with people she loves. Running, of course, is high on her list of priorities. Sometimes it feels like track takes number one priority in her life, but she puts God first, followed by family.
Sometimes she gets too busy to hang out with her friends, but she never wants them to think she's too good for them. In spite of her high moral standards and involvement in church, she knows she isn't perfect. She's learned not to judge others, careful not to require anyone to feel like she does.
In spite of missed class time during track meets, Jessica maintains above-average grades. She goes to teachers ahead of time to get the assignments from her AP (Advanced Placement) classes she'll miss while racing at meets.
Like most athletes, Jessica dreams of competing in the Olympics someday. The first step includes making it to Nationals. Although she placed two spots short in 2012, she has college to keep her hopeful for a future spot. "It'll be much harder, so I'll just have to keep improving," she said. Headed to Texas Tech University in Lubbock, she wants Coach Murray's help to improve speed and work on her kick at the end of the races. Transitioning from pace to a full-out sprint is difficult, especially at the end of a race when fatigue wears her down.
Her grandparents and family, who live in Kansas, had hoped she'd choose Kansas State University.
At first she thought Texas Christian University was really where she wanted to go because it was so close.
Another place she visited and considered attending was Texas A&M University. But, Jessica still had her eyes on Texas Tech, which is where she went for her first official college visit, and it didn't start so well. "At the beginning, it was not fun, because I was all alone and wasn't used to the environment," Jessica said. "The next day, everything turned around, and it was like, whoa. God opened up my eyes and said I needed to go there." Jessica realized how much she loved Texas Tech and after hanging out with the team she found that she really fit in with the girls and loved the coach.
Then Coach Murray flew down and offered Jessica an almost full scholarship.
She and her family were very grateful.
Three weeks passed as she prayed and considered the decision. Still sensing a definite yes, she verbally accepted the offer. Perhaps her decision for going to Texas Tech stemmed from her first mission trip, which took place in Lubbock. During that trip, she saw her purpose in life as helping people.
Eventually, she plans to serve as a missionary in Africa.
In the meantime, she looks forward to helping the team at Texas Tech next year as they rebuild. Three key runners graduated last year. The coach expects a lot from Jessica, and she will do her best not to disappoint him. She is excited for the opportunity to go to college with a runner from Kenya, who has been awarded the 2012 national champion for cross country. Jessica plans to major in either nutrition or coaching. People often ask Jessica why she's always running. She doesn't hesitate in her response.
"God gave me this gift, and I'm gonna use it."
Written by Lisa Bell.