WEATHERFORD, TX — She's better known as Volunteer Amy, the stay-at-home mom who never stays home. Amy Mercer, along with her husband, George, are teaching their children to serve the community. It all started when their 12-year-old, Macy Jo, was only 2. "We did not have two nickels to rub together, and I didn't know what to do with myself because my house was spotless. George told me, 'Go, volunteer,'" Amy said. She registered Macy Jo in a mother's day out program and got two days a week to herself. While running errands, she saw a poster at the dry cleaners of a woman with a black eye, advertising Freedom House. "I picked up my cleaning and went immediately over there. They did a background check on me, and I started the next week."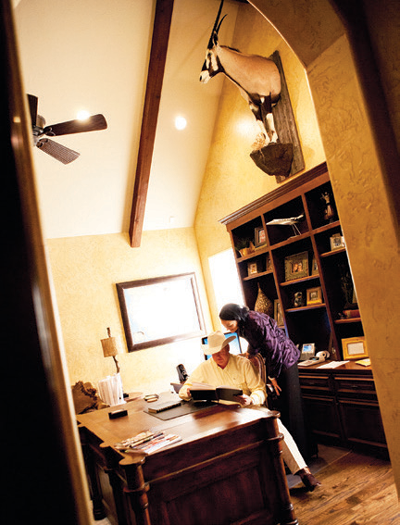 Parker County's Freedom House provides shelter and counseling for people fleeing traumatic situations. "They have the rape crisis center where they help women, men and children. It's an impressive institution," Amy said. "I can't stand for people to be hurt by abuse. I wanted to help people get out of the situation, and because they come to the Freedom House shelter, they get all their needs taken care of immediately — including security. If somebody's been beating on you, and you finally have the nerve to get out, we want you to stay safe."
Over the last 10 years, Amy and her daughters, Tommie Ellen, Macy Jo and Chelsea have cleaned windows, vacuumed offices, sorted clothes and organized the monthly garage sales. "My girls are joyful givers," Amy said, "and we know women who had been helped and then come back to volunteer, because they love that place so much."
"I don't think there's a more direct way to help people than something like Freedom House," George said. "The worst of all human conditions is to have no hope. Broke's a situation, poor's a state of mind. I've been broke, but never poor. I've never been without hope."
George's faith-based background prepared him for the role he now plays. So did his family's pipeline logistics company, which, due to recent success and growth, has allowed the Mercers to participate in strategic philanthropy.  "We were blessed to be a blessing," George affirmed.
Supporting Parker County and teaching their children to participate in the community's growth, the Mercers give both money and elbow grease. "He writes the checks, and I do the work," Amy said, with a silly grin, casting light on their amazing teamwork. Married for 14 years, the Mercers work together to  bring good where they can. The family is central, and many weekends they join up in the stands to cheer on Vincent, George's son from his previous marriage. Vincent plays in the Challenger League for people with special needs. "That's a lot of fun. Your hands are hurting so bad from clapping for every child."
No longer bored, Volunteer Amy stays busy September through May, co-producing fundraisers for organizations the couple deems stable, faithful and capable of directly helping families to improve their physical, mental, emotional and spiritual health. "Amy and I support each other 100 percent, and we view this as a long-term commitment of time and finances," George said, explaining he runs his charitable giving just like his business, with budgets. "It is important for us to continue to support charities we're involved in."
Amy joined Zonta specifically because that organization supports Freedom House, so her efforts on behalf of Zonta help Freedom House all the more. Likewise, the couple supports the Parker County Health Foundation (PCHF) because it is the root of so many local social services. "PCHF supports the health and well-being of women and children," Amy said. "The foundation even gives to dentistry for children!"
Since George likes getting a bang for his buck, he and Amy involve themselves in charities with low overhead. "When you give the money to the PCHF, dollar for dollar more of it goes directly to patients who require the care," George said. "Only one employee with PCHF is paid, and the rest are volunteer board members — successful people who bring that attitude to their charities, as well."
Along with the Parker County Health Foundation and First National Bank of Weatherford, the Mercers produce the PCHF Gala every February on the heels of October's Pink Luncheon. "They support women's rights and provide breast cancer screenings for people who can't afford it," George said. "We help Careity Foundation, PCHF, Zonta and Freedom House because we believe it's more the people's role than the government's to supply such services. We feel responsible and obligated to help."
"My key is early detection," Amy added. "If a woman can get a free mammogram and free biopsy, she'll be willing to go."
"This helps remove the financial barriers," George said. "When you can go for services locally, it changes the attitude of the client. I am not a person who believes in getting something for nothing. But this is a moral issue, these are human beings we're talking about, and most of them, in this county anyway, are Christians. We know the safety net is getting tighter in Parker County, because of the amount and quality of volunteers." Amy has won numerous awards for helping people. She was recently named Woman of the Year by Zonta and Humanitarian of the Year by United Way. "It enhances my soul. God has given me the ability to help," Amy said.
"George can give money all day long, but I physically do the work, which makes my heart and soul soar."
This winter, Amy and the hard.working volunteers and board members from PCHF and Zonta have had fun preparing for the PCHF gala. Tasting and selecting the food was certainly less effort than lifting and setting up tables and decorations will be, yet it is all joy for Amy. After the Gala, she will take a brief breather before assisting in the production of Zonta's casino night. Her much-needed summer vacation will involve attending the international convention for Zonta, and then in September, she will help host the Freedom House's garden party. The following month, Careity's Pink Luncheon gets the Mercer's full attention. For George, the biggest benefit of their mutual investment is personal.
"I don't think we're ever as close to God as when we're helping those who need it," he said. "I believe that if I take care of others, the Lord will take care of my family."
Written by Melissa Rawlins.