WAXAHACHIE, TX — Carolyn Stroud enjoyed a passionate 25-year career in education, teaching reading and language arts. Now retired, her love for reading is reflected during the annual Drop Everything and Read Day celebration, when she dresses up as the fictional character named Miss Tizzy, and reads to the children.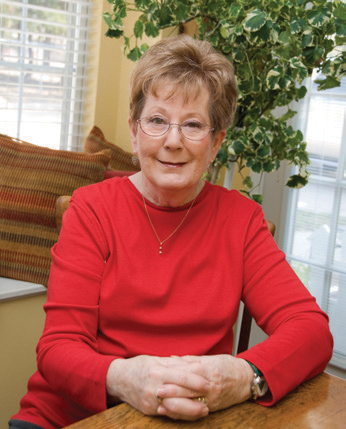 This year marked the 16th annual celebration of D.E.A.R. (Drop Everything and Read) Day, for students from pre-K to eighth grade in Waxahachie ISD. According to Melissa Cobb, director of Partners in Education for the district, a main goal of D.E.A.R. Day is to emphasize the value and joy of reading through reading role models from the community. With over 500 volunteers from local businesses, organizations, churches, universities and PTOs, D.E.A.R. Day has become an anticipated event throughout Waxahachie as community members return to read to the students year after year. In addition, generous contributions from across the community make it possible for a new book to be placed in each elementary classroom and secondary library yearly. "We are so grateful for the outstanding support from the community for this special reading event in Waxahachie ISD," Melissa shared.
For a few lucky classes, D.E.A.R. Day is even more exciting as they receive an extra special visitor, Carolyn, in disguise as Miss Tizzy with her cat, Hiram. Carolyn originally wanted to be a nurse, but her love for reading and writing lead her to a degree in education from Dallas Baptist University. For the next 25 years she taught language arts and reading to fourth and fifth graders. "I really believe you have to do what God calls you to do, and when you have that calling, it's never work," Carolyn said.
"I will always be a teacher, and it's with great joy that I go to Dunaway to do Miss Tizzy," Carolyn shared. The idea for the real life character of Miss Tizzy originated with one of Carolyn's colleagues, Ayn Pullin, with whom she taught in DeSoto. Ayn was the librarian, and they became close friends. They shared a passion for reading, in addition to an innovative drive for creative and compassionate teaching methods through which they made strong efforts to make students feel welcome and excited to learn. "Reading is an escape. It can take you to places you may never get to go," Carolyn said. "But the children don't want to hear that it's an education in itself, so I let them come to their own conclusions." As a teacher, Carolyn stayed involved. She changed out the decorations in her room monthly to help create a safe, yet fun learning environment for her students. "I think I did it just as much for me as for them, but I wanted them to feel welcome when they walked into my room and to know they were special," Carolyn explained. Ayn and Carolyn shared these ideals, and similar to Carolyn, Ayn changed out the theme of the library yearly to encourage students to read.
During that time, Ayn began the tradition of Miss Tizzy. The children's book, written by Libba Moore Gray, tells the story of a woman who befriended and taught children from various backgrounds how to love and accept one another despite differences. Ayn fully embodied the character as she read to the students, and Carolyn said that afterwards, the children never knew Ayn as the librarian again — only as  Miss Tizzy.
Miss Tizzy respected the children, and in return she earned their trust and love, which is illustrated when she falls ill, and the children take care of her in the end. The main idea of the story closely aligned with Carolyn's teaching ideals. "I learned very early that if you respect children, they will respect you back," she said. Consequently, Ayn's transformation into Miss Tizzy became very important to Carolyn.
Upon retirement, Carolyn knew she wanted to do something unique for D.E.A.R. Day — something that reflected her passion for reading. "I wanted it to be pizzazzy," Carolyn stated. At the time, she was substitute teaching for a fourth grade teacher who encouraged her to revive the tradition. Miss Tizzy has since become an extension of Carolyn, as the book's central theme is a direct reflection of her goal to teach children by taking the time to connect and relate to them.
"To me, reading is just joy. I don't know how to teach that joy, but I do know that if you can find a book that draws a kid in, it may change their perspective on reading," Carolyn said. "And Miss Tizzy, well, it just grabbed them!"
Every D.E.A.R. Day for the past four years Carolyn has transformed into Miss Tizzy with her mismatched clothes, green tennis shoes, powdered white hair, purple hat and a stuffed cat named Hiram. "They think the green tennis shoes are just awesome," Carolyn said. She tells the story from the first person point of view to help get the children involved, noting that her introduction is key to the entire performance. "You have to catch them, and pull them in, and then when they have ownership, they become part of the story," Carolyn smiled.
The beginning of the book shows Miss Tizzy's neighborhood full of uniform houses and neat yards, all except for her own. Like Miss Tizzy herself, her house is colorful, and her yard is full of different types of flowers, leading the neighbors to think that she is quite peculiar. Still, the children adore her. Each day, the children and Miss Tizzy do a different activity, like baking cookies or putting on puppet shows or parades. "It's like a miniature family," Carolyn stated. "All of a sudden the children feel like they belong, and then they realize that they love her and in return, she genuinely loves them."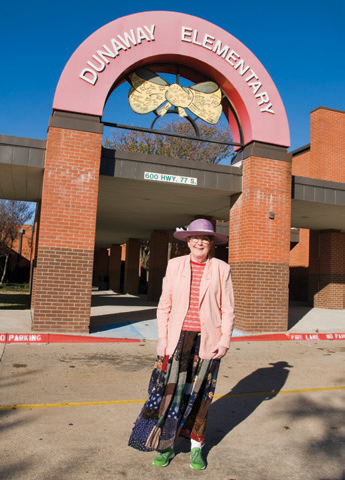 Carolyn remembered her joy when the children seemed to grasp at every page, enthralled in the story. "When you have 25 little wiggly bodies and all of their full attention, that's saying a lot!" she stated. This, she shared, is not something she does for reward or praise, but rather because she loves children and needs that interaction in her life. "They seem genuinely grateful that you came, and that in itself is the reward," she admitted. "I try to teach them whatever you do in your life or wherever you go, just treat people the way you would like to be treated. You know, the Golden Rule, and I try to do things where children still have imagination."
Written by Hope Teel.