CEDAR HILL, TX — Being a standout high school athlete can prove difficult for some young superstars to handle. The pressure of winning, grueling training schedules, maintaining grades and still managing to have some type of social life can be challenging. But some are successful at this juggling act — and accomplish even more. When meeting Briana Holman, it is quickly apparent she is someone who truly knows how to balance  it all.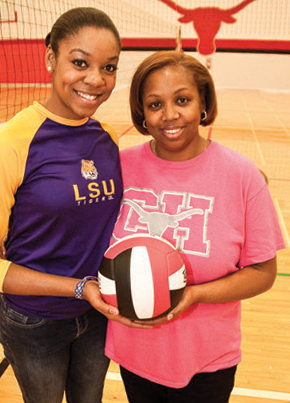 A senior at Cedar Hill High School, Briana is one of the area's best volleyball players. After being heavily recruited, she has decided she will suit up and spike the ball for Louisiana State University (LSU) after her graduation in 2013. Standing 6 feet tall, Briana is an imposing figure on game days. Her steely gaze, versatile playing style and concentration on winning have earned her the oxymoronic nickname of "Smiley," by local sports writers.
Basketball started off as her first love, and she was playing in a summer league. But volleyball soon became her sport of choice, and she made the varsity team at Cedar Hill High School her freshman year. "I didn't like basketball as much anyway," she said, with a slight shrug of her shoulders.
At Cedar Hill, Briana has been named a district MVP and was a part of the team that advanced past the first round of playoffs in 2012 — a first in the history of the school. Just to add a bit more to Briana's schedule, not only does she play for her high school team, but she's also a member of a select group of players on a competitive club team, the Skyline Juniors.
As a member of this squad, Briana travels across the country for numerous tournaments, which are must-attend events for college recruiters. All of Briana's teammates from the Skyline Juniors will play at the collegiate level, and some will even face off over the net against her, having been recruited to rival schools in the Southeastern Conference where LSU competes.
The schedule is not an easy one for Briana or her mom since they live in DeSoto. Briana's club team practices in Plano, a drive that can take more than an hour, at times, after school and work have ended for both of them. With the support of family, including Briana's cousin, Theresa Muhammad, and her husband, Bismillah, Briana always has a cheering squad at her games and tournaments. High school practice is every day, and club practices are twice a week, but at a faster pace that she enjoys. During the week, taking into account workouts, school, studying, practices and games, Briana's days start as early as 6:30 a.m. and end as late as 1:30 a.m. Well-known in school and on the high school sports circuit due to her athletic accomplishments, Briana is more than an intimidating force on the court. She is just as effective and dedicated to her activities away from the hardwood. She's a member of an organization called Student Leadership at Cedar Hill and values her role with the group just as much as her place on her sports teams. Membership in the group is highly selective, with a total of only 30 students from the sophomore, junior and senior classes. The students represent the student body for everyday events and serve as ambassadors, if media or  high-profile visitors are on campus.
"It's a class you have to sign up for, or the other teachers will recommend students," Briana said. "We do pep rallies, recycle around the campus. We do a lot of things." Thinking locally, but acting globally, their humanitarian reach extends past Cedar Hill, too. As part of a Make a Difference Day for Hurricane Sandy relief efforts, the group collected canned goods and shipped them to the East Coast. "There are a lot of positive people in the group," she said, "who want to make a difference in the community and in the Metroplex. I will really miss it when I graduate."
Being a part of Student Leadership is just the beginning of Briana's greater vision of always serving those around her and giving back, once she's accomplished a very major milestone. "One of my long-term goals is to be in the Olympics," she said. Her dream is to play in the 2020 games, as volleyball players have to have at least a year of international play after their college graduation before competing in the games.
Briana's post-Olympic plans don't give any indication she plans to slow her pace. "I want to major in pre-med or biology," she said. "I want to go to a really good medical school, open my own practice and become an obstetrician." For now — when she does have time to breathe — Briana turns into a typical teenager, who likes to watch television and hang out with her friends. "I like to watch Scooby Doo," she said, smiling.
As much as they love the game and indulging their competitive spirits, a lot of athletes admit there are certain aspects — early morning training sessions, sore muscles, restrictive diets — they won't miss. But Briana proves again that she is not your typical athlete when she ponders what she wouldn't miss. "There's nothing," she said. "There is nothing I wouldn't miss. I'd miss it all."
Written by Katrina D. Lewis.