RED OAK, TX — A chance meeting on an unlucky date may be the luckiest moment in Rob and Julie Minialoff's lives. This dual-country couple has overcome obstacles and odds, and their relationship continues to grow today in what was first Julie's home in Red Oak.
"I moved here with my son, Riley, in March 1999. Riley started kindergarten and worked through Red Oak High School, graduating in 2012," Julie said. Prior to rearing her son in Red Oak, Julie grew up in Duncanville and went on to work in the cosmetic industry.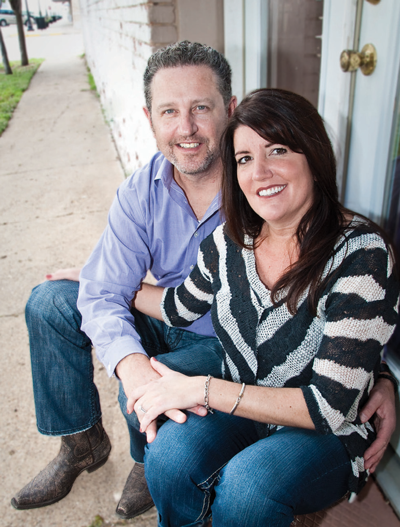 Rob was reared in Toronto, Canada, where he eventually opened his own company, Roof Logic, making software for roofing contractors all over Canada and the U.S. Traveling for business, Rob had a connecting flight from Toronto through North Carolina on Friday the 13th, in March 2009. Julie was headed home from a company meeting in Charlotte on the same flight.
"There was one empty seat on the plane, and it was between us. We talked the whole way to Dallas, and when we got to baggage claim, I didn't want to part," Julie said. Unwilling to let the chance encounter end, Julie asked to drive Rob to his hotel. "I asked if it was strange for me to offer, and he — ever the gentleman — said, 'Not if it is on your way,'" Julie recalled.
The two made dinner plans for the next evening. "I knew that night there was something about Rob. I called my best friend when I got in the car to head home and told her all about him," Julie said.
"For me, the feeling grew the next night at dinner and really knocked me out when we had to part. My heart hurt so bad," Rob said. Headed back out of town the next day, Rob was desperate to talk with Julie.
"I saw three ladies in the airport with phones like my new one. I explained I had just met this girl I was crazy about, but I didn't know how to text," Rob said. "I got a two-minute lesson and sent my first text to Julie. Now we had instant communication. It was amazing but could not fix my heavy heart, so I called and heard her sweet voice and knew I had to see her again!" They spent the next three years traveling to meet each other — around the country and many trips between Toronto and Red Oak. That was the time needed for Riley to finish school and begin training at DeSoto Fire Academy. "It was a long time, but thanks to texting and Skype, Rob and I weren't completely apart!" Julie said.
"I wondered how it could work, but very early on Julie said, 'I can be in Canada in three years.' So I had a commitment, and we had a goal. It wasn't easy, but we did it," Rob recalled.
December 2, 2011, Rob proposed and plans began — originally for one wedding in Red Oak and one in Toronto. But Rob's family was able to come to Texas, so one big ceremony took place May 19, 2012, at The Greenery in Waxahachie. Rob's parents, sisters and their husbands, and Rob's daughter, Katie, all made the trip.
"We were married by our best friend, Danny Roland, and "I never knew love could be like this, and it was worth the 40-year wait."
Kellie Roland coordinated the day for me, so I could just enjoy. Most of my family was there with us, including my Mema, who is 97 years old," Julie said.
Guests agreed Rob and Julie's love story was one of a kind. "You hear about rare couples with an amazing love. Now thanks to Julie, we are one of those couples. I feel it every day," Rob said. "When I met Julie, I was a broken man at a very tough point in life. Julie was an angel sent down to save me, and she has."
"Rob is the most thoughtful man I have ever known. He even celebrates my birthday for a week every year," Julie said. "I never knew love could be like this, and it was worth the 40-year wait to find him."
The couple noted they even like each other's differences. "I am one to make quick decisions. Rob processes things. When I would ask his thoughts, he would say he needed to think about it," Julie said. "I now look to him to think things through for us."
"Julie taught me how to fight fair, including never using hurtful words. I can honestly say she has never said a mean thing to me," Rob said. "She told me, 'I may disagree with you, but I never want to hurt you.' It was a great lesson, and we both live by it."
When it came time to start planning Julie's move to Toronto, the duo could never get far into a conversation about selling the Red Oak house. "We had both fallen in love with Red Oak — especially our incredible neighbors," Julie said. "Rob finally said, 'We need to keep the house. We love it here, and one day we will give it to Riley.' I was thrilled! I never really wanted to sell the house, and now my son could continue to live in our home, and we always had a place to come home to."
Today, the Minialoffs alternate four to six weeks in Red Oak then Toronto. "Since we settled down, we have become homebodies. We traveled so much the past three years that we are happy to be home for good," Julie admitted. "One place we still make a point to get to as often as possible is Fort Myers Beach, Florida. That is our happy place. Once we get Katie through school, we plan to buy a home on the beach."
"We love spending time together. We love dumb, funny movies, we like to fish on our boat in Florida, cooking dinner  together … everything," Rob said. "And we both love this town. I grew up in a big city and always thought I would like to live in a small town, and now for part of the year I do. I just love how easy it is to get around and get things done at a relaxed pace."
Wherever they live, the Minialoffs agree life is easier together. "Rob is the love of my life," Julie said.
"Julie sees the best in everyone and every situation. She is the most positive person I have ever known," Rob said. And, perhaps most importantly for every successful relationship, he added, "We tell each other we love each other every chance we get!"
Written by Angel Morris.