MIDLOTHIAN, TX — "A teacher affects eternity; he can never tell where his influence stops." These words, spoken by 19th century journalist Henry Brooks Adams, point to the phenomenal amount of impact and power a teacher can wield. Nearly every person who has been to school can point to at least one teacher who left an indelible mark
on them that was affirmative and life changing. Theresa Ellinger was one of those students influenced by a teacher who cared, and now she very much wants to be that teacher who leaves a positive mark on her own students. She understands this profound responsibility and welcomes it. "Leaving my mark on my students is important for me," she said. "When I went into teaching, it was a teacher who impacted me."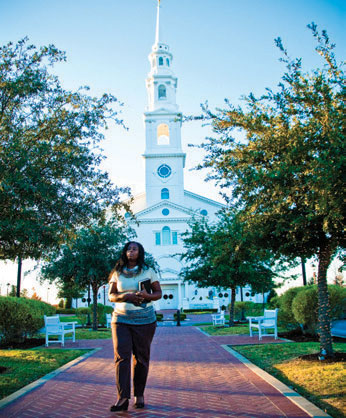 Born and reared in Houston, Theresa attended the Performing Arts School in Houston for her high school experience. As a talented vocalist, she thought in those early days that she wanted to pursue a music degree and become an opera singer. She received a fun opportunity to sing for a celebrity when attending Texas Southern University (TSU). Michael Bolton, a singer and songwriter, was in town for a performance and needed more singers. "I was at TSU when a professor told me that Michael Bolton was looking for a backup singer," she said. "I took time off from school to sing for him. I was with him for six months, until the end of his tour." Theresa enjoyed the ride of being a performer, but being very close to her family, which included her twin and three other siblings, she became homesick and wanted to return to Houston.
After attending TSU for one-and-ahalf years, Theresa went to Northern Arizona University (NAU) in Flagstaff. There her interests turned to education. She received a bachelor's degree in education from NAU, and is currently working on a double major to earn her master's in business and in higher education at Dallas Baptist University (DBU). She hopes to complete her studies this summer. "I absolutely love the DBU campus," she stated. "The moment I went into class, I felt like I was at home. It felt like it was the place God was telling me to be. Everyone is so caring, and professors are so hands-on. It's a small school, so you get to know your classmates very well."
While studying for her master's degree, Theresa is currently working at Red Oak Intermediate School. "I love teaching, and I think I would enjoy it more at the college level," she said. "My personality better fits older kids. I enjoy conversing with them. My ultimate goal is to run a dean's department. I think I would be good at it, because I am good at multitasking and working with other people. I like the hands-on part of it. It is a position that is multifaceted and encompasses so many different things."
Theresa's goal of becoming a dean is very specific. She wants to be the dean of a community college. "That is important to me, because there are not that many African-American deans," she commented. "During one of my higher education courses, we had a guest speaker. She was a black dean for the Tarrant County Community College. She talked about how the issues are completely different at a community college than a university. She said it was more fulfilling, because you help students in the community who tend to work full time and go to college. Many of these students are first-generation college students. They do not always have the support at home to stay in school and finish. I was the first person in my family to attend college. I am also the first one to pursue a master's degree. I feel a connection to students with similar circumstances, and I have always wanted to make a difference no matter what I did."
Theresa believes that every student in her classes is meant to be there at that particular time and place. She wants to be the teacher who helps them in such a significant way that they will remember the moment forever. "There is a reason why those students are with you for that moment," Theresa stated. "I think about that every day I go to work, about how I will leave my mark on my students in a positive way."
Theresa acknowledges the teacher who inspired and encouraged her the most. "Mrs. Bonner, one of my high school teachers, was the first teacher who gave me a chance," she shared. "I wasn't always good in school nor did I have the best grades, but what she did was tell me I could do it. I had a lot of adversities, and she would say, 'Don't worry about those things. I believe in you.' She took the time to form a bond and have a personal relationship with me. She inspired me to work hard and go to college. She said I was good enough, and all I had to do was believe in myself like she believed in me. Her belief in me made me work hard, because I did not want to disappoint her."
That dedication and caring was enough to make Theresa think she might want to become a teacher herself. Now, Theresa begins her own workday at school thinking of her students and the one thing she can help them with that might make a big difference in their lives. She reminds her students that getting an education is important. "I want to instill in my students a love of learning," she confessed. "I try to give them daily examples of how I am a lifelong learner and how the things we learn in class relate to the real world. I tell my students that an education opens up doors for them to pursue anything in life. I tell them to dream big, and if they work hard enough, their dream will come true. As a teacher, I have to always believe that this might be the student I was meant to encourage. I take that role very seriously."
Teachers and educators literally hold the future in their hands every day as they work to help each child grow, learn and reach their potential. Theresa never loses sight of the fact that what she does will make a difference.
Written by Betty Tryon.